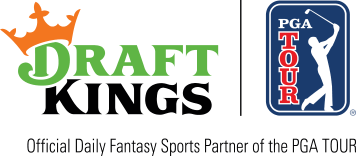 As the Official Daily Fantasy Sports Partner of the PGA TOUR, DraftKings is the best place for all of your fantasy golf action.
How It Works

From 8/10 - 8/24, enter featured singe-entry contests at $6, $40, and $222 entry fees. Contests lock on each Thursday over the promo period.

The fantasy points you score in each contest equal your leaderboard points. Leaderboard totals will update on the page the Monday after each tournament concludes.

Players that finish high enough on each leaderboard once the final contests end will win bonus DK Dollars or tickets to Fantasy Football Millionaire contests!
$6 Leaderboard Prizes
11th - 20th
$50 DK Dollars
21st - 50th
$35 DK Dollars
51st - 100th
$25 DK Dollars
101st - 150th
$15 DK Dollars
151st - 400th
$10 NFL Best Ball $10M Millionaire Ticket
401st - 1,000th
$5 NFL Week 1 Fantasy Football Millionaire Ticket
$40 Leaderboard Prizes
6th - 10th
$250 DK Dollars
11th - 20th
$200 DK Dollars
21st - 30th
$175 DK Dollars
31st - 40th
$150 DK Dollars
41st - 50th
$125 DK Dollars
51st - 75th
$100 DK Dollars
76th - 100th
$80 DK Dollars
101st - 150th
$60 DK Dollars
151st - 200th
$40 DK Dollars
201st - 300th
$30 DK Dollars
301st - 400th
$10 NFL Best Ball $10M Millionaire Ticket & Two (2) $5 NFL Week 1 Fantasy Football Millionaire Tickets
$222 Leaderboard Prizes
1st
$4,444 NFL MEGA Millionaire Ticket & $1,500 DK Dollars
31st - 40th
$300 DK Dollars
41st - 50th
$250 DK Dollars
51st - 75th
$200 DK Dollars
76th - 150th
$100 NFL Fantasy Football Millionaire Ticket