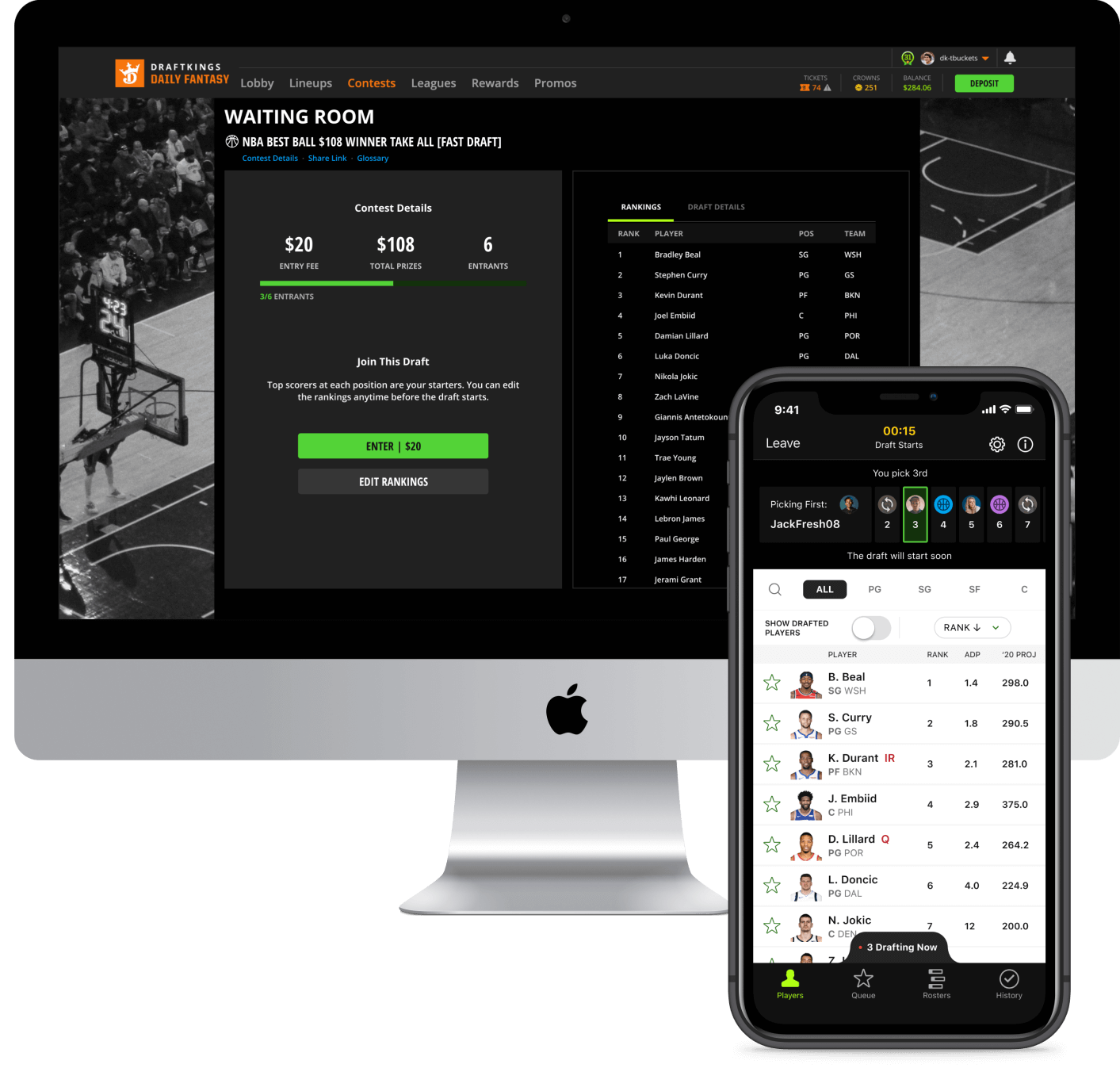 How to Play
1
Choose a Best Ball Contest from the lobby and edit your pre-draft rankings or use the default.
2
Snake Drafts start as soon as the contest fills. The pick order is determined randomly.
3
Draft your lineup from the available pool of basketball players or turn on Autodraft in the draft settings. Fast Drafts give you 30 second per pick to keep thing moving, whereas Slow Drafts allow up to 8 hours per pick.
4
Once the draft is complete, coast through the season. No adds, drops, trades, or waivers. Each week, the top-scoring players automatically slide into your starting positions. Best Ball uses the same scoring as DraftKings Classic contests.
5
Cash prizes are paid out based on your cumulative total points for the entire contest.
Ways to Play
Sit & Go's
Best Ball contests played from 3/10 until 5/9. They can range from 3 teams to 12 teams. Hop in a Snake Draft and pick the squad you'll have for the entire contest. The team with the highest cumulative points at the end of the season is the winner.

Total prizes are paid out at the end of the season.
Tournaments
Best Ball contests that are played out over multiple rounds. Pick your squad in a 12-team Snake Draft. This will be your team for the entire tournament. After each round, the highest-scoring team will win a ticket for the next round and advance — until the final team is standing at the end of the season. Tournaments will typically have higher prize amounts.

Prizes and ticket are paid out at the end of each round. Final payout details can be found in the tournament breakdowns below.
Play our three tournaments starting 3/10.
UNABLE TO LOAD TOURNAMENTS DATA, PLEASE TRY AGAIN IN A FEW MINUTES.
FAQS
What are the restrictions for Best Ball?
What are the details around NBA Tournaments?
What happens if there is a tie in one round of a tournament?
When can I see my Round 2 contest entries?
What if I miss a live snake draft?
What is the draft speed for Best Ball contests?
How do pre-draft rankings and auto-draft work?
Can I be notified for a Best Ball draft?