Most football fans have been playing in season-long fantasy leagues and have already wrapped up their playoffs, but the fantasy football season is not over yet. If you've never played in a daily league (known as Daily Fantasy Sports or DFS), then the first idea to familiarize yourself with is the idea of a salary cap. In DFS, each player has a specific price for each game set, which is based on their past performances. You start with $50,000 and draft 9 players while staying under the budget. Here are a few tips to help build your salary cap lineup.
Ready to get started? Draft your team for this Sunday
1. Identifying Value

Finding "value" is all about the difference between what you think a player will score in a given week compared to their price. There are a few different ways to identify value, but these two will be the cornerstone to building your team:
a. Matchups: Maybe this is a quarterback who is playing against a poor defense. More specifically, maybe a wide receiver is going against an injured secondary. Look at the weekly matchups to find something that may not have been accounted for in a players salary. Lastly, look into games that are expected to be among the highest-scoring for the week to find players who are likely to breakout.
b. Injuries: Running backs are one of the best places to find injury value. When a player is put into an increased offensive role, you can expect that their performance will exceed their price. On the contrary, some players will have a salary that decreased as a result of injury. They may be underpriced upon their return.
2. Study Winning Lineups
Look back at opponent winning lineups to see if there are strategies you can learn from. With a score of 181.76 points, 'simplyjesse' turned $27 into $100,000 in the NFL Playoff Million. He did it with a nearly perfect lineup centered around a combo of Ben Roethlesberger, Antonio Brown, and Daniel Herron. However, it came down to the last minute of the week, where the Cowboys defense got a sack and fumble to move him into first place.
His choice of Roethlesberger and Brown likely was due to the fact that the Ravens secondary has sustained a considerable amount of injuries. This matchup would be the most favorable of the weekend.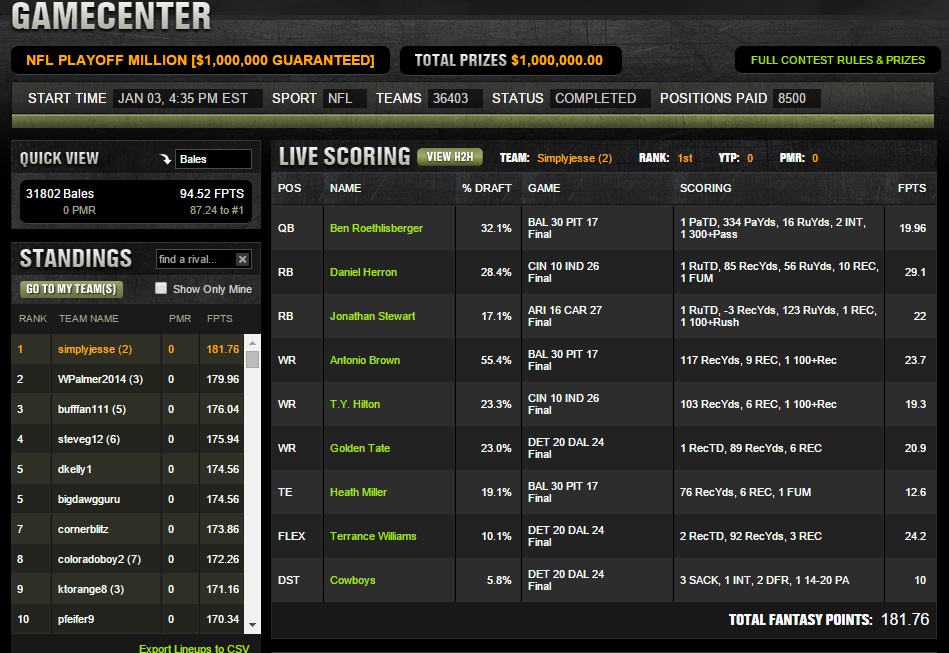 3. General Strategy
There is no right or wrong way to allocate your salary cap, but some these tips may help you find a preferred way to build your team each week.
a. Do your best to identify under-valued players first where you can save your salary. In many weeks, there will be an obvious play or two that most of the winning teams will have found. As mentioned above, a good identifier of this is a backup running back who is starting in place of an injured one.
b. In tournament-style leagues, you should generally pair your quarterback with one of his receivers. This gives your team a higher ceiling to win large field tournaments. If you are playing in a head-to-head or 50/50 league, you should evaluate each player separately.
How to get started
1. Draft your team on DraftKings here
2. When you make a deposit of any amount (the minimum is $5) you will get a free entry to a contest this Sunday only with $100,000 in guaranteed prizes.
3. Finish in the top scores and you will be paid out Sunday Night. First place is $10,000.