With five NHL games on tap to start this week of DraftKings hockey contests, DFS hockey players have a decent-sized player pool to look to for filling-out their lineups with both superstar and value plays. Let's take a look at some of top and bargain buys for tonight's games.
Goaltender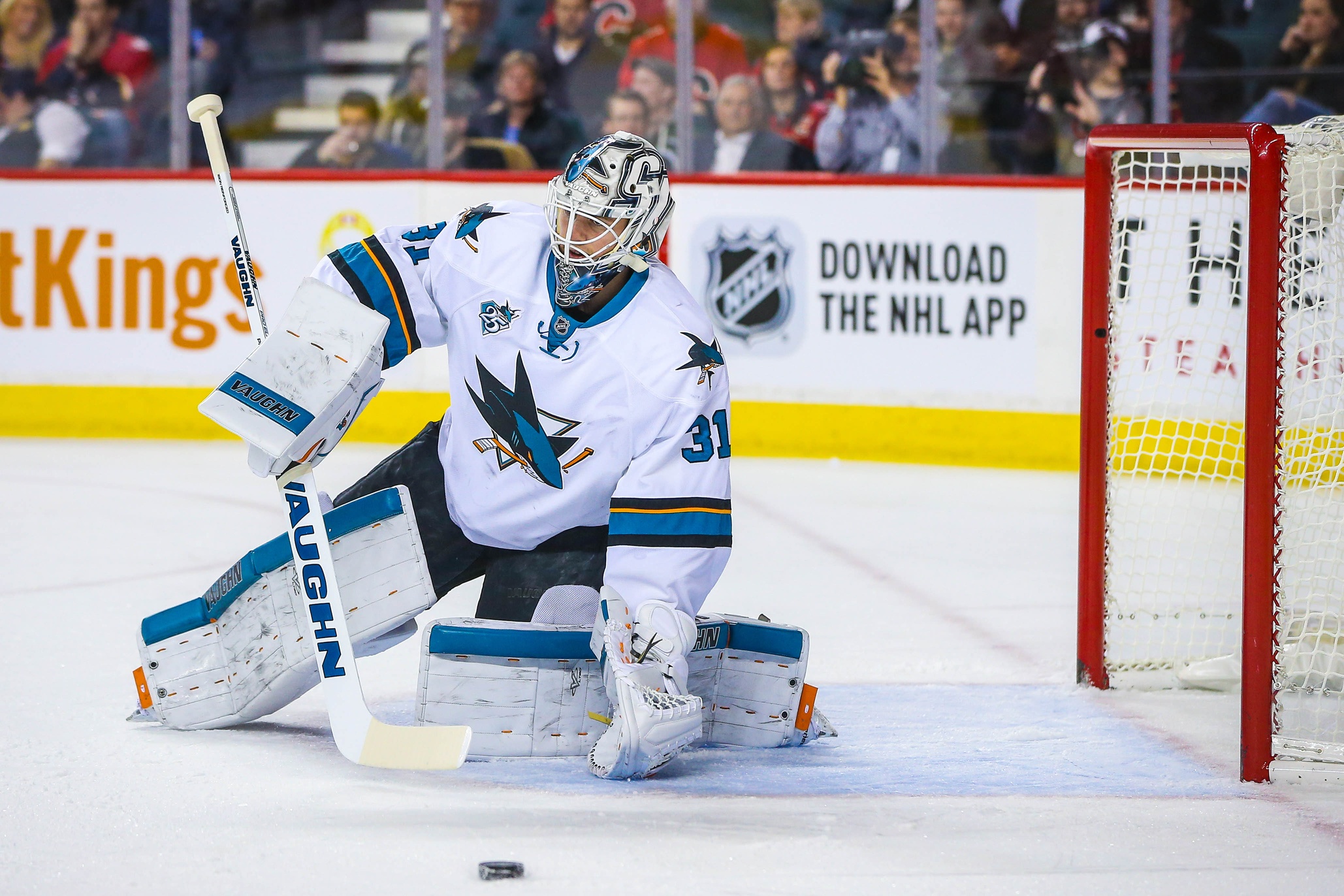 Martin Jones ($7,100) – Despite his inconsistencies this season Jones has been a solid fantasy option for owners this year, especially when it comes to the win column as he's racked up 20 on the season, good for tied for fourth in the league. His numbers are slightly below-average but Jones has been solid as of late and is riding a four-game winning streak allowing two goals against per game in that stretch against some solid offenses. The Sharks welcome the Senators tonight to San Jose and even though Ottawa ranks top-10 in the league in road scoring they have hit a wall offensively, averaging only two goals scored per game in seven games this month.
Connor Hellebuyck ($7,200) – Hellebuyck has taken a firm grasp of the Winnipeg net since being called up and has been one of the best goalies in the league in that time span. In 18 starts so far he's 11-6-1, he sits fourth in the league in GAA and is tied for third with Holtby and Mrazek in SV% at .931. He has shown a great ability to bounce back this season and that continued over the weekend. After posting three consecutive sub-par games allowing 10 goals against combined in the three Hellebuyck posted his second shutout of the season, locking down the Wild on 24 shots. The 22-year-old has shown great presence and poise for someone his age and he will continue to see the bulk of the workload going forward as the Jets try and play their way back into playoff contention.
Louis Domingue ($6,600) – Talking about seeing a ton of workload and trying to get a team back into contention, look no further than Domingue for the Coyotes. After back-to-back starts of allowing three goals against Domingue was given the night off against the Devils on Saturday so he should get the nod tonight against the Sabres. Prior to his loss on Thursday to Detroit Domingue was riding a four-game winning streak and had back-stopped the Coyotes run to second place in the division. He has greatly solidified the Arizona net in the absence of Mike Smith and like Hellebuyck should see the bulk of the starts going forward despite being a rookie. He does not have enough games for his stats to qualify but if they did he would be right outside the top-10 in GAA and would be eight in SV%. If you're looking to save a little bit more money on a buy-low option tonight, Domingue is a great place to start.
Others to Consider: Roberto Luongo ($8,000), Marc-Andre Fleury ($7,900), Cam Talbot ($6,800), Calvin Pickard ($6,500)
---
Defender
Oliver Ekman-Larsson ($6,100) – OEL continues to be one of the more underrated offensive defensemen in the NHL and he flies under the radar thanks to playing in the market that he does. He has been the most consistent offensive performer for the Coyotes this year and leads the team in points while being second in both goals and assists. Before being kept off the scoresheet on Saturday against the Devils he was riding a four-game point streak that saw him produce three goals and four assists and he has added 19 SOG over his last five games. He sits third in the league among defensemen with 13 goals and has also added a team-best 15 PPP. The Coyotes welcome the Sabres tonight and OEL is a great pick to put some numbers up with a limited player pool tonight.
Brent Burns ($8,300) – On top of a beard that could rival Leo DiCaprio's beard in "The Revenant," Burns continues his impressive season for the Sharks and has a very gettable matchup tonight with the Senators. He was held off the scoresheet on Saturday against the Stars but was still able to put up a very good 4.0 FPTS thanks to six SOG and two blocked shots. That's two consecutive games without a point that Burns has had at least 3.0 FPTS thanks to his all-around game but over his previous eight games before that he had managed 12 points. He's the top defenseman available tonight and has a great chance to produce against Ottawa.
Trevor Daley ($3,500) – Daley looks to finally be settling in with Pittsburgh after his trade from the Blackhawks. With Kris Letang unsure to play tonight, Daley or Olli Maatta are great value plays for your lineup. Daley has a goal in consecutive games with a tally against the Lightning and Hurricanes with six SOG while logging over 20 minutes of TOI in each. Daley is seeing significant time in their top-four defensive roation and for the time being while Letang is out he will be manning the first pair with Maatta and is running the point on their first power-play unit. Pair Daley with one of the high-priced defensemen tonight to off-set the cost with a great chance to see some production.
Others to Consider: Erik Karlsson ($7,400), Kevin Shattenkirk ($6,500), Dustin Byfuglien ($6,300), Rasmus Ristolainen ($5,900), Olli Maatta ($3,600), Marc-Edouard Vlasic ($4,700)
---
Forward
Sidney Crosby ($7,200) – I have said it before that Crosby's slow start was just an anomaly and that he was going to continue to put up points and fight his way back and he is doing just that. Sid the Kid has been on a tear as of late with 12 points, one-third his season output, in his last 10 games. He has five points in his last three games, with two multi-point efforts, and is coming off a two goal game against the Hurricanes last night. Over those last 10 games he's shooting lights out with seven goals on 32 SOG which is good for an almost 22% shooting%. He has not faced the Blues much in his career, tonight being his 12th career tilt with them, but he has been productive with seven points in those 11 matchups, so roll Sid tonight as one of the top centers available.
Jori Lehtera ($3,700) – Just opposite Crosby is the Blues talented center Lehtera. The sophomore pivot has been bumped up to St. Louis' top-line as of late and has been reunited with former linemate Vladimir Tarasenko after the dynamic duo they formed last year. He may have started the season slow with 13 points in his first 38 games but over his last 10 he has managed eight points. He is riding a four-game point streak, with points in five of six overall, and had one of his best games of the season on Saturday against the Canadiens with a goal and an assist. He is one of the hottest producing centers available tonight and gives you great lineup flexibility with his value salary making Lehtera a great play tonight.
Tomas Hertl ($4,500) – Hertl has seen his fantasy value shoot back up to relevance thanks to his recent bump up to the Sharks top line with Joe Pavelski and Joe Thornton. Hertl has six points in his last five games and is seeing his offensive production and shot output increase substantially thanks to his new top-line responsibility. He has three goals, three assists and 17 SOG in this recent offensive outburst and has eight of his 21 points on the season in his last 10. Expect him to continue to see this level of production going forward playing with two of the Sharks top playmakers and at such a mid-level value he is a great play tonight, especially to stack with either or both his current linemates.
Evander Kane ($5,900) – Kane has settled in nicely with Ryan O'Reilly and Sam Reinhart on the Sabres top line after not showing consistent chemistry with Jack Eichel earlier this season. Kane has always been known as a dynamic talent and scorer and he seems to be ready to breakout for the Sabres. He has four points in his last four games (1G, 3A), 16 SOG and is coming off one of his better games of the season with a goal and assist in the Sabres win against the Capitals on Saturday night. He may be pricey for his level of production this season, but he has been very good lately and many people might not be completely sold on the Coyotes scoring defense, but he is an intriguing play tonight for DFS players.
Carl Hagelin ($3,200) – Hagelin has new-found fantasy value thanks to his weekend trade to the Pittsburgh Penguins when the Pens swapped David Perron and another player for the speedy Swede. Hagelin has shown offensive prowess in the past averaging about .5 points per game in his career. He will be playing with some of the best playmakers in his career in the Penguins top-six and adds a level of speed and defensive responsibility that they have lacked. He is slated to play on their second line with Evgeni Malkin and Phil Kessel, so take advantage of his price and prime placement with such upside for production.
Others to Consider: Evgeni Malkin ($7,500), Vladimir Tarasenko ($7,800), Taylor Hall ($7,100), Blake Wheeler ($6,800), Matt Duchene ($6,700), Joe Pavelski ($7,700), Jaromir Jagr ($5,700), Mikkel Boedker ($5,100), Mika Zibanejad ($4,400), Nathan MacKinnon ($7,000), Bryan Little ($5,700).
Make sure to check out the NHL Cheat Sheet and NHL Line Stacks posts today and as always for any DFS Hockey questions or comments this season, find me on Twitter at: @JHarding_Hockey.