There are different contests on the docket today with ones starting at 1 PM, which are the early games only, contests that start at 4 PM that have all games except the 1 PM and a final contest that only has the night games. With so many different contests and I will focus mainly on the latter games after 4 PM, but will sneak a few suggestions about the 1 PM Islanders/Red Wings matchup. Let's take a look at some of the top and bargain buys for today's slate of games:
Goaltender
Corey Crawford ($8,400) – Despite coming out on the losing end of his last three contests, Crawford has been solid all season and has a great opportunity to bounce back tonight. On the season Crawford is still near the top of the league in all major goaltending categories sitting second in wins behind Holtby with 31, ninth in GAA at 2.19 and fourth in SV% with a .930 marker. He has allowed seven goals against in his last two starts but has a fantastic chance to post a great outing tonight when the Hawks welcome the Maple Leafs. The Leafs stopped a three game slide over the weekend against Vancouver but only have four wins, two in regulation, in the last five weeks. If you are willing to pay up to get him, Crawford is the top goalie on the evening in a great matchup.
Frederik Andersen ($7,400) – (Early) Andersen has been extremely formidable lately for the Ducks and could see the bulk of the action going forward after replacing John Gibson over the weekend when the latter was injured and forced to leave their game against the Blackhawks. Andersen picked up with win in that game and is 2-0-1 in his last three appearances. He's 7-0-1 in his last nine appearances with a 1.83 GAA and .934 SV%. He costs $1,000 less than Crawford tonight and has a very solid matchup with the Flames. He and the Ducks have turned their season around after their horrendous start and with his recent strong play Andersen is a great start tonight in your net, and keep in mind that this is the 4 PM game today.
Thomas Greiss ($7,700) – (Early) This is the goalie I like from the 1 PM game today. It hasn't been confirmed if he or Halak will get the start, but Greiss has won four straight games that he has started and Halak had arguably the worst start of his season over the weekend allowing six goals against to the Hurricanes. Greiss sits in the top-10 in the league in both GAA and SV% and could be what the Isles need to beat the Red Wings, a team they have lost two twice in the last three weeks while being out-scored 9-3. Whoever gets the nod for the Isles I like the matchup after Detroit played a physical game yesterday beating the Bruins 6-5.
Others to Consider: Jimmy Howard – Early – ($7,200), Marc-Andre Fleury ($8,200), Pekka Rinne ($7,300), Mike Condon($7,100)
Defender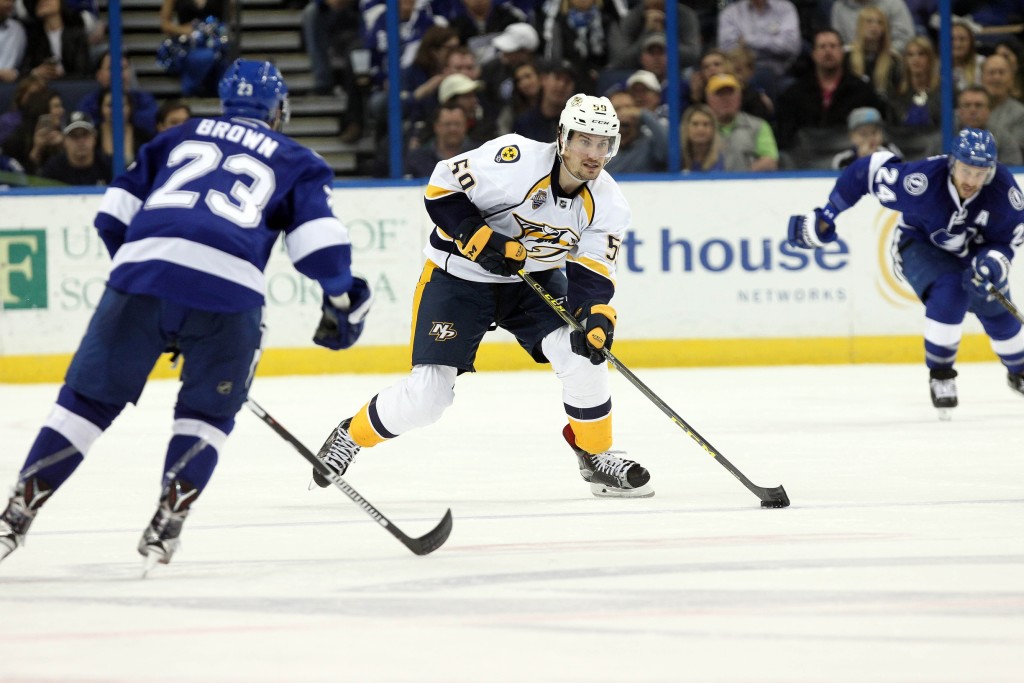 Roman Josi ($6,900) – Josi has stepped his production back up lately and is currently riding a three-game point streak. He has 10 points over his last 10 games and five of those points have come on this current run. He had a goal against the Caps last Tuesday and then followed that up with back-to-back two-assist games on the Predators Florida swing against the Panthers and Lightning. The offensive defenseman is now up to 42 points in 56 games.
Brent Seabrook ($5,900) – Seabrook has seen his production dip at time this season but he has points in two of his last four games and is coming off a very strong outing against the Ducks over the weekend where he posted a two goal game and five SOG. He has four points in his last five games with 14 SOG and 13 BS in that span so he is giving great all-around fantasy value. The Hawks have a great offensive matchup against the Leafs tonight and Seabrook has upped his shot output while manning the power-play and should be considered a top defenseman tonight.
T.J. Brodie ($4,600) – (Early) Brodie is the best offensive weapon that the Flames have at the moment not named Giordano, but right now he is producing better than him as well. Brodie has broken the 30-point barrier for the third straight season and is currently on pace for a career-high season. He's currently riding a five-game point streak for the Flames adding at least one assist in each of those five games, while posting one multi-point outing. He doesn't shoot as much as Giordano, or put up as many goals, but the scoring value is there and he is picking up about a blocked shot per game as well.
Nick Leddy ($4,600) – (Early) Leddy is turning his season around in a big way and now that Johnny Boychuk and Travis Hamonic are back and performing, Leddy is more free to put the offensive numbers up. He has been fantastic as of late with seven points in his last seven games and nine points in his last 10 games overall. Leddy has points in his last two games and picked up an assist 10 days ago against the opponent in the 1 PM game today, the Red Wings.
Others to Consider: John Klingberg ($6,300), Oliver Ekman-Larsson ($5,900), Sami Vatanen – Early – ($5,000), Michael Stone ($4,200), Matt Dumba ($4,000), Trevor Daley ($3,800), Cam Fowler – Early – ($4,100)
Forward
Tyler Seguin ($8,600) – Despite leaving the Stars game against the Capitals over the weekend needing stitches after a cut, I expect Seguin to be in the Stars lineup tonight against the Predators. The All-Star game seems to have awoken Seguin from his scoring slump and proved that his January lull was just a blip on the radar. He has points in five of the six games since the break, four multi-point games, and is currently riding a four-game point streak. He has three goals and four assists in that streak while posting 16 SOG. He has jumped teammate Jamie Benn for the team lead in goals with 30 and has moved to within a point of him with 62 on the year. The Stars travel to face the Predators tonight and in his only game against Nashville this season Seguin netted a pair of goal with six shots.
Ryan Getzlaf ($5,800) – (Early) Getz is one of the hottest scorers in the league right now with 15 points over his last 11 games. He has only been kept off the scoresheet twice in his last 10 games and is currently riding a four-game multi-point scoring streak with two points in each of his last four outings. He has two goals and four assists in that span with nine SOG and eight blocks. He is tied for seventh in the league in assists with 36 and is up to 42 points in 50 games. Getzlaf has owned the Flames in his career and this season is no different with five points in two games against Calgary on the year.
James Neal ($5,800) – Neal has seen his season offensively turned around since the January trade the brought Ryan Johansen to Nashville. In 16 games with Johansen Neal has put up 11 points and is now up to 38 on the season. He has points in three of his last four, including his last two games, and had points in both games on Nashville's Florida swing against two very good goalies. He had a goal, an assist and six SOG against the Panthers on Saturday night and despite being held scoreless in his only game against the Stars this season, Neal did put up four SOG in that game and he should put a lot of pucks on net tonight in what could easily be a high-scoring affair.
Sam Bennett ($4,200) – (Early) Bennett is enjoying a solid rookie season and is now up to 28 points in 53 games after a recent offensive outburst. He was kept off the scoresheet against the Coyotes on Friday but that ended a three-game scoring streak that saw the rookie put up two goals, four assists, two multi-point games and five SOG. He is saddled in the wing of the Flames second line behind the big guns on their first line but that has not stopped him from producing and being a great value play at only $4,200.
John Tavares ($8,000) – (Early) Tavares is back in a big way and continues to live up to his billing in his career as a second-half of the season performer. After putting up only 31 points in his first 42 games, Tavares has 14 points in his last eight and is now up to a respectable 45 on the year in 51 games. He's on a five-game point streak at the moment, with a goal in four of them, and in two games against the Red Wings this season he has a goal and an assist. He has 36 SOG in his last 10 games and is one of the top players available tonight, but only in the early game contests that have the 1 PM and 4 PM games.
Others to Consider: Patrick Kane ($8,700), Jamie Benn ($8,400), Sidney Crosby ($8,100), Artemi Panarin ($6,300), Filip Forsberg ($5,600), David Perron – Early – ($4,500), Shane Doan ($4,500), Teuvo Teravainen ($3,800), Jonathan Huberdeau ($5,500), Andrew Shaw ($4,100), Kyle Okposo – Early – ($5,900)
Make sure to check out the Cheat Sheet and NHL Line Stacks posts today and as always for any DFS Hockey questions or comments this season, find me on Twitter at: @JHarding_Hockey