The NHL Cheat Sheet is your quick-hit daily look into the top lines and line changes, fantasy studs, value picks and more to help you navigate your DraftKings Hockey lineups.
Top Lines of the Night
Tampa Bay Lightning vs New York Rangers
Nikita Kucherov ($7,800) – Tyler Johnson ($5,600) – Ondrej Palat ($5,200)
Kucherov continues his torrid run at the moment, pushing his point streak to six games with an assist on Saturday night against the Sabres. He has 14 points and 27 shots on goal (SOG) on his six-game run. Johnson added a goal against the Sabres on Saturday giving him points in three of his last four games. He posted six SOG in that outing, and he has 10 points in his last eight games. Palat has struggled lately with only two points and 11 SOG in his last five games. Palat has fared well against the Rangers, with six points in eight career games. Rangers' starter Henrik Lundqvist has allowed 14 goals in his last four starts.
Boston Bruins @ Ottawa Senators
Brad Marchand ($7,500) – Patrice Bergeron ($7,300) – David Backes ($5,000)
Bergeron collected a pair of assists on Saturday against the Devils, including one on the power play (PP), and added six SOG. That's points in four of his last five, with three multi-point games in that span. Marchand was held scoreless on Saturday against NJ, which snapped a four-game point streak. But Marchand had 12 points in his previous nine games before Saturday, with one point in his only game against Ottawa this season. Backes picked up an assist on Saturday as well, giving him points in three of his last four games, and nine points in his last 10 games.
---
Superstar to Build Around
Patrik Laine ($7,300) – Laine continued his incredible rookie season with a multi-point game on Saturday against the Avs. He has points in eight of his last 10 games, with six multi-point games in that span. He has nine goals, 15 points and 33 SOG in those 10 games, even against stiff competition. He has another tough draw tonight against the Sharks, but Laine has an assist and three SOG in his only matchup with the Sharks this season.
---
Value on Offense
Tomas Hertl ($4,500) – Hertl has been very good over the last month since his return from injury, posting nine points in 15 games. He has seven points in his last 10 games, and had a three-game point streak going before being shut out by the Wild last night. San Jose faces the Jets tonight, and Hertl has five points in seven career games vs Winnipeg.
Drew Stafford ($4,200) – Stafford had a very solid debut outing on Saturday for the Bruins, collecting an assist and firing off seven SOG against the Devils. He slotted onto the Bruins' third line with Ryan Spooner and Frank Vatrano, and he could move up in the lineup if any forwards struggle down the stretch.
---
Stud Goalies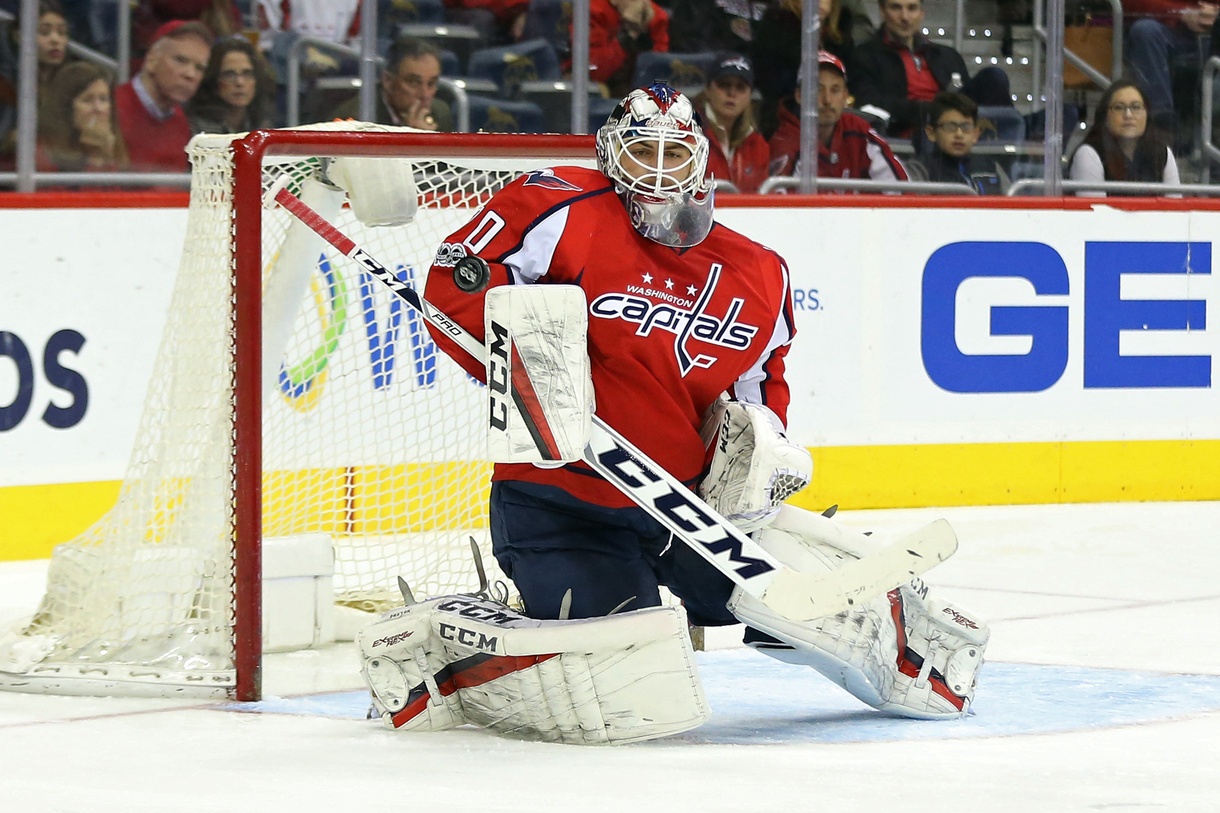 Braden Holtby ($8,500) – Holtby continued his absolute dominance over the weekend, posting another win and turning in an incredible outing against the Flyers, stopping 30 of 31 shots faced. Holtby is 9-0-1 with a 1.48 goals against average (GAA) in his last 10 games and has lowered his league-leading GAA to 1.89 on the year. He has 34 wins, a .931 save percentage (SV%), and eight shutouts on the season.
Andrei Vasilevskiy ($7,400) – Vasy has taken a firm hold of the starters job in Tampa now that Ben Bishop has been traded and he has been very good since the trade. In three starts, Vasy is 3-0-0 and has allowed a total of five goals in those three games. He faces the Rangers tonight, who have lost three of their last four games.
---
Value on Defense
John Klingberg ($4,600) – Despite a very tough matchup tonight against the Capitals, Klingberg is hard to ignore on a limited night at this price. He is riding a five-game point streak at the moment, posting three goals, four assists, one power play point (PPP), seven blocks and 12 SOG. Klinger is getting great category coverage at a great price.
Brady Skjei ($3,800) – Skjei has arguably been the Rangers most consistent defenseman this season, and he sits second among rookie defensemen in scoring with 31 points this season. He has six points in his last nine games and he is seeing an expanded role as of late at both even strength and on the PP.
---
Power Play Defensemen
Victor Hedman ($6,600) – Hedman continues to have the best season of his career, already tying his career-high of 55 points and putting up more than double the PPP that he had in his last two season combined. Hedman is riding a five-game point streak with two goals, five assists and PPP in four games.
Brent Burns ($8,500) – Burns was shut out yesterday against the Wild but still posted a solid 4.5 FPTS outing with six SOG and three blocks. Burns had 10 points in his prior nine games with 40 SOG and two PPP. He has two goals in two games this game against the Jets, who rank 27th in the league in scoring defense.
Make sure to check out the Cheat Sheet every day, and, as always, for any DFS Hockey questions or comments this season, find me on Twitter at: @JHarding_Hockey.
---
I am a promoter at DraftKings and am also an avid fan and user (my username is HardingJ2) and may sometimes play on my personal account in the games that I offer advice on. Although I have expressed my personal view on the games and strategies above, they do not necessarily reflect the view(s) of DraftKings and I may also deploy different players and strategies than what I recommend above.