The NHL Cheat Sheet is your quick-hit daily look into the top lines and line changes, fantasy studs, value picks and more to help you navigate your DFS Hockey lineups.
Top Lines of the Night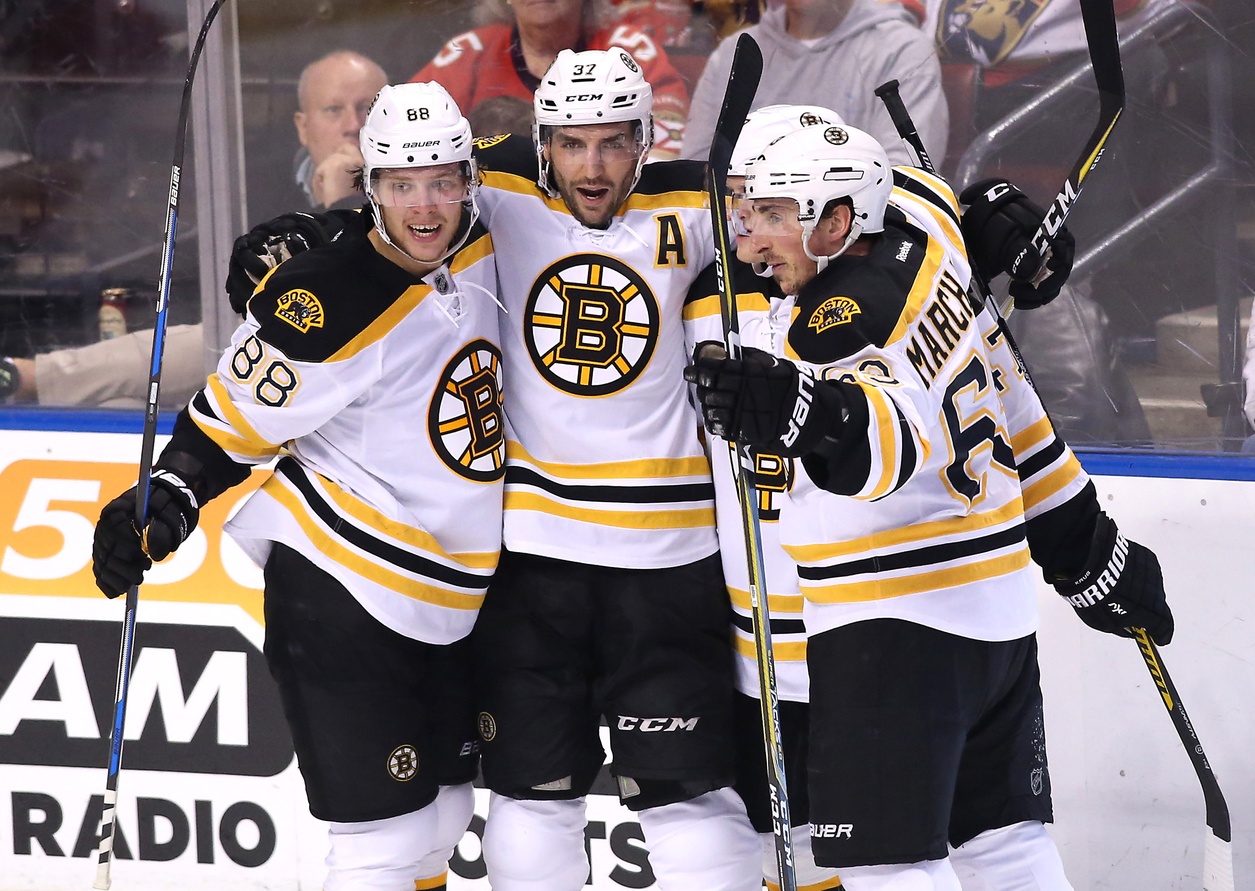 Boston Bruins @ New Jersey Devils
David Pastrnak ($7,500) – Patrice Bergeron ($6,100) – Brad Marchand ($6,700)
Bergeron has been disappointing this season but looks poised to turn things around the last few months of the year. Bergeron has goals in back-to-back games with 11 shots on goal (SOG) and he has three goals in his last five games overall. Pastrnak is struggling, going pointless in his last six games. He has continued to fire the puck at the net with 23 SOG in those six games. Marchand has points in four of his last five games, including two on the power play (PP). In their only matchup with the Devils this season this line combined for four points.
Colorado Avalanche @ Vancouver Canucks
Nathan MacKinnon ($6,200) – Gabriel Landeskog ($4,600) – Mikko Rantanen ($4,400)
MacKinnon has been shutout in his last two outings but has 25 points in 36 games this season and has been great on the road. Away from home this season, MacKinnon has 16 points in 18 games and is averaging almost four SOG per game. Landeskog has two goals and eight SOG in his last three games. In his career he has six points against the Canucks. Rantanen has two points in his last four games and 16 points in 31 games this season overall. Both of these teams are capable of high-scoring games and that could very well happen tonight.
---
Superstar to Build Around
David Krejci ($5,900) – Krejci was shutout in the Bruins last game against the Sabres, but before that game, he had notched back-to-back multi-point games and a three-game point streak. Overall Krejci has seven points and 27 SOG in his last 10 games. He has 19 points in 26 games against the Devils in his career and 14 points in 21 road games on the season.
---
Value on Offense
Sven Baertschi ($4,500) – Baertschi has been on a tear as of late for the Canucks. The young winger has nine points in his last nine games and has three points in his last two with eight SOG. He's coming off a multi-point game against the Oilers on Saturday night.
Ryan Spooner ($4,300) – Spooner is riding a five-game point streak for the Bruins. He has three goals and four assists with two multi-point games on his five game run. He has also added 15 SOG and three power play points (PPP).
---
Stud Goalies
Tuukka Rask ($8,100) – Rask has won three of his last four games and has continued his impressive season for Boston. He has allowed four goals against in those three wins and faces a Devils team he has dominated. In his career he's 5-3-2 with a 1.51 goals against average (GAA) and a .946 save percentage (SV%) and already has a win vs the Devils this season.
Ryan Miller/Jacob Markstrom ($7,800) – Outside of Rask, every goalie playing tonight is a question mark. The Canucks have won three straight games, alternating Miller and Markstrom. I think that the Avs have one of the best lines available tonight, but I think that this will be a high-scoring affair and the Canucks will take the win, regardless of what starter is in net.
---
Value on Defense
Alexander Edler ($4,000) – Not one for much offense, Edler has points in back-to-back games. He has two assists in his last two games and has added three SOG and seven blocked shots. That's 9.0 FPTS in those two games.
Damon Severson ($3,700) – Severson is the leading scorer of the Devils defense this season with 18 points in 37 games. Despite riding a four-game pointless drought, Severson has 10 points in 15 home games this year. In his only game against the Bruins this season, he collected an assist and two blocked shots.
---
Power Play Defensemen
Torey Krug ($5,400) – Krug is riding a five-game point streak at the moment that has seen him dish out seven assists. He has added three blocks and seven SOG, with two assists coming on the PP. Krug is tied for the team-lead in the PPP with seven.
Tyson Barrie ($4,600) – Barrie has a four-game point streak at the moment that has seen him dish out six assists. Barrie has 10 SOG and five blocks, and he is averaging almost 5.0 FPTS per contest on this present run.
Make sure to check out the Cheat Sheet every day and as always for any DFS Hockey questions or comments this season, find me on Twitter at: @JHarding_Hockey.
---
I am a promoter at DraftKings and am also an avid fan and user (my username is HardingJ2) and may sometimes play on my personal account in the games that I offer advice on. Although I have expressed my personal view on the games and strategies above, they do not necessarily reflect the view(s) of DraftKings and I may also deploy different players and strategies than what I recommend above.