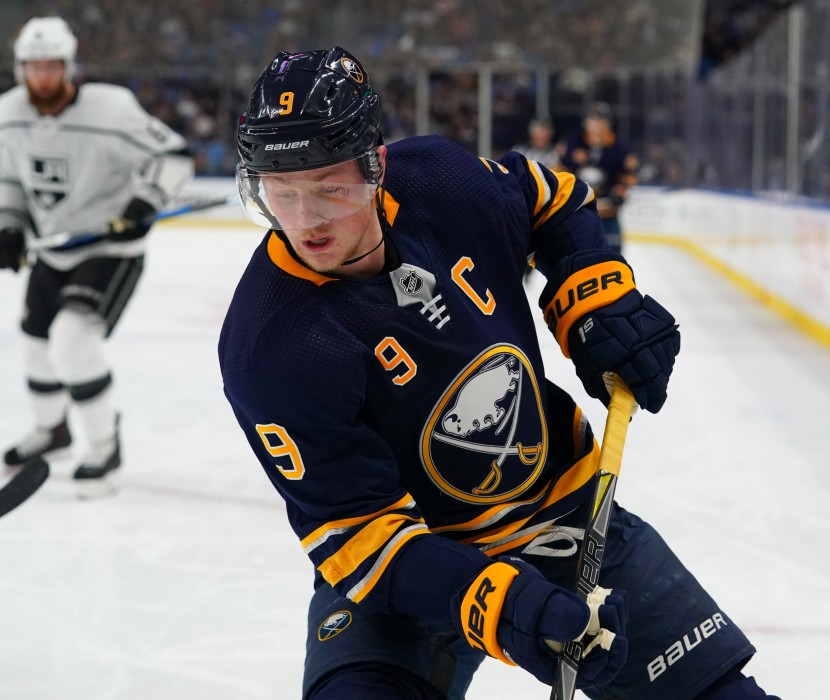 This Friday features an eight-game slate that has plenty of big East Coast matchups and a couple late Western Conference teams in action as well. Buffalo travels to Washington to take on the Capitals and Philly is in New Jersey to take on the struggling Devils. The biggest Western Conference game features the Stars at the Avalanche, who have started the season 8-2-2.
Top Line Stacks
PHI

at

NJD

Claude Giroux ($6,300) – James Van Riemsdyk ($6,600) – Jakub Voracek ($5,300)

The Flyers' top line is solid target here. Philly doesn't really have a huge stud you have to pay up for, yet its top line gives you exposure to three players with great ice time, high SOG volumes and great correlation between them. These three players have combined for 14 points between them in their past four games and should have ample opportunity tonight to add to those totals against the Devils. New Jersey enters this contest with the sixth-worst penalty kill in the league and having allowed more than four goals per game. All three of these Flyers average around three minutes of power play time per game — almost exclusively as a unit — and carry big upside in this spot against the Struggle Bus that is the New Jersey Devils.
SJS

at

WPG

Tomas Hertl ($5,300) – Evander Kane ($6,800) – Kevin Labanc ($4,800)

Like our first feature line, this Sharks trio doesn't have any high-priced superstars to pay up for yet offers tremendous scoring potential for fantasy. All three players are averaging well over two SOG per game, with Kane averaging 3.9. This line plays exclusively together at even strength and on the PP. The Jets feature the worst penalty kill in the league by a wide margin, killing penalties at just a 65% success rate. Having already combined for two 60+ DKFP nights together in two of its past seven games, this Sharks line has every chance in the world of feasting here against a weaker opponent.
---
Superstar to Target
Jack Eichel ($7,500), BUF at WAS – Eichel comes into this game averaging well over three SOG per game and with seven points in his past four starts. The Sabres' captain takes on the Capitals, who feature their own superstar forward in Alex Ovechkin ($8,100). Despite Ovechkin's otherworldly shot totals, I like paying down for Eichel, who will save you $600 and offers the better matchup.
The Capitals are allowing nearly a goal per game more than Buffalo and have allowed at least three goals against in each of their past five games. Their love for getting into shootouts means Eichel, who is averaging the sixth most minutes per game among centers, should have a great shot here at getting on the score sheet multiple times. Despite not having the shot volume of Ovie, Eichel's upside is no less prolific as he's posted two games of 40 or more DKFP in his past 10 games and has the type of matchup to produce a similar performance here. At his second-cheapest price over his past 10 games, Eichel offers good value among the top players tonight.
---
Value on Offense
Pavel Zacha ($3,700), NJ vs. PHI– Zacha has seen his role grow over the past couple of games for the Devils, as he's employed in a top-six role and seeing time on the power play. The bigger role has come with an uptick in production, too, as he's average 3.3 SOG over his past three games and more than 14 minutes of ice. The increased exposure and a decent matchup against the Flyers, who have allowed nearly 3.5 goals per game thus far, make him a solid value target for those wanting to stack the cheap Devils second line, or in need of a cheap forward to round out lineups.
Gustav Nyquist ($3,600), CLB at STL– Nyquist has seen his price drop of late, to where he's less than $4K for the first time this season. Despite the price decrease, the former Red Wing still is producing in bits and pieces for fantasy, averaging around 2.5 SOG per night while scoring two points in his past four games. We don't need a monster night from Nyquist at this price for him to pay off, but he still is playing decent power play minutes for Columbus and entrenched in its top-six skaters, making a bigger night possible given his solid shot volume.
---
Stud Goalies
Andrei Vasilevskiy ($7,700), TB at NYI– It's been a slow start for the Lightning's No. 1, but he's shown some signs of a reversal of late. Vasilevskiy stopped 75 of the past 80 shots he faced over just two games, and Tampa Bay comes into tonight's game allowing 36 SOG per game against thus far, which is great for Vasilevskiy's save upside every night. Despite not being great defensively this year, the Lightning enter this game against the Isles as -120 favorites, putting their goalie in a decent spot for the win bonus. He's a solid target in big GPPs tonight.
Petr Mrazek ($8,000), CAR vs. DET– Mrazek likely will be somewhat popular tonight — so if you're looking for low ownership in GPPs you might not find it here — but it's for good reason. The Hurricanes are by far the slate's biggest favorites at -280, and Mrazek comes into this game on a personal hot streak, having won two games in a row while stopping 60 of his past 61 shots faced. Detroit is averaging more than 30 SOG per night, so his save totals might not even be that low. A win and a decent save performance is certainly in the cards here, making Mrazek a steal at just $8K.
---
Value on Defense
Chris Tanev ($3,700), VAN at ANH – Tanev is your typical top-four defenseman who doesn't score a ton, but whose fantasy value has gone way up this year on DraftKings thanks to the blocked shots bonus (three points for three blocks). Tanev is sixth in the league in blocked shots, posting 32 through 12 games while seeing more than 20 minutes of ice every night. He's on a 0.25 point per game clip as well, which doesn't sound like much, but any point scored likely would make him tremendous value if he even slightly exceeds his yearly blocked shot average here. He's a nice pay-down target if you want/need to save on defense.
---
Power-Play Defensemen
Dougie Hamilton ($6,200), CAR vs. DET– Hamilton has continued to produce like a true fantasy workhorse for the Hurricanes since Day 1 of the season, posting more than a point-per game so far while averaging three SOG per game — a stat that puts him sixth in the league in that category among defensemen. Coming off a couple days of rest he's priced down here as just the fifth highest defensemen in salary and faces a Detroit team with the fifth-worst penalty kill in the league. Hamilton is averaging nearly three minutes of power play time per game and priced down near his season low in salary, making this a nice slate to target him.
Sami Vatanen ($5,000), NJ vs. PHI – Vatanen really has come on of late since he moved into the No. 1 role on the Devils' power play. He's got five points over his past five games and comes in averaging over 24.5 minutes of ice for the Devils in their past three starts. Vatanen's played well over 70% of the power play minutes over the past three games and has seen his minutes and SOG totals rise significantly over the past two weeks, yet his price remains affordable. If you need to save salary but want to maintain that offensive upside (or just like stacking Devils tonight), Vatanen's a great target.
---
Put your knowledge to the test. Sign up for DraftKings and experience the game inside the game.
---
I am a promoter at DraftKings and am also an avid fan and user (my username is wavegoodbye) and may sometimes play on my personal account in the games that I offer advice on. Although I have expressed my personal view on the games and strategies above, they do not necessarily reflect the view(s) of DraftKings and I may also deploy different players and strategies than what I recommend above. I am not an employee of DraftKings and do not have access to any non-public information.