It's late in the season, but there's still plenty of potential value on the waiver wire. This week some young receivers (who've been mentioned in this weekly column in the past) really broke out, and could help your team if you're battling to get into the postseason.
10. Sammy Watkins —

WR,

Buffalo Bills
This one is fairly obvious, but if someone cut Watkins loose during his lengthy absence, it's time to scoop him back up. Watkins looked good in his return, snagging all three of his targets for 80 yards for a Buffalo team starving for some WR production.
---
9. Rex Burkhead —

RB,

Cincinatti Bengals
Jeremy Hill is the Bengals' RB to own, but Burkhead did see seven touches during his first game in the Giovani Bernard role. He's tough to recommend as a fantasy play as things stand currently, but he's going to have a shot to earn more touches (and is just one injury away from being the feature back).
---
8. Ryan Tannehill —

QB,

Miami Dolphins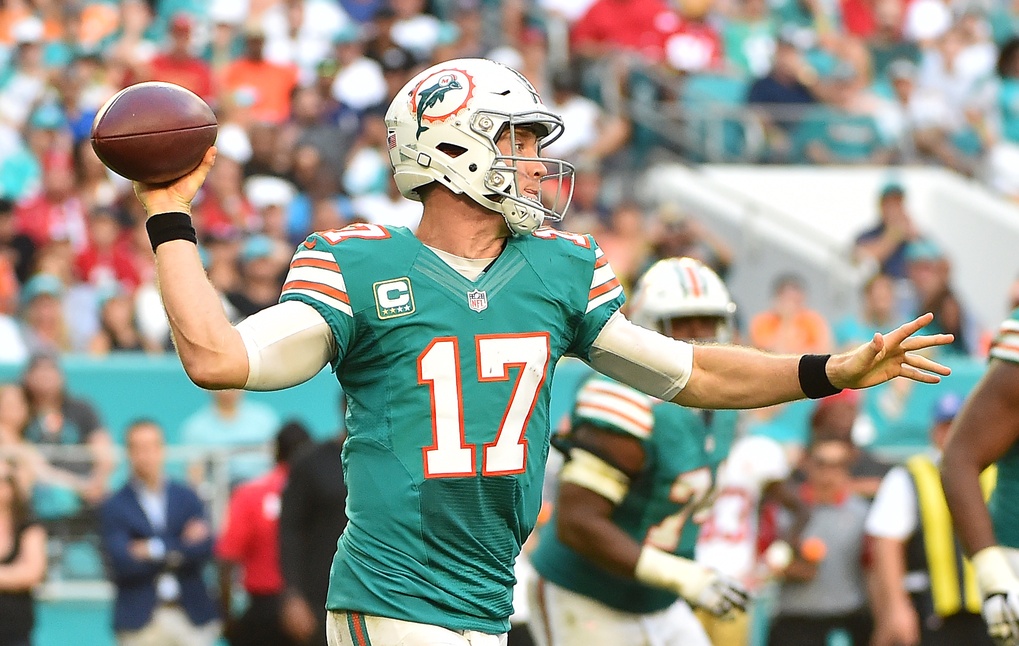 The Dolphins have strung six consecutive wins together and Tannehill's been coming on lately. The win streak was sparked by Jay Ajayi, but Tannehill's now thrown eight touchdowns over his last three games. He doesn't throw for many yards, which isn't ideal, but if you're in a spot where you need a QB, he's better than most options.
---
7. Ted Ginn Jr. —

WR,

Carolina Panthers
A season after hauling in 10 touchdowns, Ginn hadn't sniffed the end zone through Week 10 of 2016. However, he's gone back-to-back games with a score, and posted season-high's of 10 targets and 115 yards on Sunday. He's had plenty of success with Cam Newton in the past, so it's not unreasonable to think he could be turning his season around.
---
6. Marquess Wilson —

WR,

Chicago Bears
Wilson wasn't impressive in his Week 11 debut, but looked like Matt Barkley's top option in Week 12. The duo hooked up eight times on 11 targets for 125 yards and a touchdown, and could've had an even bigger day as Wilson dropped two more potential touchdowns. With the QB change, it would appear Wilson is now the Bears' WR to own.
---
5. Tyler Boyd —

WR,

Cincinnati Bengals
With A.J. Green out of the picture for the next few weeks, Boyd is acting as the Bengals' top WR. Dating back to last week, Boyd has now been targeted 17 times in two games without Green — catching 11 passes for 116 yards and a TD. He's got some solid matchups coming up on the schedule so Boyd should be a good play for the next couple of weeks.
---
4. Colin Kaepernick —

QB,

San Francisco 49ers
Ok, so Kaep is now 0-6 as San Francisco's starting QB. That mentioned, he's been a really good fantasy QB. He tossed a season-high three touchdowns against Miami on Sunday, and with the 49ers constantly losing games, Kaepernick is forced to sling it. He also rushed for 113 yards Sunday, so his running ability keeps his floor high on a weekly basis.
---
3. Malcolm Mitchell —

WR,

New England Patriots
Mitchell broke out last week in San Francisco and was a worthy mention in the waiver wire column, but it didn't feel like he was going to be a major part of the offense going forward. I was wrong. He clearly is going to be a weapon for the remainder of the season. Already playing ahead of Danny Amendola, Mitchell caught 5-of-7 targets for 42 yards and two touchdowns against the Jets in Week 12. It's become very clear that the rookie has earned Tom Brady's trust.
---
2. Taylor Gabriel —

WR,

Atlanta Falcons
I gave you Gabriel on the waiver wire a few weeks ago, and if you paid attention you were rewarded. Now he's one of the most obvious adds of the week. Gabriel's been killing it over the last four weeks, having his best game of the season on Sunday — 75 yards and two touchdowns. He's emerged as a real force behind Julio Jones, especially in the screen pass game.
---
1. Tyreek Hill —

WR,

Kansas City Chiefs
Here's another repeat. If you picked up Hill a few weeks ago, then congrats. He has been playing great and growing his role in KC's offense all season, but Sunday we really saw what he's capable of. Hill scored a touchdown through the air, rushing the ball and in the return game against the Broncos, putting his fingerprints on the game in virtually every aspect. At this point he's the Chiefs' top weapon on offense.
For questions or comments don't hesitate to reach out to me on Twitter @julianedlow.
---
I am a promoter at DraftKings and am also an avid fan and user (my username is jedlow) and may sometimes play on my personal account in the games that I offer advice on. Although I have expressed my personal view on the games and strategies above, they do not necessarily reflect the view(s) of DraftKings and I may also deploy different players and strategies than what I recommend above.