Roger Goodell and the NFL came down HARD on the Patriots on Monday as a fallout of Deflategate. I still feel that the majority of the punishment was for the way the Patriots conducted themselves during the process (Wells admitted in a media call on Tuesday that he was confused why the Pats made "the deflater" unavailable for another interview after texts were uncovered) , but the price they are being asked to pay is still ridiculous.
The Pats are going to be fine next season, so no worries there, but they are going down swinging when it comes to responding to the punishment resulting from the Wells report. The biggest statement was made on Twitter, where the team changed their avatar to Tom Brady's jersey.
Pats Nation seems to be following the team's lead and rallying around TB12.
Tom Brady jersey sales surge following Wells Report http://t.co/zhi3nMMKTT pic.twitter.com/to7fAYk7lF

— Sports Illustrated (@SInow) May 12, 2015
Robert Kraft said last week that although he felt the team did nothing wrong, he would accept the punishment when it was handed down — but he didn't see the iron fist of his buddy Goodell coming. He changed his tone in a statement released on Monday: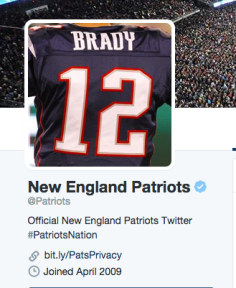 "Despite our conviction that there was no tampering with footballs, it was our intention to accept any discipline levied by the league. [Monday]'s punishment, however, far exceeded any reasonable expectation. It was based completely on circumstantial rather than hard or conclusive evidence.
"We are humbled by the support the New England Patriots have received from our fans throughout the world. We recognize our fans' concerns regarding the NFL's penalties and share in their disappointment in how this one-sided investigation was handled, as well as the dismissal of the scientific evidence supported by the Ideal Gas Law in the final report.
"Tom Brady has our unconditional support. Our belief in him has not wavered."
The Patriots and the NFL are going to war. This is not going to be over quickly, nor is it going to be be handled politely.
Follow me on Twitter @julianedlow