We've covered the Gameday Essentials and Fantasy Performance Needs, so let's give the athletes a little love shall we? Even though they're all about ballin' out on Sundays, plenty of them wish they were relaxing on the couch just like you. (A mansion sized couch)
What do NFL players get into when they're trying to reach that ultimate comfort? Chugging protein shakes and flipping tires can get a little old, so let's check out the Top 10 Off Day Hobbies presented by UGG®!
10. Rob Gronkowski – Dancing
He hates having fun, he never parties, but somehow Rob Gronkowski always finds time to get some carefree dancing in. His wide range of moves include "The Shuffle", "IT'S HAMMER TIME", and "The Faster Shuffle". In fact he loves dancing so much that when he scores touchdowns, he doesn't even shake it. Instead he spikes it, so he can get home quicker and dance like no one's watching. Maybe someday he'll learn to party?
---

---
9. Jamaal Charles – DJ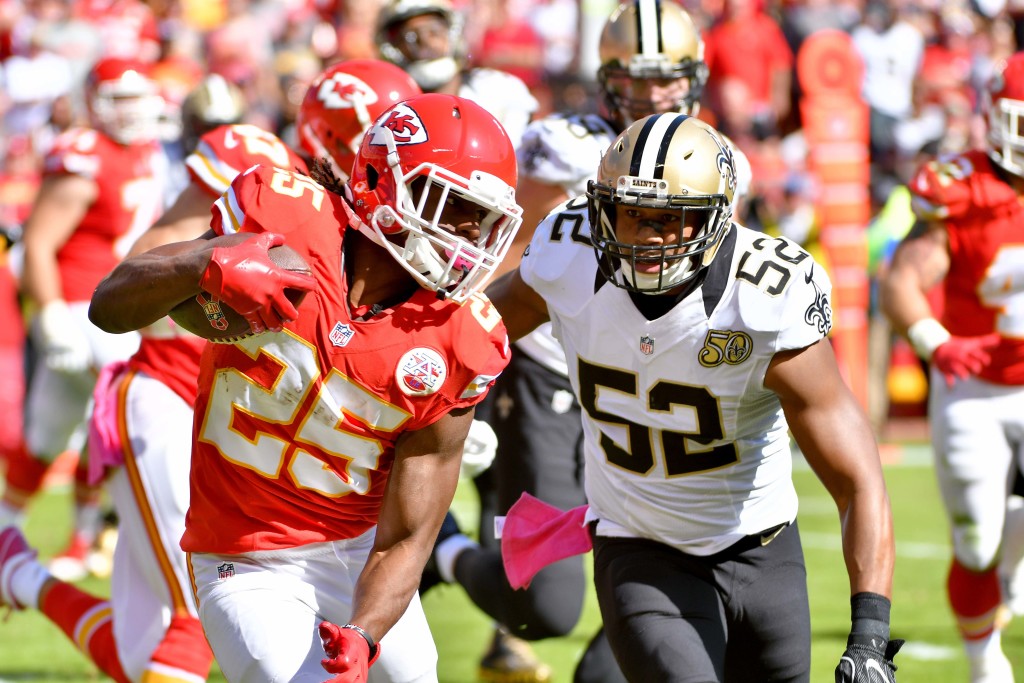 DJ Charles on the 1's and 2's y'all! He got hooked on DJing after playing Guitar Hero in college, and now he plays at clubs everywhere during the offseason. Performing in front of crowds is nothing new for the Chiefs running back and he's already planning on making this hobby count. After he retires, he's planning to go full DJ Firehouse fam!
---
8. Marshawn Lynch – Video Games
Playing video games wasn't enough for Marshawn Lynch, so he decided to take his hobby to the next level. Last year, Lynch got himself IN Call of Duty, playing a bad boy villain with a sweet head of hair. Now that he's retired he has plenty of time to play, although for our sake I hope he just makes videos with Conan forever.
---
7. Le'Veon Bell – Chess Wizard
When the NFL is playing checkers, Le'Veon Bell is playing chess. Strategically, it doesn't affect the games whatsoever, but there's gotta be an advantage somewhere right? Young men doing old man things FTW!
---
6.

A.J.

Green – Juggling Master
Ahhh so THAT'S how A.J. Green become a Pro Bowl receiver! Not sure if juggling is more of a skill or a hobby, maybe that's up the beholder? One thing is for sure, I messed up BIGTIME not juggling as a kid. Also not growing to be 6'4" with a 4.30 40, that was also a huge mistake.
---

---
5. Andrew Luck – Book Club/Board Games
Does this look like the face of a starting QB who loves reading books and playing Settlers of Catan in his spare time?
---
4. Jimmy Graham – Stunt Pilot
He doesn't just fly high on the field, Jimmy Graham literally flies high into the sky. Graham wants to become a competitive airplane racer after his career, and currently does aerobatic stunts in single-prop planes. Until he kicks the Seahawks out of the sky fulltime, Graham has also been flying low-income critical-care patients from their homes to the hospital. Stop making us all look bad, Jimmy!
---
3. Martellus Bennett – Artist Inventor
Martellus Bennett is super outspoken, probably because he's got a lot of thoughts to get out. Bennett is the creative director of the Imagination Agency, a company he formed to actually create all the wonders of his mind. From cartoons, to books, to stuffed animals and more, Bennett does it all… and may even have more fun than his daughter doing it.
---

---
2. Justin Tucker – Opera Singer
Just when you thought NFL kickers couldn't surprise you anymore, Justin Tucker goes and opera sings and IMMEDIATELY redeems them all. My first instinct was to be like, wow what a lame hobby… Then I realized I don't have a single hobby to call my own. But holy heck whoa those pipes! Tucker can even sing in 7 different languages, which means oh my God I need to figure out what to do with my life.
---
1. Jon Dorenbos – Magician
https://www.youtube.com/watch?v=iokOJVtwrck
Dorenbos went viral this summer as he competed on America's Got Talent during Eagles training camp. Everytime he advanced, he impressed even more than before, with stunts so incredibly unique. Long snapping footballs is a weird enough hobby but combine that with magic? You've got a guy I wanna DO NOTHING with!