There's never a lack of elite receiving options, and this week is no different. Identifying talented pass catchers in favorable spots isn't always difficult, but often times it's challenging to determine which member of that team will be the player who'll benefit from that matchup the most. Hopefully I can help you navigate those decisions this week. I'm pinch-hitting for Jonathan Bales this week because he's busy trying to win millions of dollars or something, no big deal.
---
Looking for a different position? Check out the rest of the positional targets:
NFL Quarterback Targets – Week 15
NFL Running Back Targets – Week 15
NFL Tight End Targets – Week 15
NFL Defense Targets – Week 15
---
If you're new to the daily fantasy community, welcome, you're in for a whole lot of fun. If you have questions, please find me on Twitter, @RyNoonan.
Cream of the Crop
Calvin Johnson, Detroit Lions (@ New Orleans Saints) -$6,900
We've just been given glimpses of the former best wide receiver in the world this season, glimpses instead of his consistent dominance, but that's enough to know that he can still exploit a great matchup for a huge fantasy day. Think of Philadelphia on Thanksgiving Day, for example. Calvin against Brandon Browner and the Saints 32nd ranked pass defense is a match made in DFS Heaven.
Antonio Brown, Pittsburgh Steelers (vs. Denver Broncos) -$8,700
I'm just not going to fade him in cash if Ben is healthy. I can't. That might be a donkey move given the matchup, but Antonio Brown is the safest bet for a dozen targets and I'm willing to pay up for that safety in cash games. Brown's big-play ability and after the catch skills keep his ceiling high, as well. Denver has the top ranked pass defense according to Football Outsiders' DVOA metric, but this will prove that Antonio Brown is essentially matchup proof.
Jeremy Maclin, Kansas City Chiefs (@ Baltimore Ravens) -$5,500
Jeremy Maclin has been a target monster of late, especially given the low volume nature of Kansas City's passing game. I liked seeing that the Chiefs went out of their way to get Maclin going early last week, targeting him four times on the opening drive. Despite his recent outburst, his price has stalled and it is $1,400 less than he was in Week 1. Baltimore's pass defense has been a sieve of late, ranking 30th in the league.
Brandon Marshall, New York Jets (@ Dallas Cowboys) -$7,600
Brandon Marshall has exceeded all expectations this season. He was clearly battling injuries during his final few chapters in Chicago, and stories of his demise have been greatly exaggerated. From a DFS perspective though, it's been easier to fade him and grab his high volume teammate, Eric Decker, for thousands less each week. Well that pricing gap has vanished while Marshall's production has stayed the same. Decker's matchup in the slot against talented rookie Byron Jones is much more difficult than what Marshall will see on the outside against Brandon Carr and Morris Claiborne.
Middle of the Pack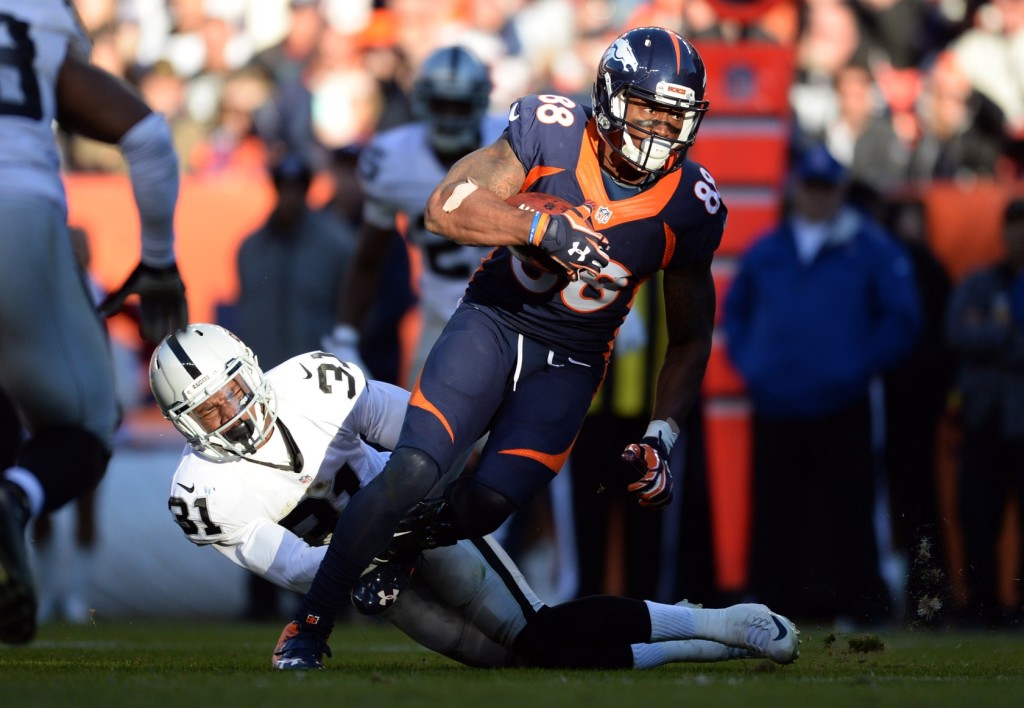 Demaryius Thomas, Denver Broncos (@ Pittsburgh Steelers) -$6,800
By any measure, it's been a down year for Demaryius Thomas and the Broncos passing game. Thomas hasn't done himself any favors, with costly drops in multiple spots this season, but he's still targeted heavily and his elite skill level makes him a difficult matchup for Pittsburgh's suspect back half. Thomas is averaging more than 10 targets a game with Brock Osweiler under center, while hauling in three scores in four games. Typical keeper of this space, Jonathan Bales, has done extensive research around value tied to price drops so it's worth noting that DT is $2,300 less than he was on opening weekend.
Larry Fitzgerald, Arizona Cardinals (@ Philadelphia Eagles) -$7,300
I want exposure to the Cardinals passing offense somehow, and while my preferred means of doing so is Carson Palmer, Larry Fitzgerald offers the most security among the wide receivers. Teammates John Brown and Michael Floyd appear to have better matchups against the outside cornerback tandem of Eric Rowe and Byron Maxwell, but I'll take Fitzgerald in the slot over Malcolm Jenkins any day of the week. This week, that day is Sunday.
Julio Jones, Atlanta Falcons (@ Jacksonville Jaguars) -$8,500
I know I'm not alone in wondering why the Falcons haven't gone out of their way to scheme Julio Jones in to a bigger share of the offense lately. He's still been strong, hauling in 7 balls per game over his past four, but he's topped 100 yards receiving just once in that time and has failed to find the end zone as well. I think that steak ends this week against weak cover corner Nick Marshall and Jacksonville's 27th ranked pass defense.
Jarvis Landry, Miami Dolphins (@ San Diego Chargers) -$6,300
With a full point per reception, we have to give Jarvis Landry serious consideration every week when he's priced like this. He's the focal point of Miami's offense and their quick trigger when it comes to abandoning the run always works in Landry's favor.
Odell Beckham, Jr., New York Giants (vs. Carolina Panthers) -$9,200
Oh boy. This will be fun to watch. We have arguably the game's top receiver Odell Beckham Jr. squaring off against the league's top graded cover corner, Josh Norman. I imagine we'll see Norman shadow Beckham all over the field, making this a better watch than viable DFS option. I don't have to convince you that OBJ has elite tournament upside, but clearly it's capped a bit in this spot.
Rest of the Field
Doug Baldwin, Seattle Seahawks (vs. Cleveland Browns) -$5,800
If you were in early on the Doug Baldwin-is-going-to-crush-it parade, good for you. I imagine you'll continue to play him regardless of price because…well, don't do THAT. I do think that his recent touchdown production is unsustainable, but he's still priced favorably given his recent usage. The injuries to Marshawn Lynch, Jimmy Graham and now Thomas Rawls have all greatly impacted how Seattle is playing, and no one is seeing the fruit from that more than Doug Baldwin.
Michael Crabtree, Oakland Raiders (@ Green Bay Packers) -$5,700
I like the chances of Oakland's passing game bouncing back in this one, and I'll take Michael Crabtree and his red zone targets over discounted teammate Amari Cooper ($6,000). Both of Oakland's talented wideouts have been relatively quiet of late, but Crabtree has six touchdowns in his past seven games and will have a size advantage over all of Green Bay's undersized corners.
Nate Washington, Houston Texans (@ Indianapolis Colts) -$3,400
Nate Washington is my preferred sub-$4k receiver this week. I don't think Vontae Davis will shutdown, or even shadow, DeAndre Hopkins, but I think Nate Washington sees enough of Davis' teammate Greg Toler to return value.
Golden Tate, Detroit Lions (@ New Orleans Saints) -$5,500
Golden Tate has played really well of late, and he's a strong tournament pivot to his higher priced teammate Calvin Johnson. I believe that Tate, based on his size and snap chart, will likely see more Delvin Breaux than Johnson will, but Detroit moves Tate around enough while Breaux himself has slipped a bit from his early season splash.
---
Continue Reading This Week's Targets Series
NFL Quarterback Targets – Week 15
NFL Running Back Targets – Week 15
NFL Tight End Targets – Week 15
NFL Defense Targets – Week 15
---