Each week, I'll be playing the age old game, NFL style. There are always new faces that pop up, and you'll need to know which guys to chase or fade. Get me on Twitter – @lonero_justin. Let's get to it!
Stefon Diggs – $4,200 (Chase)
If you told me a few months ago Stefon Diggs would be Teddy Bridgewater's favorite target, I would have told you to slow down on the drinks. The last two weeks in Charles Johnson's absence, Diggs has been targeted 19 times. The volume is there and the 6′ 0″ rookie has a clear rapport with his quarterback. Mike Wallace recently compared him to Antonio Brown so he's got that going for him. This week he has a dreamy matchup against the leaky secondary of the Detroit Lions. Sign me up twice.
---
Lance Moore – $3,500 (Fade)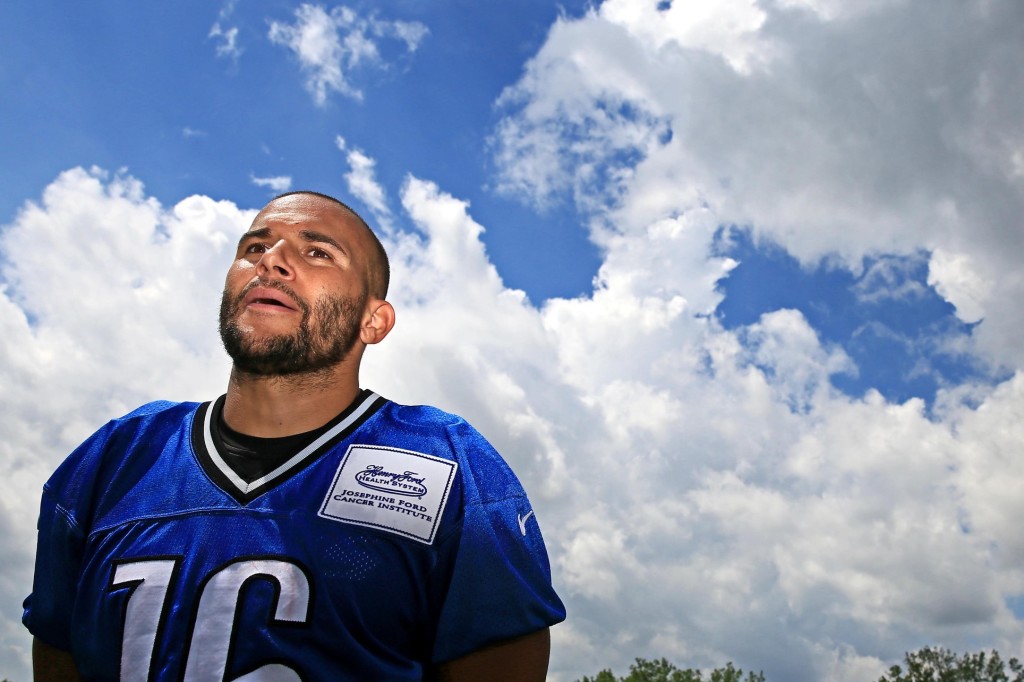 Lance Moore has been heavily involved in the passing game the last two weeks hauling in 11 receptions on 14 targets for 161 yards and two touchdowns. It is hard to instill a ton of confidence in him when he is clearly option number three behind Calvin Johnson and Golden Tate. His recent production could be the result of Eric Ebron's absence. Moore will face a tough Minnesota Vikings secondary this week at home. He's a sneaky play and his price is practically free. I don't hate him this week so maybe he'll be in a GPP lineup of mine due to his recent volume.
---
Brian Hoyer – $5,300 (Fade)
Brian Hoyer is better than Ryan Mallet and it's good the Texans are realizing that. He lit up the Jaguars last week but that isn't saying much at all. I suppose any ordinary guy could look awesome if they had DeAndre Hopkins at their disposal. This week Hoyer gets the Dolphin's top eight passing defense on the road. Hoyer has always been a hard worker and he will have some solid fantasy weeks this season, but this week is going to be tough sledding for the veteran.
---
Martavis Bryant – $4,700 (Chase)
Martavis Bryant returned from his 4-game suspension and caught six of eight targets for 137 yards and two touchdowns. The quarterback play is going to be suspect until Big Ben's return, so Bryant's production could be sporadic. Week seven Bryant gets to face one of the worst secondary's in the Kansas City Chiefs. I love his matchup and it's hard not to love his sub 5k ticket cost. The 6'4′ second year wideout from Clemson could serve as Landry Jones safety blanket in the upcoming week or so. Even if Ben Roethlisberger returns this week I won't come off Bryant in tournaments.
---
Danny Amendola – $3,500 (Fade)
Danny Amendola caught 7-of-9 receptions for 105 yards week six while Julian Edelman who was bothered by a finger issue and chased around by Vontae Davis. His week seven matchup won't be as easy against the Jets. Julian Edelman could see a ton of Darelle Revis making Amendola a sneaky play. I'm not buying it. Just when we get a little bit of faith in Amendola he gets hurt or he lays an egg. The Patriots invested in Amendola as if he was going to be the next Wes Welker. I need to see more than two weeks of solid production before investing too much though in playing Danny Amendola.
---
Lamar Miller – $4,600 (Chase)
Yeah I know, Lamar Miller has made splashes before so it's not like he is someone that just popped up (see what I did there?). Sometimes a change in head coaches is all it takes for a player to be used properly and that may be the case here. Through the first four weeks Miller had just 37 carries. Last week he had 19 carries for 113 yards and a touchdown. Week seven Miller will face a Texans defense at home that has allowed six rushing touchdowns to start the season. Give him a chance under his new head coach. He is going to be utilized.