Each week, I'll be playing the age old game, NFL style. There are always new faces that pop up, and you'll need to know which guys to chase or fade. Get me on Twitter – @lonero_justin. Let's get to it!
Ka'Deem Carey – $3,000 (Fade)
Ka'Deem Carey scored twice last week against the Buccaneers with two, one yard-vultured touchdowns. This week he'll play a Lions run defense that has allowed the second most rushing touchdowns (18). Chances are Matt Forte will be relocating and week 17 could be an audition for prospective buyers. It could also serve as an opportunity for Carey to show the Bears what he has to offer. Carey is a punt play this week at the minimum salary. He is a risky play as he is the third running back on the depth chart.
---
Keshawn Martin – $3,000 (Chase)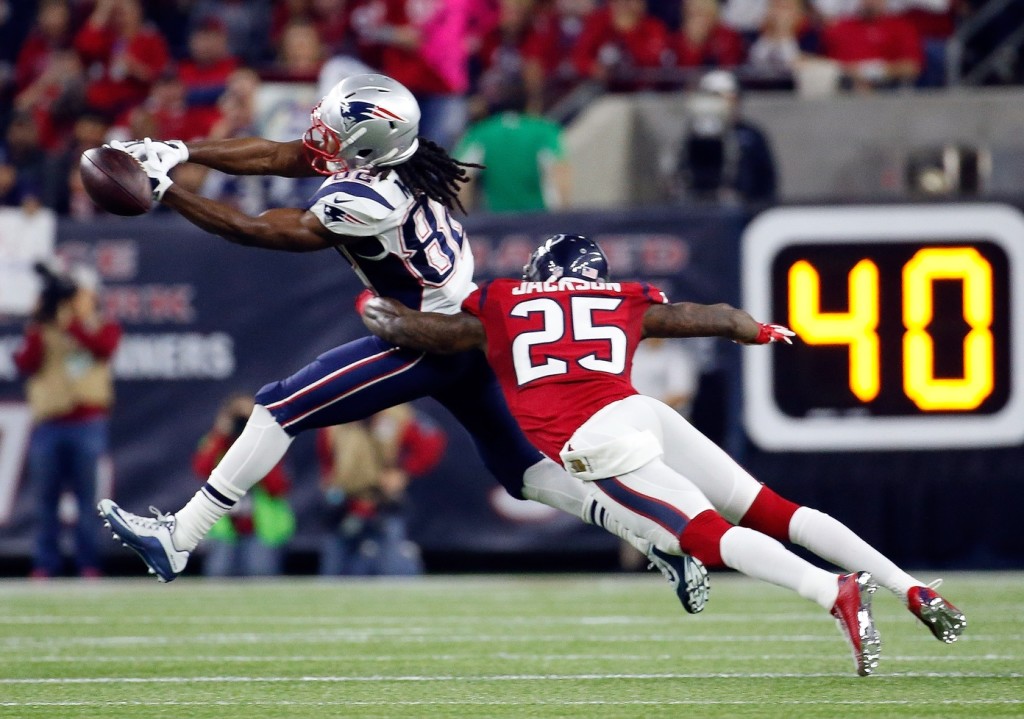 "Next man up" is the philosophy here in New England and most of the time it works. There does come a point when a team becomes as thin at a position as thin can get and that is where the Patriots are at currently. Keshawn Martin snagged 7 of 11 targets last week for 68 yards. The volume/targets sticks out to me here. He could see the same type of usage in a favorable road matchup against the Dolphins this week. Martin is being used in Julian Edelman's role which will keep him busy. The Dolphins have allowed 31 passing touchdowns this season. Price, matchup and opportunity are all in Martin's favor this week.
---
Mike Gillislee – $4,400 (Fade)
Mike Gillislee has been solid in LeSean McCoy's absence. He has scored in three straight games and has caught five passes. Karlos Williams has also had a role as the two have formed a one two punch. My issue this week is his lack of volume and the matchup against the Jets who have only allowed two rushing touchdowns on the season. The Jets have held teams to 81.5 rushing yards a game. Gillislee is the hotter running back of the two but I expect it will be tough sledding for both.
---
Jerick McKinnon – $3,500 (Chase)
Jerick McKinnon has been a nice change of pace running back for the Vikings and recently become involved in the passing game with 10 catches in the last four games. He'll see a Packers offense this week that has given up 12 rushing touchdowns on the season and is giving up 116.9 yards per game. He's learning from the best in Adrian Peterson and adds a different dimension of speed and versatility to the Vikings back field. Expect the Vikings to keep giving Jerick the touches needed to warrant value in an effort to beat the Packers.
---
Rashad Jennings – $3,700 (Chase)
With Odell Beckham Jr. suspended last week, Rashad Jennings and was just about the only bright spot on the Giants. Jennings had 136 yards from scrimmage in his heavy volume role. He'll have plenty of chances against the Eagles in a game with the second highest over/under on the week 17 slate. The Eagles are among the worst run defenses in the NFL giving up 129.7 yards per game. Vegas has this game projected to be close which should keep Jennings on the field for the whole game. He has a very good shot at getting upwards of 20 touches. Anytime you can get a 20 touch running back at near minimum price, you take it.
---
Brandon Weeden – $5,100 (Chase)
I can't believe that I'm recommending Brandon Weeden. He may not even play if Brian Hoyer is cleared to play. The matchup is juicy against a Jaguars secondary that is giving up 270 passing yards per game and has allowed 28 touchdowns through the air. Weeden was very efficient a week ago against the Titans completing 15-of-24 passes for 200 yards, two passing touchdowns, and a rushing touchdown. The Texans have everything to play for this week in a home matchup in which they are a -6.5 favorite. I am allured by Weeden's almost minimum price in a home matchup with playoff implications where he should be peppering DeAndre Hopkins with targets. The truth is if Brian Hoyer plays he'll be a solid play as well, but this is Whack-A-Mole and I only talk about players and their performances based on the week prior.