Now dealing with new teams on bye every week, and more players getting hurt and getting healthy many new names can pop up in our process. Here are a few early thoughts on each position heading into Week 5.
Quarterbacks
Expensive
Tom Brady ($7,500) – I am going to go out on a limb and say that if Brady had been in there for the last four weeks, we might think he'd be set up for a good week facing the Browns. And what we can take away from the last few weeks is that Gronk was out there for 40+ snaps on Sunday, Edelman is healthy and Hogan and Bennett both look like good additions, and if Brady's weapons are a step up from last year it is not unreasonable to expect top-5 consistency from the get-go.
Andrew Luck ($7,300) – This is clearly a plus matchup, playing at home against the Bears, but this offense just has not looked good. The line is collapsing regularly, Luck's receivers are dropping passes all over the field, and Luck looks rattled and somewhat unsure of what to do with the ball. Bottom line, the matchup is great, but Luck carries major risk.
Inexpensive
Jameis Winston ($5,800) – Coming off a matchup with the league's best defense in Denver, Winston shouldn't be too highly owned, especially with the name recognition of the Panthers' defense. At the beginning of the year, this might have looked like the toughest two-game stretch of the year for the Bucs, but after seeing Matt Ryan throw for 500+ yards in Week 4, it's clear Carolina doesn't have the same defense they trotted out there during their Super Bowl run last year. The loss of Josh Norman clearly matters, and Winston could be able to take advantage of them vertically, giving him plenty of upside.
---
Running Backs
Expensive
Le'Veon Bell ($7,500) – Bell ran with burst in Week 4, he lined up outside and displayed his elite receiving talent, and perhaps most importantly to some owners, DeAngelo Williams only saw four carries. Maybe you shouldn't expect 144 yards and five catches against a solid Jets defense, but there is no doubt that he and Antonio Brown are going to be the featured players in a high-octane offense, with plenty of opportunities available to keep both of them performing at the highest possible level.
C.J. Anderson ($6,900) – The Broncos have a game plan, you know what it is, and it is still just really difficult to deal with. Their defense is going to punch you in the mouth, and they are going to control the clock with the running game. Devontae Booker has also looked good, but it is clear he's there just as a supplement to the starter, as Anderson has dominated touches every week, including 19 on Sunday. His YPC hasn't been stellar, but he is still able to make the one cut and go when the lanes are there.
Inexpensive
Terrance West ($4,800) – Dixon might return this week, but after West's performance Sunday, it's reasonable to think that they might decide to ease their rookie into the lineup. With a matchup against the Redskins, West could be in line for enough volume to make him an attractive option here, even if he isn't someone you would look at in any other week going forward. He had a long run of 21 yards this weekend, but if you can expect 15-20 carries with a shot at a touchdown, he is someone you can consider in any contest format.
---
Wide Receivers
Expensive
Mike Evans ($7,500) – Evans only had five catches for 59 yards in Week 4, but the matchups don't get any harder than Denver. This, in a a lot of ways, is the same argument I made above for Jameis – the Panthers' defense is not the same animal we saw last year, and their secondary is vulnerable. And as goes Jameis, so should go Evans – he was targeted 11 times Sunday, getting him to a ridiculous 43 targets over the last three weeks.
Demaryius Thomas ($6,900) – This is the thing, the Broncos want to run the ball, and no matter who is playing quarterback, they are going to execute a pretty conservative game plan. But there are only two real receiving options on this team right now, Demaryius and Emmanuel Sanders ($6,800). The two of them are probably going to combine for at least half of the team's targets every week (Week 4 it was 20 out of 31). And since that seems to be repeatable, I think they can both be targets to consider on a week-to-week basis.
Inexpensive
Dontrelle Inman ($4,100) – After the Keenan Allen injury, the Chargers' coaching staff announced that Inman was going to be the starter to replace him. The fantasy community thought the real answer was Tyrell Williams, but at best it appears that he and Inman are very similar players. It could be a week-to-week thing as to which one of them is the most successful unless Inman just takes the job for himself. He had a nice play on a deep ball from Rivers, but also caught a number of shorter passes to keep the chains moving, and came away with seven catches on 11 targets in a role that he could easily see repeated if he continues to earn Rivers' trust.
---
Tight Ends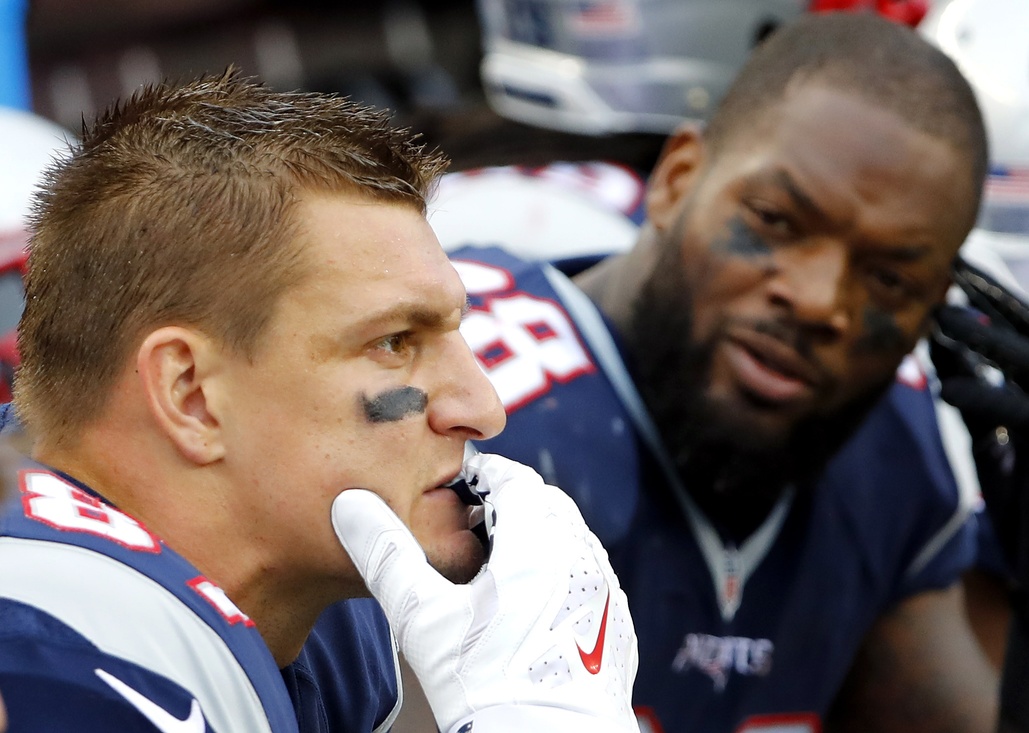 Expensive
Rob Gronkowski ($6,500) – He now has two games under his belt, so he's been allowed to get comfortable on the field in advance of Brady's return. No matter how much Brissett and Garappolo liked Bennett, if Gronk is at or near full speed with Brady back under center, he will be featured. Bennett ($3,700) could also be a consideration because both players should see the field plenty, but with Gronk's slow start, this might be the most inexpensive you'll see him for the rest of the year.
Inexpensive
Hunter Henry ($3,300) – With nine catches on twelve targets in the last two weeks, Hunter is getting a shot to let his talent translate onto the field as part of a depleted San Diego aerial attack. Clearly Rivers has shown an ability to consistently work a tight end into the game plan over the years, and Hunter looks the part of the high second round pick he was out of Arkansas, running routes with some burst and demonstrating the physicality needed to win battles in the middle of the field.
Charles Clay ($2,700) – Clay returned to action this weekend for the Bills, and he provided Tyrod Taylor with a very effective target, capable of finding the creases in the Patriots' defense and making plays for this offense. He only had five catches for 47 yards, but there was real value in the catches as he was converting first downs, keeping drives alive and clearly earning the trust of his quarterback, which should only mean good things going forward.
---
Defense/Special Teams
Expensive
New England Patriots ($3,700) – The Pats only surrendered 16 points to the Bills in Week 4 in a game they were on the field all too often, and suffice it to say, this is going to be a highly motivated squad come Sunday. They want to get started on the rest of the season with Brady back under center, and they should be able to have all the success they can handle on both fronts against an inept Cleveland Browns team.
Inexpensive
Philadelphia Eagles ($2,900) – The Eagles have six turnovers forced, ten sacks and just 27 points allowed through three weeks, and now they have had an extra week to prepare under new coordinator Jim Schwartz. If they come out with another solid performance against Matthew Stafford & Co. this weekend, you'll look back on this as the last weekend it was possible to get this defense on the cheap.
---
I am a promoter at DraftKings and am also an avid fan and user (my username is theasquad) and may sometimes play on my personal account in the games that I offer advice on. Although I have expressed my personal view on the games and strategies above, they do not necessarily reflect the view(s) of DraftKings and I may also deploy different players and strategies than what I recommend above.