With every Sunday that goes by, it gives us fantasy owners one more week of information to digest – you take what you just saw, you add it to what you already thought you knew, and you move forward. Here are a few players about whom we learned something in terms of his skill or for whom something changed in terms of circumstances or opportunity over the past two weeks, with a note about why I like him – or don't.
Quarterbacks
Expensive
Matt Ryan ($7,400) I was going to write about Big Ben here, but everyone is already all over him as a fantasy stud. Ryan, though, completely fell through the cracks throughout the preseason as someone who was going undrafted in plenty of seasonal leagues. And now he is playing the Saints in the dome. On the fast track, the Saints put up enough points to force you to play keep-up, and they put a defense on the field bad enough to let you do it. Ryan has thrown the ball more than 70 times through two games, and has completed more than 70% of them. With weapons on the outside and an inconsistent (so far) running game, there is no reason to imagine that stopping this week.
Derek Carr ($6,900) As someone who was touted as one of the great young QBs who would thrive in the league this year and going forward, Carr has lived up to the hype so far. You could argue that he has played the Saints and the Falcons, enough to make anyone look good, but then again, he's got the Titans this week. The Raiders D/ST, which was supposed to be improved this year, hasn't looked it, so you can expect Carr to continue to need to throw in bunches every week, so for me he is someone you can lean on at this price at least until Week 6 against the Chiefs when you can take a break and see how he fares against some stiffer competition.
Inexpensive
Dak Prescott ($5,700) He didn't throw any touchdown passes in Week 2, which means he should be off the radar for the majority of DFS players, which could give you an opportunity to exploit a matchup with Chicago in which Prescott's receivers should be able to dominate. While they're not quite the high-octane offense we're used to seeing with Romo under center, Prescott played very efficient football yesterday, completing over 73% of his passes, and he consistently leaned on Dez Bryant ($8,200), a smart move for a young QB, and good news for anyone considering either the QB or the WR for their fantasy lineups.
Running Backs
Expensive
Melvin Gordon ($5,800) Gordon now has three TDs in two games after going his entire rookie season with none, but despite those scores, I wrote last week that you still needed to be concerned about workload. Gordon looks good on the field, with quick explosive cuts and a tendency to keep himself pointed downfield, but with Woodhead out there getting more than 60% of the snaps, he was just never going to reach his full potential. With Danny Woodhead sidelined, it looks like Gordon is the most talented rusher, pass-blocking back and receiving threat out of the backfield. He should have all the work he can handle going forward, and especially this week against the Colts, that gives him as much upside as anyone in the league.
Inexpensive
Theo Riddick ($4,900) Another player who is bound to be a hot commodity on the waiver wire this week due to injury, is Theo Riddick. He is an interesting case because even before Abdullah got hurt, he was someone you could be considering in a PPR format (like DraftKings). He has nine catches through two games, and that is a role that is not going anywhere. If you add a dozen or so carries, even for just this week, then he is someone who has to be considered for DFS lineups until Abdullah is back to full strength.
Tevin Coleman ($4,500) With the first two backs I mentioned here, there is an obvious common theme, but there will be plenty of other places where you can go to read all about the injuries to running backs that plagued the league in Week 2. Charles Sims ($4,900), someone like Riddick who was already in play for his PPR upside, should definitely be on your radar, and you're going to want to consider Jay Ajayi ($4,000) and Fozzy Whittaker ($3,800) as well. But I thought I would go another way here with Coleman. This might be a paragraph actually all about NOT starting Devonta Freeman, but through two weeks, Coleman has gotten more work than I think anyone expected. He lost out on carries 12 to 17 in Week 2, but he is also cutting into Freeman's work in the passing game which, for now, might just means neither of these players has the upside or the floor to be considered for DFS play.
Wide Receivers
Expensive
Kelvin Benjamin ($7,200) I was tempted to write about the other Benjamin here (Travis), because it's always nice when an injury replacement actually looks like he has the talent to capitalize on an opportunity. But there was no denying Kelvin the space here after he has come through with two straight fantastic performances to open the year in his return from injury. With 13 catches for almost 200 yards and 3 scores through two weeks, it is clear that he is going to be the primary target on a team quarterbacked by last season's MVP – never a bad place to start if you're looking for a receiver for your fantasy lineup. He's never been a burner, but he didn't lose his footwork or his size, and he can use both to consistently gain and leverage position against almost any d-back in the league. The Vikings D has looked good so far, but they still don't have the size in the defensive backfield to contain Benjamin, and Cam can usually find the space to make the throws even against a good front – these two could be a winning combination even in what could be an overall low-scoring affair.
Larry Fitzgerald ($6,900) Coming into the year everyone liked all three of the Cardinals' wide receivers, and all three got pushed backwards because no one was entirely sure which would be featured. Well, as long as Fitz is healthy, he is getting his targets. Michael Floyd has flashes of brilliance, and all three of these guys scored yesterday, but Fitz is the Hall of Famer of the bunch. He knows how to get open, it's that simple. Let's put it this way: Floyd and John Brown are hurt by his presence, but them being around only helps him. He knows how to take advantage of the fact that defenses can't focus on him alone, and he has done it so far to the tune of 14 catches (on 21 targets) for 162 yards and three scores through two weeks. There is no reason to stop taking advantage of that production unless his season is derailed by injury at some point along the way.
Inexpensive
Will Fuller ($4,800) If you want to use him in Week 3, you're going to have to be ready to get a lineup into the Thursday contests, as his Texans are traveling to Foxboro to face New England for Thursday Night Football this week. But this kid can fly, and with 18 targets through two weeks, he is being given plenty of opportunities to succeed opposite Hopkins. Defenses can't focus all their energy into stopping him, and as for this week's matchup, it is easy to see the Patriots focusing on stopping Lamar Miller and DeAndre, which could leave plenty of chances for this young wideout to aim for his third straight 100-yard performance.
Tight Ends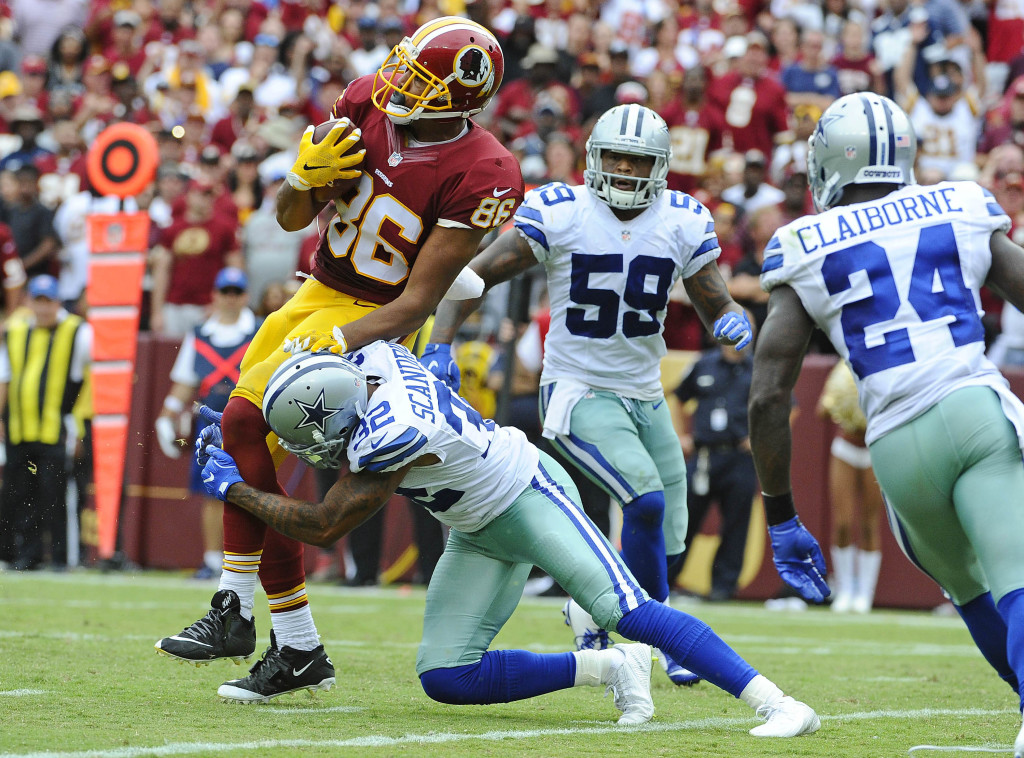 Expensive
Jordan Reed ($6,500) He has not yet scored a touchdown, so some of the hype that surrounded him after the way he ended last season seems to have died down for now. That's a situation you should be able to exploit, because there is nothing to suggest that upside has gone away. He's leading all tight ends with 18 targets through two games, and with an average of more than 11 yards per catch, he is still showing the same explosiveness he displayed when he was winning people fantasy championships down the stretch last year. As a high-upside play who might actually see lower-than-usual ownership percentages after two TD-less weeks, he is someone you might want to make a point of getting into at least one of your lineups this weekend against the Giants.
Inexpensive
Jared Cook ($2,900) Cook hasn't done much and Rodgers hasn't looked like himself, but that's how you find a value play – by identifying trends that could turn themselves around at any moment. I, for one, still trust Rodgers to bring out the fantasy value in the weapons around him, but there is a chance those weapons just aren't very good. We always expected something from guys like Cobb and Adams just because they were on the field with Rodgers, but there is a chance they just are not very good. Cook seemed to be getting more involved last night, coming away from the game with six targets, catching four of them. If he gains Rodgers' trust, there is no telling how quickly this price tag might escalate.
Defense/Special Teams
Expensive
Arizona Cardinals ($3,600) You'll notice a common theme here with my two defensive picks – they are both teams who might be undervalued because they gave up points and yards to a Patriots offense that, thanks to missing Brady and Gronk, could be seriously underappreciated at this point. Yesterday, the athletic, ball-hawking defense we remember from last year showed up again, with three sacks and five forced turnovers. With the ineptitude displayed by the Buffalo offense at this point, I expect more of the same from the Cards next weekend.
Inexpensive
Miami Dolphins ($3,000) "Who's playing the Browns this week?" is a fun game to play if you're streaming defenses in your season long leagues, but this pick is actually more than that. The Garappolo-led Patriots put a hurting on this team for a half, but even then, the talent of their defensive line was on display, as they managed to collapse the pocket around the young QB on a few occasions (and of course, got in the clean QB hit that ultimately knocked him out of the game). After a Week 1 in which they were able to stymie Seattle and a solid second half against New England, I've seen enough to think that they can wreak havoc in the backfield all day in this matchup with Cleveland.
---
I am a promoter at DraftKings and am also an avid fan and user (my username is theasquad) and may sometimes play on my personal account in the games that I offer advice on. Although I have expressed my personal view on the games and strategies above, they do not necessarily reflect the view(s) of DraftKings and I may also deploy different players and strategies than what I recommend above.