This is a list of the top Tight End targets for NFL games based on potential production and price. The players are split into three tiers based on likelihood of success. Remember that these rankings take potential production and price into account, so some guys may be higher up on the list despite having a lower projected score for the week if the price point is favorable. Here are some TE options to consider.
CHECK OUT MORE POSITIONAL TARGETS FOR WEEK 16
Quarterback Targets
Running Back Targets
Wide Receiver Targets
Defense Targets
CREAM

OF

THE CROP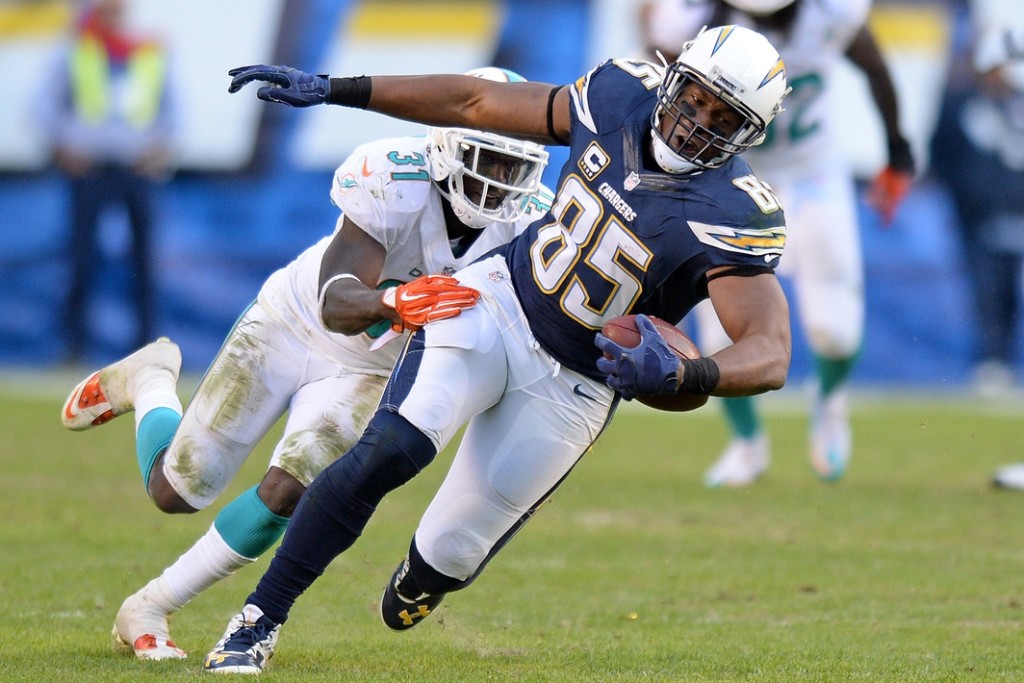 Antonio Gates ($5000) – Gates is one of my favorite targets on the weekend for quite a few reasons. He faces an Oakland defense that has allowed the second most fantasy points to the tight end position so far this season. He is a road underdog in a high total game at 47, so his tea should be trailing and passing late. Rivers slings the ball over 40 times a game as it is. He has a ton of WR options that are either out or unlikely to play, so he needs some pass catchers to step up for him. The game plan is likely to be pass heavy against Oakland and Gates leads the league in targets per game so far this year. He has averaged over 15 fantasy points per game in the last month and his scores have an average range of 11-21 during that time frame. His price is not prohibitive at only $5000 and he makes sense for cash and GPP play in one of the better matchups on the weekend.
Rob Gronkowski ($7600) – Gronk has been tough to figure all year long. He does have the highest floor and highest ceiling at the position, but that also goes along with the highest price tag. Gronk has not paid off that tag in a lot of spots this year, but the matchup with the NY Jets has been one of them. The Jets defense is very blitz heavy. Blitz heavy defenses tend to play a lot of man to man. Man to man on Gronk usually means he is matched up with a slow linebacker or a smaller safety, neither of which match up well with his speed or size. Gronk sees 8+ targets per game and lit this same team up for 11 catches, 108 yards, and a TD in the first matchup. Amendola is out, Edelman is still on the mend, and Brady will need to find someone to throw to at some point in this game. The way to attack the Jets is through the air, so I have no doubt the Patriots will go pass heavy and Gronk will be involved.
Julius Thomas ($5100) – JT has a dream matchup with a Saints pass defense that we have picked on all year. They give up the third most fantasy points to the TE position, so this matchup is one we should look to exploit. This is the highest total game at 51 with the Jags as 3 point underdogs, so the passing game should be featured heavily. Bortles has thrown up 25+ fantasy points in every game for a month, so it's not a stretch to think the Jags go pass heavy in a good matchup here. They have thrown the ball in over 70% of recent red zone appearances. Thomas has benefited from this with four touchdown catches in his last five games. He has not put up any really huge scores, but he is averaging 16.7 points over the last five games and that number is very useful for a price tag of only $5100.
---
MIDDLE

OF

THE PACK
Jordan Reed ($6500) – You may think I am crazy for not including Jordan Reed on the top shelf with the way he has been playing. Reed has back to back 29 point fantasy outburst with back to back multiple touchdown games. He has averaged 6+ catches for 65 yards or more this season and has at least 7 catches in 3 of the last 4 games. He plays in a high total game here as an underdog against a defense that struggles to stop the pass. The drawback is they also allow the second fewest fantasy points to the TE position so far this season. Reed has been awesome and usually is when healthy and starting. He not only sees targets from his TE role, but they even line him up outside like a WR, especially in the red zone. Reed is one of the better options we have in the league, but the tough matchup and high price are enough to keep him off the top rung of this ladder.
Greg Olsen ($7000) – The top end Tight ends have been the ones producing the catches, yards, and scores lately. Olsen has been one of the best of them all season long. He is the leading target getter at the position overall and averaging in the top 3 for targets per game on the season. His matchup with the team allowing the fifth most points to fantasy tight ends in the Atlanta Falcons is also a favorable situation for him, and he should be low owned due to the high price scaring many away (Only $600 cheaper than Gronk). Olsen has put up 19 r more points in about half of his starts this year, and that includes 2 of the last three games.
Zach Ertz ($3100) – The cheap option to roll this week is going to remain Zach Ertz. He is cheap for a guy who saw 13 targets last week and ended with 8 catches and a TD. He had 5 catches for 98 yards the week before and now quietly has five or more catches in about half his games this season. Washington is not bad at stopping tight ends and the game could feature a lot of running from Philly, but they are a high paced team that tends to spread it around and Zach Ertz is only $3100. At $3100, a 3 catch day with a TD likely pays over four times value. As it is, a 5 catch day which he has done in half his starts is likely going to yield over 3X value with a minimum of 10 fantasy points. Nothing there is asking Ertz to do anything he has not consistently done already, and the salary savings gives you a chance to fit in the lineups with an extra stud or two in them.
---
CHECK OUT MORE POSITIONAL TARGETS FOR WEEK 16
Quarterback Targets
Running Back Targets
Wide Receiver Targets
Defense Targets
REST

OF

THE FIELD
Delanie Walker ($6200) – There has not been a more consistent fantasy tight end all year then Delanie Walker. Since returning from injury in week 5, he has only failed to reach 12 fantasy points on one occasion and that was a matchup with undefeated Carolina and their vaunted defense. He has averaged 6 catches for 72 yards this season and is the top pass catching threat for the Titans. The Texans have been stingy this season to opposing tight ends, but Walker had 6 for 62 against them earlier this season. The Patriots concentrated on stopping him last week and while they did hold him to only two catches, both of those wound up with him in the end zone. He is averaging 16.2 fantasy points per game this season and has flashed 20+ point upside in multiple starts. The price is elevated, but you really can not argue with his production so far.
Zach Miller ($4000) – If you need another salary saving type option, then Zach Miller is your man. The Bears TE has been really good as a fill in for Martellus Bennett who is done for the year. In three games without Bennett, Miller has at least five grabs in all of them with 250 total yards and 3 touchdowns. He is arguably the second best pass catching threat the Bears have and the argument may be moot if the top option in Alshon Jeffery can not go. If Jeffery is out, Miller is the top pass catcher the Bears have remaining in uniform. I expect them to be trailing in this game either way and that likely means a high volume of passes and more opportunity for Miller. The $4K price is friendly enough to make him a cash game and GPP option, but the blow out risk is real and that keeps him on the bottom rung of the available options.