Taking a look at the various QB options for the upcoming weekend and categorizing them based on upside, salary and matchup.
---
Looking for a different position? Check out the rest of the positional targets:
NFL Running Back Targets – Week 12
NFL Wide Receiver Targets – Week 12
NFL Tight End Targets – Week 12
NFL Defense Targets – Week 12
---
Cream of the Crop
Brian Hoyer, Houston (vs NO) – $5000
I can't remember a pass defense that has ever been as poor as that of the Saints. Over the past year, they've allowed 9.6 points above expectation to opposing passers. Only two other defenses in the NFL are even above 3.5. I think Hoyer is going to have high ownership given that he's min-priced, but with Houston projected as the second-highest-scoring offense in the Sunday slate, I'm not fading.
Blake Bortles, Jacksonville (vs SD) – $5900
Bortles should see lower ownership than Hoyer, due in part to his lackluster Week 11 performance. I love jumping on guys coming off of poor performances because we typically see a dip in both price and ownership. It was the first game all year Bortles failed to meet his salary-based expectation.
Carson Palmer, Arizona (at SF) – $7100
Palmer has exceeded salary-based expectations by 6.6 points per game this season, and he hasn't failed to meet his implied point total even once. Just because of the consistency, I love him at this price. The thing that scares me most is the spread; the Cards are 10-point favorites, although I still think Palmer should see a decent workload.
Johnny Manziel, Cleveland (vs BAL) – $5100
Manziel threw well in his last outing and the Ravens have the second-worst pass defense in the NFL, behind New Orleans. The Browns are projected only moderately, but Manziel is one of those quarterbacks whose production doesn't correlate perfectly with the lines given his rushing ability. If you think he's going to take off on the ground, he's a value at just $100 more than the minimum quarterback price.
---
Middle of the Pack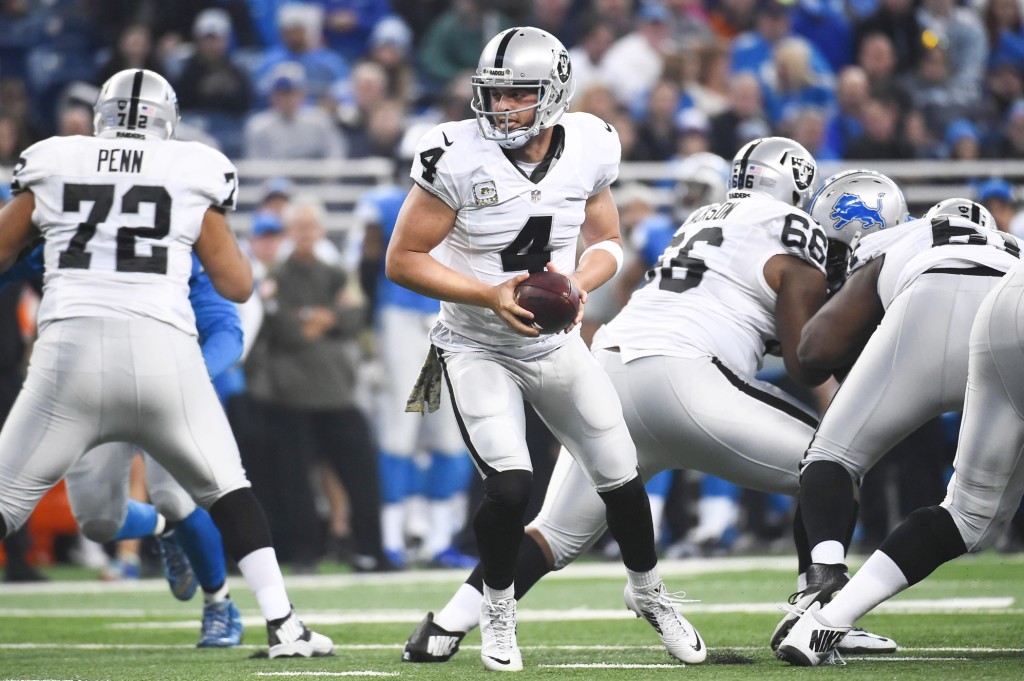 Derek Carr, Oakland (at TEN) – $6300
Carr is similar to Bortles in that he's a young, up-and-coming passer coming off of a poor game. Carr's last outing was really bad, but he tossed at least three scores or topped 300 yards passing in each of the prior four games. This seems like prime bounce-back territory.
Drew Brees, New Orleans (at HOU) – $7300
Brees has proven to be very hot-and-cold this season, and I certainly think there are better options in cash games, especially at this price tag. I also don't like that he's on the road, but I do like that the game has shootout potential given how horrendous the Saints' pass defense has been.
Ryan Fitzpatrick, NY Jets (vs MIA) – $5000
I think some others will be higher on Fitzpatrick than I am. He's underpriced, but I don't think there's much upside; Fitzpatrick doesn't have a 300-yard game since November of last year and he hasn't tossed more than two touchdowns in any game since then, either. Given that lack of upside, I'm really not on him, but again, he is technically underpriced relative to his median projection…if you're into that sort of thing.
Eli Manning, NY Giants (at WSH) – $6500
The Giants are projected pretty well and we know they don't rely on the running game. So much of Manning's value comes down to whether or not a defense can effectively stop Odell Beckham, Jr., and I think Washington is very unlikely to do that. Manning would be higher, but I do think he's a tad overpriced.
---
Rest of the Field
Russell Wilson, Seattle (vs PIT) – $6000
Wilson is coming off of his best passing performance of the season and he's now facing another weak secondary in Pittsburgh. I'd have him ranked higher if I thought the game had more shootout potential.
Andy Dalton, Cincinnati (vs STL) – $6100
This matchup initially looks really bad, but the Bengals are actually projected to score the second-most points of any team in the Sunday slate. The downside to that is the game total is just 42 points and the Bengals are 8.5-point favorites, so this could be a game in which we see more Jeremy Hill than Dalton.
Matt Hasselbeck, Indianapolis (vs TB) – $5400
The Colts are projected at 24.8 points—a top five offense on Sunday—and they probably won't be able to run the ball all that well against Tampa Bay. Given the cost of $5400, Hasselbeck could make some sense, though I still think there are better options in his price range (Hoyer, Bortles, and Manziel, in particular).
Tom Brady, New England (at DEN) – $8000
The price is too high and the matchup sucks, but if there's a quarterback with whom you should be contrarian when you can, it's Brady.
---
Continue Reading This Week's Targets Series
NFL Running Back Targets – Week 12
NFL Wide Receiver Targets – Week 12
NFL Tight End Targets – Week 12
NFL Defense Targets – Week 12
---
Jonathan Bales is the author of the Fantasy Sports for Smart People book series, and most recently Fantasy Football for Smart People: How to Win at Daily Fantasy Sports.
Follow him @BalesFootball.