I put almost no stock in preseason performances. The miniscule sample size and vanilla scheming leads to a ton of irrelevant noise and dangerous swings in player perception.
However, I do use the preseason to get a handle on how coaches view their depth charts. The easiest way to do this is not following what they say, but instead how they use players. By tracking first-string usage, we can quietly learn a ton as we continue to get set for Week 1. These are the usage notes I found important through one week of preseason action:
1. Major concern for Devin Funchess
Cam Newton played 13 snaps in last Thursday's preseason opener against the Ravens. During that span, Devin Funchess only saw five snaps and they were all running plays. The Panthers' base three-wide set was Kelvin Benjamin (eight snaps), Ted Ginn (eight snaps) and slot man Brenton Bersin (seven snaps). On four of Funchess' five snaps, he was the lone wide receiver in a power set and blocked. On his fifth, he was with fellow backup Philly Brown in a two-WR set. It's familiar usage from last year, when Funchess played on just 44.7 percent of the snaps and got a meager 4.0 targets per game.
The takeaway here is that Funchess has not yet passed Ginn, who the Panthers can't seem to quit. It's a surprise after the Panthers raved about how far Funchess had come since his rookie year, but we can't beat our heads against the wall. Until this team moves Ginn into a situational role, Funchess' production will be capped.
---
2. Jeremy Langford takes bat to "committee" reports
Jay Cutler played 10 snaps in the Bears' preseason opener. Jeremy Langford was with him for all 10, leaving Jordan Howard, Quizz Rodgers and Ka'Deem Carey to run with the backups. Although I agree with the common perception that Langford is nothing special, it fails to take into account that competition is well below average. I talked more here about why I think the Bears will be a ball-control, run-based team, and we know about the value in three-down plus goal-line running backs. Langford is just $4,700 in Week 1 at Houston.
---
3. Even split coming to Jaguars backfield?
Blake Bortles played 18 snaps last Thursday. T.J. Yeldon started and was in for nine of them, while Chris Ivory also played nine. The red-zone snaps were four for Ivory, three for Yeldon. The two goal-line chances both went to the bigger Ivory and he banged in the second one for a touchdown. An even split should be expected through the season here as the Jags gave Ivory a $32M contract in March and have plenty of draft capital tied up in Yeldon. Ivory will be more likely to score touchdowns on a weekly basis, especially after seeing the Jags so scared to give Yeldon touches there last year.
---
4. Matt Jones the lead dog as expected
Matt Jones handled six of the eight first-team running back snaps in the opener. He did come off the field on the two third-downs, giving way to passing back Chris Thompson. It's such an interesting situation because I believe the Redskins' offense is going to be very good and generate a lot of points. But the effectiveness of the run game as a whole is in doubt, in part due to Jones' limitations and in part due to offensive line play. Jones will be a high-ceiling candidate weekly as the clear-cut lead back (ahead of Keith Marshall), but Thompson will be a sneaky GPP play in certain spots. If the Redskins are forced to abandon the run game and give Kirk Cousins massive volume, Thompson will be a big beneficiary in PPR formats like DraftKings.
---
5. Laquon Treadwell running behind Charles Johnson
Treadwell played on just three of Teddy Bridgewater's 14 snaps Friday night as he continues to run behind Charles Johnson at split end. Johnson was in for 10 snaps while camp riser Stefon Diggs got all 14 and slot man Adam Thielen chipped in with four. It's not a surprise, as the Vikings have made it clear they'll ease in their first-round rookie. So we have to tread very lightly with Treadwell because the Vikings ranked 27th in pace last year, 30th in pass/run ratio and ranked 25th in three-WR sets when passing. There are volume and depth chart concerns here.
---
6. DeAndre Washington shines with backups
The Raiders' first-stringers logged 10 snaps against the Cardinals and Latavius Murray was in for all 10 of them. That included a pair of third-down plays. So our suspicions, raised here and here, were confirmed; Murray is a true three-down play goal-line back. However, fifth-round rookie DeAndre Washington came on with the second unit and was among the most impressive RBs of the week (along with Christine Michael). He rushed eight times for 43 yards and caught one pass for 32 yards. I don't put very much stock in preseason performances, but it looks like Latavius will have to perform well to keep his current vice grip on his aforementioned current role.
---
7. Tyler Boyd works exclusively in slot
Tyler Boyd was a consistent three-year stud at Pitt, averaging 6.68 catches for 88.4 yards and 0.55 TDs per game. So it's understandable there's been some hype around the Bengals' second-round rookie, especially since Tyler Eifert is hurt and Marvin Jones/Mohamed Sanu are gone. But we should remember that Boyd plays the slot in an offense which runs a below-average amount of three-WR sets (h/t ESPN's Mike Clay). So on Andy Dalton's eight snaps Friday, the WR reps were A.J. Green 8, Brandon Tate 8 and Boyd just 2 (Brandon LaFell did not dress). Boyd's role may not be as extensive as some believe.
---
8. Chargers RB usage goes as expected
Last year, Danny Woodhead handled a majority of the Chargers' third-down, two-minute and red-zone work. It resulted in 66.7 percent of his team's carries inside the 5-yard, 50.0 percent inside the 20-yard line and eight targets inside in the 10-yard line. We didn't get a look at any first-team red-zone usage when the Chargers played the Titans on Saturday, but the usage went as expected. Melvin Gordon started and played on five of the eight starter snaps. Woodhead came on for three snaps, including the two 3rd-down plays. Gordon did find paydirt on a 44-yard swing pass, his first TD on 243 career NFL touchdowns (including preseasons). But his current role does not lend itself well to reliable fantasy production.
---
9. Will Fuller already an every-down player
The Texans aren't wasting any time with their first-round WR Will Fuller. He was in for all 15 of the 15 first-string offensive snaps Sunday night, matching DeAndre Hopkins' 15. Braxton Miller was the slot man and got nine snaps with Brock Osweiler. It's a reminder that Fuller and his 4.32 speed will be a weekly deep threat, lifting the lid off defenses while Hopkins works the intermediate routes. It's also a reminder that Jaelen Strong, who got just one snap with Osweiler Sunday night, isn't usable until we see a role change.
---
10. Vance McDonald in a timeshare
Intriguing size/speed athlete Vance McDonald is a viable sleeper in Chip Kelly's offense after averaging 3.5 catches, 43.6 yards and 0.5 TDs over the final six games of 2015. The 43-yard TD he scored on national television Sunday night will likely boost his average draft position by at least a few points. But note that he's battling with Garrett Celek for snaps and it appears Chip is considering a timeshare. Celek started and got 10 snaps with the first-stringers while McDonald was in for nine first-string snaps.
---
11. Bruce Ellington not just a hype machine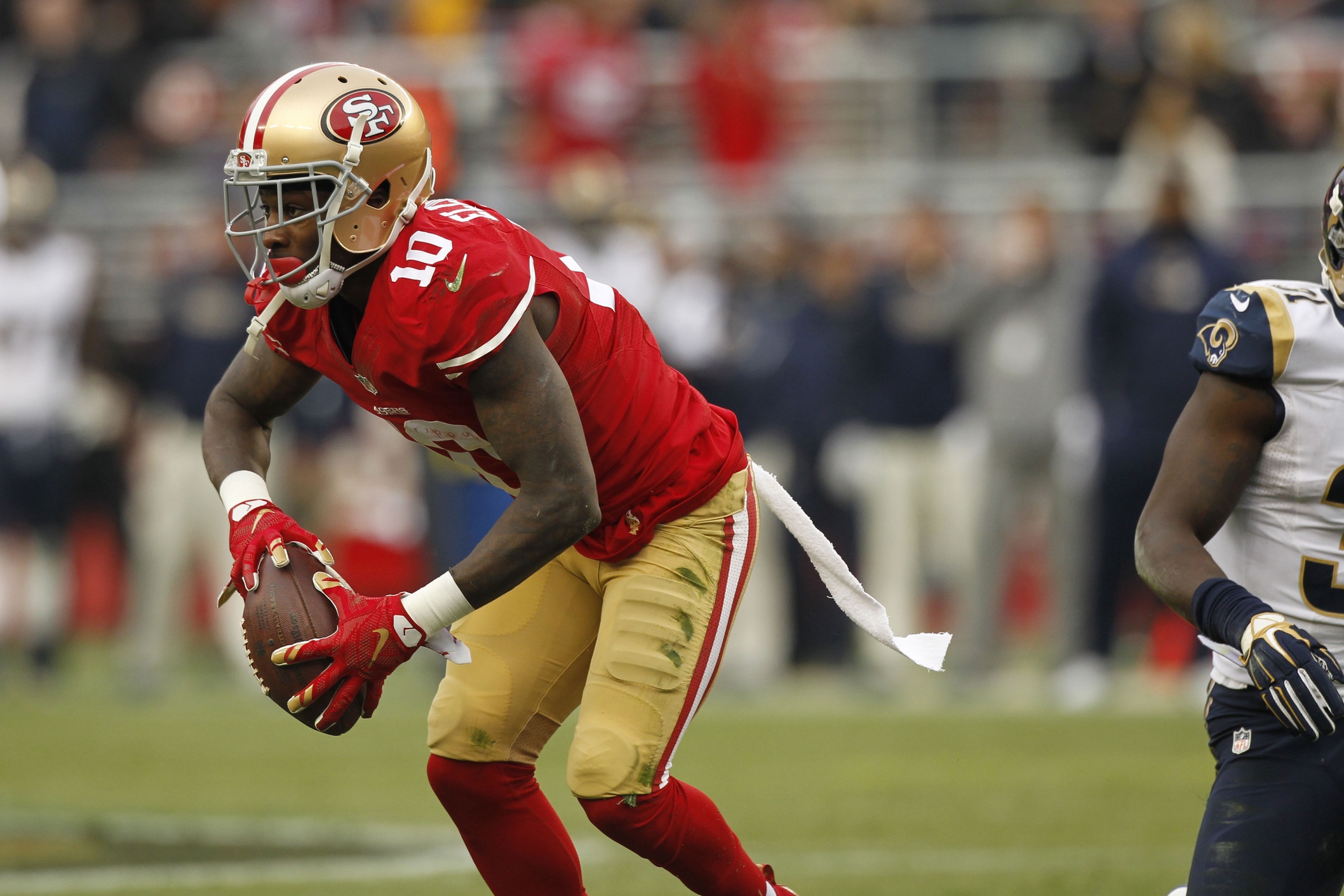 There's been a steady drumbeat of excitement for 49ers slot man Bruce Ellington all offseason. Sunday night confirmed that he'll have a big role in Chip Kelly's fastbreak offense as he was in for 15-of-19 first-string snaps. Note that the Niners were in a three-WR formation for each of their snaps with starter Blaine Gabbert. The rest of the WR snap count was Quinton Patton 19, Torrey Smith 17, DeAndrew White 4 and DiAndre Campbell 3. There's certainly opportunity here for guys such as Ellington, Torrey and the aforementioned McDonald. However, consistency and upside are both concerns with inept Gabbert and Colin Kaepernick at quarterback.
---
I am a promoter at DraftKings and am also an avid fan and user (my username is AdamLevitan) and may sometimes play on my personal account in the games that I offer advice on. Although I have expressed my personal view on the games and strategies above, they do not necessarily reflect the view(s) of DraftKings and I may also deploy different players and strategies than what I recommend above.