If you watched football in week eight, you probably have a pretty good feel for who the best performers were. If you were sweating your lineups on DraftKings, you probably have a pretty good feel for who the best performers were. Check out the perfect lineup for week eight!!
Download every player's DK fantasy points, salary and more from Week 8 HERE!
NFL HEADLINES

– Week 8
Drew Brees Posts Fantasy Game for the Ages
Games below include playoffs (Kaepernick's 50.62 FP game was in the postseason)
-Drew Brees fell just 3 passing yards short of breaking Colin Kaepernick's record for most DK
fantasy points by a QB
-It marked just the 2nd time since the start of the 2012 season that any QB had at least 50 DK fantasy points.
-With Kaepernick's game coming in the postseason, Brees posted the most DK FP for any Quarterback in regular season DraftKings history (since 2012).
-Brees' 50.54 fantasy points were the most by any player on DraftKings this season.
-Brees also had the 9th most DK fantasy points of any player since the start of the 2012 season.
-Eli Manning's 41 DK fantasy points were the 13th highest for a QB since the start of 2012.
Rough Week for Running Backs
Add Matt Forte and Le'Veon Bell to the list of injured RBs this season.
Broncos Hold Aaron Rodgers to His 2nd Worst Game Since 2012
This Broncos defense has been absolutely ridiculous against QBs this season:
NFL

Perfect Lineup Week 8
Lineup Review with Geoff Ulrich
Get ready for Week 9 with an early look at targets here
TOP

20

FANTASY POINT SCORERS
TOP

20

HIGHEST OWNED PLAYERS
TOP

20

VALUE PLAYS
1 – Value Plays defined by top 20 players in terms of $/Pt (salary divided by total fantasy points).
Busts of the Week
Highest Scoring Players By Position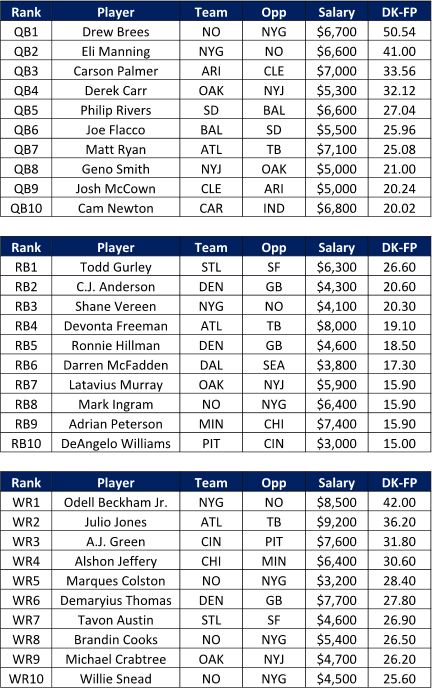 Highest Owned Players by Position