This is a list of the top Defense targets for NFL games based on potential production and price. The teams are split into three tiers based on likelihood of success. Remember that these rankings take potential production and price into account, so some teams may be higher up on the list despite having a lower projected score if the price point is favorable. Here are some options to consider:
Cream of the Crop
Seattle Seahawks vs. Chicago Bears ($3400) – This is the chalk defense of the week and likely one of the highest owned by a mile. Seattle is 0-2 and heading home to face the Bears, which is not good for the Bears. They are a 14.5 point favorite against a team with the lowest expected scoring total of only 15 on the day. They also will be facing back up QB Jimmy Clausen with Jay Cutler banged up and likely out. No word yet on Alshon Jefferey either, but it looks doubtful that he will play too. I'm sure the Bears will try to lean heavily on Forte early, but the Seahawks know that as well and will likely look to take him away by adding an extra man in the box to force Chicago to pass. I know the Legion of Boom is not the same with missing pieces, but this is still a damn good secondary that should be able to feast on a weak QB like Clausen. Cam is likely back for this one too, so that has to help. At home, as the biggest favorite, and likely to be ahead and forcing Chicago's backup QB to throw late is a recipe for a Bear's disaster. It's no wonder the spread here is already over two touchdowns and even that might be a little generous. Seattle will be incredibly highly owned, but they also look like the top choice on paper.
New York Jets vs. Philadelphia Eagles ($3000)
– The Jets have managed 10 turnovers in two games with a whole bunch of sacks, hurries, and knock downs to go with it. The Eagles offensive line is frankly offensive and a big reason why they are struggling. They have generated no push and the running game is non-existent. If you are going to drop back and pass forty-fifty times against this Jets defense, it is not going to work out well for you. Vegas is crazy if they think the Eagles should be favored in this game as the opening line of -2.5 showed. It is already down to a pick em and the Jets will be a favorite at home by kickoff Sunday in this one. If the Eagles can not run and are forced to pass on the road, it will not end well for them as the line can not give Bradford time and he already has thrown four picks. The tempo only means more plays and more chances for the Jets to get sacks and picks, which makes them likely to be a top scoring defense for the third week in a row.
New England Patriots vs. Jacksonville Jaguars ($3100) – The Pats are not know for having a lock down defense and they do allow a lot of points to be scored on them. What they are though is opportunistic and given that they are favored and at home, they should force Jacksonville into passing situations late. This is when the Pats D really shines. When they make a team one dimensional, they can dial up some pressure and use some hybrid zones to confuse a young quarterback. Bortles has been turnover prone in his young career, so this would not be a good thing for the Jags to find themselves in this position. The Pats D already has 11 sacks and four picks this year, both are likely to increase in this game. Vegas expects them to be up big, which means very few points allowed and a lot of forced passing situations for the Jags. Bortles had some horrible games under those circumstances last year and I would bet heavily that this is another one for him.
Denver Broncos vs. Detroit Lions ($3000)
– The thing that will carry Denver this season is that sick defense. They have only allowed 25 points with 6 sacks and 5 turnovers created. They face a Lions team that lost games to San Diego and Minnesota already. The passing game is not clicking the way they had hoped and that has a lot to do with turnovers. They have already committed five of them in two games, which includes three interceptions. Denver's pass rush is legit and will force Stafford into rushing his throws or taking sacks and going into third and longs. Both of those things will lead to turnovers and this defense has capitalized on them so far. Detroit will likely find scoring very difficult here as well, so there is not much upside for them, but a ton for the Denver defense again.
Middle of the Pack
Cincinnati Bengals vs. Baltimore Ravens ($3000) – I know they are on the road and I know they are the underdogs, but I don't agree with Vegas on that line to be honest. The Bengals have looked awesome on both sides of the ball. The offense has balance with two good running backs, three solid WR options, a TE that is quickly becoming elite, so I can't see how they do not get a lead here. The Defense has been every bit as good as the offense though. They have already generated five takeaways to go along with 6 sacks. Add in some scoring opportunities like that to the probably low score and they should be able to get you a nice return here. The key will be for them to get a lead. If they do, they will force the Ravens to throw and the weak pass catching options that Joe Flaaco has will not be able to do much if that is the case.
Carolina Panthers vs. New Orleans Saints ($3100) – Drew Brees is hurt and it shows. This offense was really bad in a great spot against a Tampa team that was torched by the Titans in week 1. Everyone expected a Brees bounce back, but we got a Brees misfire instead. The Panthers are favored here and have generated a lot of defensive points so far. They have six sacks and four turnovers in their first two games with an average of only 13 points allowed. Brees missed badly on some shots down the field i his last start, which only goes to further show that he is not 100%. The Panthers have some good DBs that will be able to take advantage of those mishaps if they occur. The concern is they know Brees is hurting and will try to keep the ball on the ground which limits scoring chances. Since Carolina does not put up a ton of points, they may not be able to get a big enough lead to force the Saints to throw. Still Carolina is favored and at home, so I expect a good showing, a low score, and some positive events to occur here.
Detroit Lions vs. Denver Broncos ($2700) – If it walks like a duck and quacks like a duck, then it is likely a pass from a noodle armed Peyton Manning. This Detroit defense has already racked up a few turnovers and sacks in the first two games and has a chance to add to those numbers here. Manning is taking a lot more sacks this year then ever before. He is also throwing a lot more passes that look like they should be picked off. We have not seen a ton of them actually get picked off yet, but he has given up one in each of the first two games. The offense looked better in the KC game, but the sacks and turnovers the Denver team seems to be allowing will be a problem for them. I still like Denver to win this game, but think the Detroit defense will not be the reason for the loss if they lose.
Cleveland Browns vs. Oakland Raiders ($2900)
– The Browns biggest hope for fantasy points from this unit is Travis Benjamin running one back. That is not a far fetched idea with the blazing speed he has, but it's also not something to rely on. Oakland lit up a much better Ravens D in it's last outing and the Jets made this Cleveland D look bad in the first game. Oakland would be smart to try to keep the ball on the ground as much as possible against this weak run D, which would limit the chances for upside. I'm still not sold on David Carr taking care of the ball as well as he did last out. He has been turnover prone in his career and is on the road as an underdog here. part of me thinks that they could have a decent showing, but part of me is also very concerned with the way this game might go. I think there are better options this week, but I also do not think they are the worst.
Tennessee Titans vs. Indianapolis Colts ($2800) – The Colts offense has looked bad. Andrew Luck has thrown a bunch of picks and they have a ton of turnovers and sacks allowed already. They also have played the Bills and Jets who are two of the better defensive units in the NFL. An 0-2 Andrew Luck with a weak offensive line is definitely an enticing option. Throw in the fact that Gore has not got it done yet and the WR crew consists of a banged up Hilton, a non-factor in Andre Johnson, and basically nothing but Moncrief as a playmaker and you can understand why this is a decent spot. The Titans are also at home, so despite being the underdog, that defense can do some things here.With the struggles the Colts have had already, a divisional road game is not going to be an easy way for them to right the ship and could lead to a nice defensive score against a team who has allowed a few to opposing defenses already.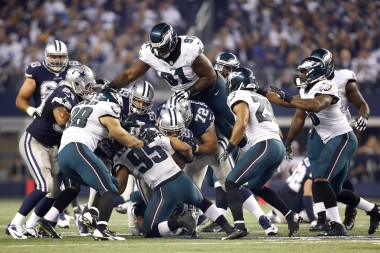 Philadelphia Eagles vs. New York Jets ($2700)
– The Eagles give up a ton of points, but have generated four sacks and four turnovers so far. they will have a chance to get some positive events, but they will need a lot of them to offset the points they will likely give up as well. The total here is very high and the line movement is telling. The Jets are much better than they were given credit for and the Eagles are likely not as good. The Jets have taken care of the ball and scored points in both of the first two games. Neither Cleveland nor Indy has put up a good defensive score on New York, so that is very concerning for me here. While I do not see a horrible game from this defense, I also do not see them as having huge upside. If they are able to get a lead and force the Jets to throw, it could change things here, but even then the Jets have thrown t well and Fitzpatrick is not turning it over. I just do not envision how they score a lot of points here with the game script likely favoring the Jets running a lot and the Eagles playing from behind on the road.
Arizona Cardinals vs. San Francisco 49ers ($3100) – The Cardinals defense is pretty solid. They have some good pass rushers and love to blitz the QB in passing situations. In fact they were top three in the league last season for % of blitzes brought in passing situations. That leads to sacks and turnovers, which are both positive events for daily fantasy defenses. The 49ers want to keep the ball on the ground and try to run as often as possible. The key for me is seeing these guys be forced to abandon the run, making them a one dimensional passing team. The Arizona offense can put up points, so if they get a lead, at home, in a game they are favored thus forcing the 49ers to have to throw, then they will be able to pin their ears back and rack up some fantasy points.
Buffalo Bills vs. Miami Dolphins ($3000) – The Bills are the underdog here, but I like their defense more than I like the defense of Miami in this one. These Bills have a solid run defense, so I expect to see a lot of passing from Miami. Lamar Miller is banged up and Damien Williams closed out the last game for the Dolphins because of it. Tannehill also is not 100%, so this Dolphins offense might not be firing on all cylinders here. Buffalo allowed a ton of passing yards to the Patriots in week 2, but the Pats are able to throw on everybody to be honest. They did shut down Andrew Luck in the first game, so if they can force Miami into passing more than they would like to, the sacks and turnovers should follow. I know they are on the road, which is nt usually the place we like to target defenses, but I think people underestimate how good this Bills team really is. I expect them to get a lead here and when that happens, the defense should be able to rack up some fantasy points against a Dolphins offense that is frankly not as good as advertised. The Phins will also likely be missing TE Jordan Cameron too, so that's three big skill players at less than 100%. They are facing one of the more dominant defenses in the league, so that will be a big problem for them.
Houston Texans vs. Tampa Bay Buccaneers ($3200) – This game has the lowest total of the week at only 40.5, with the Texans favored by just under a touchdown at home. That gives the Bucs an implied total of about 17 here. Winston looked much better in his second start, but now has to travel on the road to take on a defense that is filled with some playmakers. including JJ Watt. The Titans were able to sack him 4 times and the saints got to him on three occasions, so I expect to see the Texans take him down a few times as well. The Bucs also have four turnovers through the first two games, so they also should have one or two here. I expect this to be a pretty ugly game with the ground attacks featured somewhat heavily. The big line on the Texans means they should eventually have a lead, which would force the Bucs to drop back and pass. If that happens, they could really start to rack up the fantasy points if they can get some pressure on the rookie.
Pittsburgh Steelers vs. St. Louis Rams ($3000) – This is a very interesting line. The Steelers are fresh off a butt kicking they handed down to the 49ers and the Rams are fresh off a big let down game where the Redskins ran all over them. The game is in St. Louis, but I do not see how the Rams offense I watched this weekend gets to score anywhere near the 24 points Vegas expects of them. The Pittsburgh offense on the other hand looked explosive, which leads me to believe they will put up some points and force the Rams to play catch up. When San Fran was in that position last weekend, the Steelers were able to get 5 sacks and a turnover, so this defense is opportunistic when the situation presents itself. Nick foles was banged up at the end of the last loss too, so while he has not completed many passes, he also has taken good care of the ball. If he is out and Case Keenum has to start, I would even tick this defense up a little more. If Foles is playing on that bum ankle though and Pittsburgh gets a lead, he will be a sitting duck in that pocket.
Minnesota Vikings vs. San Diego Chargers ($2800) – Game flow may be able to help the Vikings be a sneaky defense this week. They seem to realize finally that they have to feed the ball to Adrian Peterson, which is why they are favored at home and likely to do just that. If they are able to get a lead, they can force Rivers to have to throw it 35-45 times in this one and that would give them chances to get sacks and picks against a guy who has thrown a few already. Rivers is playing at a high level now, so I would not expect them to get a huge score as he has been accurate and also had time to throw. San Diego has a good run game as well with Gordon looking real good last time out. The success of this play hinges on them getting a lead and being able to pound the run. If they can do that, it will force the Chargers to pass and create scoring chances. If not though, they can be one of the teams that ends with no defensive stats and a lot of runs down their throats. It's strictly a GPP play for sure, but they get the benefit of the doubt as a home favorite here.
Kansas City vs. Green Bay Packers ($2900) – 8 sacks and 3 turnovers is a good way to start the season off. The problem for them is Aaron Rodgers rarely gets sacked and rarely turns the ball over. He also puts up a lot of points and so far they have allowed a lot of points. The positive scoring events have helped them keep their scores afloat, but is they continue to give up points and do not get those sacks and turnovers then they will fail to reach value. We have a lot of teams in good spots today, but while this defense creates a lot of pressure, they are not one of the ones in a good matchup to exploit, so I will be staying away.
St. Louis Rams vs. Pittsburgh Steelers ($2900) – The Rams are at home and favored by a point here, although that line seems odd early in the week. Pittsburgh gets back Lev Bell too, so they will likely keep it on the ground a bit more, especially after seeing what the Redskins just did to the Rams with the ground game. Big Ben is incredibly tough to sack, so that is likely to not happen often. He also has only thrown ten picks in his last 16 starts, so that too is not a high probability. The total here is a tad under fifty, so that means both teams should be able to score. Even if the Rams force the Steelers to throw late, it's still no guarantee of a good showing from that defense. While everyone loves gushing about the Rams defense, they are going to need to right the ship quick to avoid another bad let down loss after starting the season on a high note with a good game against the Seahawks. They have the talent, but it remains to be seen if they can get back on track.
Rest of the Field
Green Bay Packers vs, Kansas City Chiefs ($2900) – The Packers defense does not generate a lot of defensive scoring plays. They have a sack or two and the occasional turnover, but that is about it. KC also does not turn it over much, so their is a lack of upside here for Green Bay's D. They are at home and they are favored, so they may get a few more chances than normal, but they have not put up great scores yet this season and face another solid offense here. I'm not sure they have the upside to make it through this one on a high note either. While I like GB for the win, I do not see a big game from this defense coming.
Atlanta Falcons vs. Dallas Cowboys ($2900) – I know Tony Romo is hurt and Brandon Weeden is getting the start, which will have a lot of people playing the Falcons D, but is that really a good move? For starters, Weeden has played QB in this league before. He has been a starter and has been in Dallas long enough to know the system and his teammates, so it's not the worst spot for a backup QB. Dallas also has been milking the play clock and will likely lean even more on the run game here. The run game kills fantasy scores as it does not allow for scoring opportunities that come from sacks, picks, and forced fumbles. Dallas is also at home and starting any defense on the road is usually a dicey proposition. Atlanta's D has not created much pressure or many turnovers, so even if Weeden is more likely to allow them than Romo would have been, it's still not a great spot to expect huge upside.
San Francisco 49ers vs. Arizona Cardinals ($2700) – The 49ers just gave up 370 yards passing to the Steelers last weekend and get another sick aerial attack to contend with in Arizona. Carson Palmer looks like a new man here and has the weapons to really put up some serious points. As good as this team looked in week 1, they were horrendous in week 2. The difference to me is that they went from playing a run heavy team to a pass heavy one. While they had no problem stopping the Minnesota run game and forcing a bad QB to struggle trying to beat them through the air, when they face a good QB who can beat them through the air, it did not work out well for them. The Cardinals are almost a 7 point favorite in this game and while I think the 49ers ultimately can keep it a little bit closer then last week, they do not look like a defensive unit that will be able to go into Arizona and come away with a big game.
San Diego Chargers vs Minnesota Vikings ($2800) – This can go one of two ways for the Chargers. If the Vikings are able to move the ball with the run, then we will not see many attempts from Bridgewater. He only threw eighteen times last game when they did establish AD so that is very few scoring chances for the defense if the script plays out that way again. the Vikings are home and favored, so the chances of that happening are likely. If the Chargers are able to get a lead though, they could rack up points against the young QB if he is forced to sling it around. Since this is not the likely scenario based on Vegas numbers, I can't say I have a lot of faith in it. They should be able to get some points though if they get a lead and force Minnesota to abandon the run. Bridgewater has been known to throw some picks under pressure so that would be the way they need things to break in order to be a high scoring defense. It's not out of the question, but also not the most likely outcome. If they do play from behind then they will see a large dose of the run game though, and they will not score points which is what makes this a risky play.
Miami Dolphins vs. Buffalo Bills ($2900) – The Miami defense has not allowed a ton of points so far, but they did play Jacksonville and Washington, neither of which is a high scoring offense. They were expected to be a feared pass rush with the addition of Suh freeing up the talented DEs to get to the QB, but so far that has only generated one sack for them. Tyrod has thrown a few picks, so that could be a positive for them. The problem is Miami has also allowed 142 yards rushing per game, so teams will be attacking them on the ground more often, which will not be good for scoring fantasy points. Tyrod also throws a good deep ball and they have WRs on the outside with blazing speed. The combination of deep passes and a lot of running means you can almost forsee the play action pass that goes for a deep touchdown at some point in this game. The running game will be what limits the Dolphins upside, but the underrated Tyrod Taylor will be the nail in the coffin for them as well. Miami is a big name defense that people are gushing over, but they did just play Jacksonville last week and put up zero fantasy points. It's not as cut and dry as people think here and I would venture to say that Vegas has this game all wrong.
Baltimore Ravens vs. Cincinnati Bengals ($2900) – The Bengals have a pretty high powered offense that has had no trouble moving the ball. I valued this Ravens team pretty high off the first week and what they did to Peyton Manning, but after watching David Carr tear them up, I am less certain of how good they are. The pass rush was non-existent in that game and the secondary was shredded for a bunch of big plays. Despite the lack of repsect he gets, Andy Dalton has done an awesome job running this offense. He has five TDs and zero picks so far this year, and the running game has worked for them, so I would not expect a lot of scoring opportunities for this defense. The loss of Suggs really weakens that pass rush as he has been a big sack and pressure generator for years. If Dalton has time to throw here, he has too many weapons not to pick apart that defense. The Ravens are at home, which will help, and they are favored. If they have a lead, they may be able to force Cincy into obvious passing situations and go after Dalton, but despite the Vegas line, I do not think that is how this game goes.
Oakland Raiders vs. Cleveland Browns ($2700) – Johnny Manziel is turnover prone, but this defense is devoid of playmakers. They have no sacks in two games so far and only two turnovers generated. Cleveland is likely to run a ton in this game and as the home favorite, they could do it from start to finish without taking many chances at all. I think Manziel only threw 15 times in the last game, so how many opportunities for points can they have if that is the case here again? Oakland has also allowed 33 points to each of the first two opponents and while I do not envision a weak Cleveland offense exploding like that here, I also think they will be able to put some points up against this weak defense. Without any positive events, that would leave them with a very low score on the day for fantasy purposes.
New Orleans Saints vs. Carolina Panthers ($2700) – Carolina relies a lot on the run game, whether that is handoffs or Cam scrambling. The Saints have no interceptions yet and have only managed a couple fumbles and three sacks so far. They have also given up over 28 points per game, so they are not likely to earn any bonus points for limiting the offensive explosion. The Panthers do not have a ton of talent on offense, so I can see this being another ugly game filled with incompletions on both sides. While Cam has thrown two picks already, I'm not sure if the Saints generate enough of a pass rush to force him to make bad throws. If Carolina is leading as well, then the Saints will see a heavy dose of the run game which would mean a near guarantee of a low return.
Jacksonville Jaguars vs. New England Patriots ($2600) – Brady releases the ball quickly so the will likely not sack him. He is accurate and makes the right reads, so the chances of an interception are pretty low too. They also will likely give up a ton of points to the Pats at home, so the points scored bonus may even go negative without any positive scoring events to counteract it. The Jags D would be my pick for low ball this weekend as they are the most likely team to put up a negative number. The Pats should hang a big number on them and then run out the clock late, which means no chances for fantasy points to get back above zero. You could not pay me to take them this weekend.
Indianapolis Colts vs. Tennessee Titans ($2800) – Normally picking on a rookie QB is a given, but this defense has not been able to make any plays. They generated no turnovers and no sacks in week 1. They had only one of each in week 2. They have given up so many points as well that the scores this defense has put up are putrid. They do not generate enough pressure and we saw what Mariotta did to the Tampa team in week 1 when that was the case. The Jets and Bills WR groups have feasted on this weak secondary and the running games have as well. The Titans should have no trouble moving the ball and attacking this defense in any way they see fit.
Tampa Bay Buccaneers vs. Houston Texans ($2500) – The Bucs were shredded in week one by the Titans through the air. They tightened it up in week 2 against drew Brees and the Saints, but that might also have something to do with Brees and his bum shoulder. They are a big dog in a low total game here on the road, which likely means a lot of running late. The Bucs have trouble defending the pass, so the Texans should be able to throw on them early and get a lead. Ryan Mallet may not make great decisions, but he has a lot of zip on the ball and some talented pass catchers who can pick up yards after the catch. If they get up early as Vegas expects, the running late will not allow a weak Bucs defense to pick up many points. They had no positive stats on the defensive side against the Titans and quite a few while playing with a lead against the Saints. Game Flow has a lot to do with it and the Bucs look to be in a bad spot for that here again.
Dallas Cowboys vs. Atlanta Falcons ($2800) – Dallas does not have a great defense this year. They did manage to have a great game against Sam Bradford and the Eagles this week, but Matt Ryan has been on point. He is putting up huge numbers and limiting any mistakes, so the Dallas D will not have an easy time creating turnovers. They have a suspect secondary and a non existent pass rush. Against the Giants, they only managed to generate one sack, which was the only scoring play they had all game fantasy wise. The total here is low, because Vegas expects the Cowboys to play ball control again, but that also limits the number of plays the Falcons will run, which limits the number of chances for scoring plays the defense would have. That is not the recipe for a big upside game from a defense, especially considering they are the underdogs and may be seeing a lot of running late if they are behind.
Chicago Bears vs. Seattle Seahawks ($2600) – Russell Wilson normally does not turn the ball over. The Hawks are home here and a huge favorite, so we are likely to see a lot of Marshawn in the second half of this game. That means the Bears will not have a ton of chances to score points as the Seahawks will feature a heavy dose of the ground game in this one. The Bears have yet to generate a sack and have given up 73 points already in the first two games. They are averaging one turnover per contest as well, so there is little fantasy point scoring upside to save them here. They also are slated to give up the second most points by Vegas, so that will likely mean a negative score overall and one of the worst defenses to use on the day as a big road dog against a team hungry for a win.
Continue Reading This Week's Rankings Series
NFL

Quarterback Rankings: Week 3
NFL

Running Back Rankings – Week 3
NFL

Wide Receiver Rankings – Week 3
NFL

Tight End Rankings – Week 3
---
Take home $1.2

MILLION

in the Week 3

NFL

Millionaire Maker!