People like to say there is no NFL offseason anymore. That's not technically true, as the league does take a vacation between the end of minicamp (June 16) and the start of training camp in late-July. So right now is a good time to take a step back and see what we learned over the last couple months.
Ingesting the news that comes out of OTAs and minicamps is tricky. We don't want to overreact to silly quotes like "I'm in the best shape of my life," but we do want to build on depth-chart clues and scheme changes.
NFC

Team-By-Team Notes
ARIZONA
Unsurprisingly, the Cardinals claimed they have the best running back stable in the NFL and expect to use three of them. That will be easy to say until the chips are down and David Johnson runs circles around 31-year-old (in September) Chris Johnson. Reliable beat writer speculation has David Johnson securing roughly 60 percent of the backfield touches. I wouldn't be surprised if that number creeps higher. Andre Ellington is on the record understanding his role as a third-down back and gadget guy. It's unlikely he'll be playable in DFS at any point. Nothing new with the WRs. Last year, Larry Fitzgerald played on 90.1 percent of the snaps, John Brown 82.4 percent and Michael Floyd 65.4. Expect more for a fully-healthy Floyd and less for a 33-year-old (in August) Fitz this season.
---
ATLANTA
Once considered a health risk due to recurring foot issues, Julio Jones has now sustained health for a more than two years. He was a full participant in minicamp and will once again threaten Calvin Johnson's record of 1,964 yards in a season. Tevin Coleman (finally over his severe shower concussion) generated some offseason buzz. Remember, this is the back the Shanahan regime hand-picked in the third-round last year. At the very least, coaches are talking up Coleman stealing some reps from Devonta Freeman.
---
CAROLINA
The unquestioned star of the Panthers' offseason was Devin Funchess, who reportedly made "huge strides" after a somewhat quiet rookie year. With only drop-prone one-trick pony Ted Ginn and underwhelming Corey Brown ahead of him on the depth chart, I'm comfortable projecting the physically imposing Funchess as the No. 2 WR opposite Kelvin Benjamin. In the three 2015 games Funchess played at least 80 percent of the snaps, his lines were 4-64-1, 2-19-0 and 7-120-1. Way back in 2008 and 2009, Jonathan Stewart was one of the most promising and explosive young backs in the league. His career was unfortunately derailed by foot issues, which makes the OTA news a bit concerning. Stewart sprained his left foot at the end of the regular season, aggravated it in the Super Bowl and the pain was still lingering in June. Benjamin (ACL) didn't participate fully in minicamp, but is expected to be ready for team drills come training camp.
---
CHICAGO
Jeremy Langford remains the favorite to be the starter, but beat writers came away from OTAs expecting a committee involving fifth-round rookie Jordan Howard and possibly Ka'Deem Carey. That would be typical of a John Fox offense. Alshon Jeffery sat out much of the offseason to protest his Franchise Tag, but returned for mandatory minicamp in June. Jeffery is looking at a massive share of targets with Martellus Bennett and Matt Forte both gone. He already ranked T-9th in targets per game (10.4) during an injury-plagued 2015. Kevin White, who drew comps to Dez Bryant during the 2015 pre-draft process, returned from the shin injury to appear "strong and fast" at OTAs. But he also looked like a "work in progress." Given a potentially slow offense even under new OC Dowell Loggains (Bears were 27th in neutral-situation pace last year) and the market share Alshon will receive, White is going far too high in season-long formats.
---
DALLAS
Ezekiel Elliot was ticketed for a full workload as the No. 4 overall pick in the draft. But Darren McFadden's mid-June broken elbow that will keep him out at least two months can't hurt Elliot's massive volume projections. Dez Bryant took it easy all spring after rushing back too soon from a broken foot last year. His status will have to monitored in August. Terrance Williams is in a contract year and should be pushed by impressive size/speed specimen Brice Butler, but Butler didn't work at Z in the spring. He only worked at X, where he'll fill in any time Dez sits.
---
DETROIT
The big injury news out of Detroit centered around Ameer Abdullah, who underwent surgery to repair a torn shoulder labrum in January. He'll be fine for Week 1, but shoulder issues scare me at the running back position. Ryan Williams is an example of someone who ran tentatively following his shoulder issues. Doug Martin is on the other end of the spectrum, finishing 2015 as PFF's No. 1 back in strict rushing one year after his shoulder surgery. Lions coaches suggested Theo Riddick will get more carries this year, which is really exciting in DraftKings PPR format. Riddick averaged 5.0 receptions per game last year, running a pass route on 319 of his 482 snaps. Riddick only got 2.6 carries per game. Retired Calvin Johnson was under 80 percent of the snaps or didn't play 11 times over last two years. Golden Tate averaged 6.9 catches for 96.5 yards in them.
---
GREEN BAY
The loss of Jordy Nelson to a preseason ACL tear crippled the Packers' offense last year. Davante Adams was a brutal 89th in catch rate, Randall Cobb and Aaron Rodgers had extremely inefficient seasons and Eddie Lacy was so bad he sunk into a true timeshare with James Starks. All signs are good on Jordy's rehab right now, but it's something I'll be watching intently in August because of how much his presence affects the entire offense. Speaking of Big Ed, he spent part of his offseason working out with Tony Horton. Yes, that's the P90X guy – it's pretty crazy Lacy was doing P90 because I did P90X and am far, far, far from a professional athlete. Regardless, Lacy dropped somewhere around 15-18 pounds and the coaching staff seems pleased. Jared Cook may be out for the start of camp after undergoing surprise foot surgery. He's likely to share time with Richard Rodgers even once he's healthy. Coaches continues to get on Jeff Janis about the fundamentals. We know we'll be using Janis is preseason DFS, and anytime we can project him for 70+ percent of the snaps, but barring a Jordy setback that number seems unlikely.
---
LOS ANGELES
The Rams will enter training camp with a thrilling QB battle between No. 1 overall pick Jared Goff and Case Keenum. No matter who wins, their main job will be protecting the football, handing it to Todd Gurley and hoping for an 8-8 record. Also known as Fisher Ball. The Rams ranked 28th in neutral-situation pace last year and ran just 84 plays inside the red zone all season. Gurley is an exception talent and another year removed from his knee reconstruction, but he's still a two-down back on a slow team with a bad offense. Fisher made an outlandish comment, claiming Tavon Austin can reach 100 catches this year. That's obviously not happening, but the Rams did do a good job of creating situations Tavon can win last year (8.3 YPA on 52 carries).
---
MINNESOTA
Charles Johnson emerged as the standout wide receiver during OTA sessions, which isn't a great sign for Laquon Treadwell or Stefon Diggs. Remember Johnson fell completely out of the rotation last year, not even catching a pass after Week 9. Don't expect much to change with this team overall as they feel they're very close after going 11-5 last year. That means another 20 carries per game for Adrian Peterson, another bottom-tier finish in offensive plays per game (31st last year at 60.5) and more unusable weeks from Mehddy Bridgewater.
---
NEW ORLEANS
Beat writers issued a fantasy alert on rookie "big slot" receiver Michael Thomas, who figures to soak up a lot of the routes Marques Colston used to run. As expected, Coby Fleener stepped in seamlessly and was among Drew Brees' favorite targets during OTAs. I explained why I'm high on Fleener here. The Saints claim the 2015 C.J. Spiller disaster was due to injury and he's healthy now, but that's hard to believe. He's ran behind Tim Hightower at OTAs. Similar to Doug Martin last year and Ameer Abdullah this year, Mark Ingram is rehabbing from surgery to repair a tear in his shoulder. The ever-improving three-down back averaged 4.1 catches per game last year after totaling 53 catches in his first 50 career games.
---
NEW YORK GIANTS
Rookie Sterling Shepard impressed at minicamp and OTAs, as we expected him to. He emerges from the spring as the favorite to handle Randall Cobb duties in Ben McAdoo's offense, ahead of Victor Cruz/Dwayne Harris. Will Tye used Larry Donnell's 2015 injury to make a name for himself and never looked back, averaging 4.5 catches and scoring three TDs across the final seven games. Tye remained ahead of Donnell during the spring.
---
PHILADELPHIA
Second-year WR Nelson Agholor could be facing a suspension due to off the field issues. Fourth-round rookie Wendell Smallwood drew rave reviews all spring as both a pass-catcher out of the backfield and receiver. Meanwhile Darren Sproles was in trade rumors, Kenjon Barner is on the roster bubble and Ryan Mathews has a poor injury history. I'll be all over Smallwood if/when his touch projections get to double digits this year. Chronic underachiever Rueben Randle performed well enough in the spring to have an edge on the No. 3 WR job. The new coaching regime said Jordan Matthews isn't as good outside as he is inside, something we already knew about the slot man. Some onlookers took that as Matthews will never play outside, even in two-wide sets. That's something I'm not buying – Jmatt is the Eagles' best receiver by a wide margin. Fantasy owners have been burned by Ryan Mathews a lot, which should keep his ownership down. I explained why I'm very high on Mathews here.
---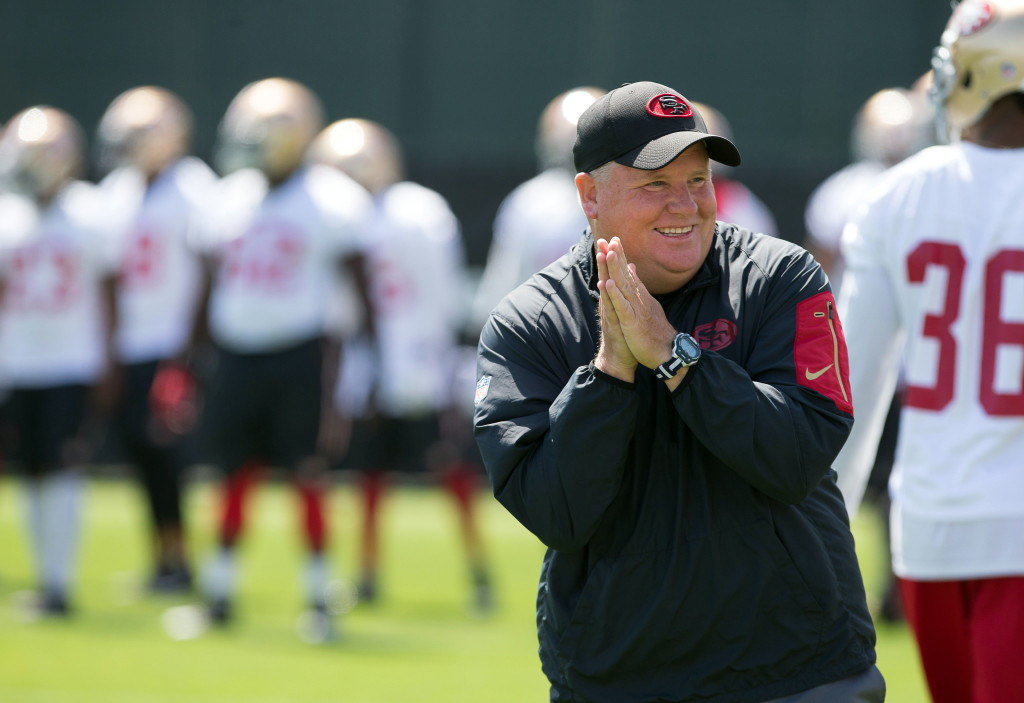 SAN FRANCISCO
The Chip Kelly era will open with a quarterback competition at training camp. Blaine Gabbert enters as the leader as Colin Kaepernick (shoulder, thumb, knee) still wasn't fully healthy as of OTAs. Sleepers Bruce Ellington and Eric Rogers made news at minicamp, but we can expect a voluminous role for Torrey Smith. I hit on him here. The fantasy community is surprisingly high on Carlos Hyde, as his MFL10 ADP sits at 39.6. Hyde is coming off foot surgery and will likely lose a lot of pass-down work to Shaughn Draughn. Vance McDonald generated a lot of spring buzz with Vernon Davis gone. A former slot receiver in Rice's spread offense, McDonald is locked into a big role.
---
SEATTLE
The Seahawks are confident Thomas Rawls (ankle) will be ready for Week 1, but he doesn't appear anywhere near full health right now. Pete Carroll admitted that Rawls is behind Jimmy Graham, who tore his patellar tendon before Rawls blew out his ankle. The Seahawks also used three draft picks on RBs and still have Christine Michael on the roster. With Marshawn Lynch officially retired and explosive rookie space back C.J. Prosise opening eyes, expect a philosophy change. This is Russell Wilson's team now, and he proved very capable of carrying the offense down the stretch last year, posting an absurd 24:1 TD-to-INT ratio over the final seven weeks. The Seahawks confirmed Tyler Lockett is a starter opposite Doug Baldwin. That's very exciting considering Lockett only played on 63.4 percent of the snaps last year and still recorded a 51-664-6 line. For more on Lockett's ability, check out NFL.com's Matt Harmon. Even if Rawls gets healthy, Prosise is locked into the third-down role right out of the gate.
---
TAMPA BAY
The Bucs dumped a pile of money on Doug Martin in free agency, giving him a 5-year, $35M deal with $15M guaranteed. It ensures he'll remain the bellcow on early downs, but there is talk of more touches for Charles Sims (a la Theo Riddick). Sims averaged 6.6 carries and 3.1 catches per game last year. Austin Seferian-Jenkins had an awful offseason, getting thrown off the practice field at one point and tweeting some very odd/damaging things. Meanwhile, the coaches keep talking up Cameron Brate. Somewhat flabby as a rookie, Jameis Winston worked with trainer Tim Grover (of Michael Jordan fame) to lose a reported 18 pounds.
---
WASHINGTON
The fantasy world continues to doubt Matt Jones (MFL ADP 55.1) even as the high-powered Redskins offense commits to him. He's specifically worked on the fumble issues that plagued him as a rookie, something that should be an easy fix. Beat writers continue to say the organization is very happy with where Jones is at. Josh Doctson (foot/Achilles) and DeSean Jackson (chilling) both missed much of the spring, allowing underrated Jamison Crowder and Ryan Grant to shine. Both will be preseason DFS options on DK at the very least.
---
I am a promoter at DraftKings and am also an avid fan and user (my username is adamlevitan) and may sometimes play on my personal account in the games that I offer advice on. Although I have expressed my personal view on the games and strategies above, they do not necessarily reflect the view(s) of DraftKings and I may also deploy different players and strategies than what I recommend above.