As you rigorously prepare and research leading into each season and week of DFS, different factors are always going to change the landscape. "Next Man Up" is a series that examines players who are now being propelled into the starting role (thus creating a larger opportunity for that player), whether it be via injury, suspension or simply a change to the depth chart.
Sunday was not a fun day to be an NFL running back. We saw a handful of significant injuries at the RB position (which you can read more about in Week 3 waiver wire adds), but the biggest name to go down was Adrian Peterson.
Diagnosed with a torn meniscus in his knee, Peterson was not even officially ruled out for Week 3 at first. But we all saw how he was carried off the field on Sunday night and left the stadium on crutches. It didn't look good.
AP may be superhuman when it comes to recovery time, but it's safe to assume an injury like this should sideline him for multiple weeks. And as of Wednesday afternoon it could potentially be multiple months. ESPN's Josina Anderson reports that Peterson will undergo knee surgery this week and miss at least a month, but more likely 3-4 months (essentially the regular season).
Peterson wasn't exactly off to one of his typical starts in 2016 — gaining just 50 yards of 31 carries for an abysmal 1.6 YPC. But the 2-0 Vikings are clearly going to need production out of the backfield soon if they want to continue their success.
Jerick McKinnon and Matt Asiata are the next men up.
Vikings Running Backs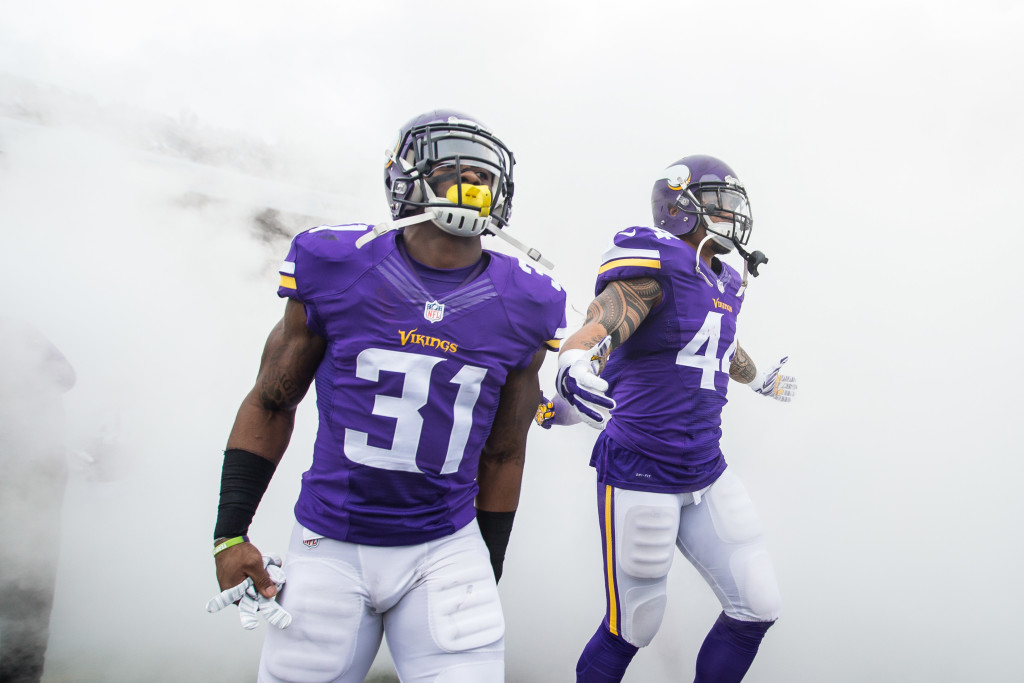 Head coach Mike Zimmer already expressed his confidence in the tandem, but hasn't offered an opinion as to how they'll share time. Matt Vessel of the Minneapolis Star-Tribune expects to see a 65/35 split of carries between McKinnon/Asiata respectively, as the former figures to get the work on passing downs and poses a home run threat, while the later should receive goal line carries.
Back in 2014 when Peterson faced league discipline and only played in one game, it was Asiata that proved more valuable. Check out the numbers from that season:
McKinnon: 11 games, 113 carries for 538 yards, 27 receptions for 135 yards, zero combined touchdowns.
Asiata: 15 games, 164 carries for 570 yards, 44 catches for 312 yards, 10 total touchdowns (nine rushing).
But that was McKinnon's rookie year and Minnesota didn't feel comfortable with him in a feature role. AP played in all 16 games in 2015, but it certainly would seem that Minnesota favored McKinnon over Asiata behind its starter. Here are the numbers from last season:
McKinnon: 16 games, 52 carries for 271 yards, 21 catches for 173 yards, three combined touchdowns.
Asiata: 16 games, 29 carries for 112 yards, 19 catches for 132 yards, zero combined touchdowns.
McKinnon's stats aren't eye-popping, but considering that all of it came behind Peterson and he more than doubled Asiata as a pure runner, it seems like he'll be the player worth targeting between the two initially.
McKinnon is also clearly the more explosive player that can reward you with big plays. In Week 15 last season he had four receptions against the Bears for 76 yards and a touchdown. He followed it up in Week 16 with seven carries against the Giants for 89 yards and a pair of touchdowns. Week 3 will be the first time we get to see McKinnon as a polished veteran on the field without Peterson active.
However, Asiata's goal line work can't be ignored. Eight of his nine rushing touchdowns in 2014 came in three games, so he has the potential to go off any given week — even if it's an ugly 10/26/3 line like he posted a few years ago against Washington.
With Peterson now set to miss significant time, it's McKinnon that will have the potential to turn into a the big time fantasy asset, while Asiata certainly goes from a non-factor to an immediate FLEX option because of his threat to find the end zone. If either were to get hurt, the other would immediately become a top-10 fantasy RB.
Editor's Note: The Vikings have also signed former Broncos RB Ronnie Hillman.
Find me on Twitter @julianedlow
---
I am a promoter at DraftKings and am also an avid fan and user (my username is jedlow) and may sometimes play on my personal account in the games that I offer advice on. Although I have expressed my personal view on the games and strategies above, they do not necessarily reflect the view(s) of DraftKings and I may also deploy different players and strategies than what I recommend above.