Fantasy Football season is coming up quickly and while everyone else is focused on who they'll take in the 1st round, you need to make sure your fantasy football team names are on point. Good fantasy football team names can make up for having a terrible roster and good fantasy football team names can be the difference between being a champion and being immortalized. Either way, you need to bring your "A" game. We've got you covered with 100 fantasy football team names to choose from.
Win $1 Million Playing Fantasy Football on DraftKings! Sign Up Here For an

EXCLUSIVE

Deposit Bonus!
Fantasy Football Team Names:

NFL

Rookies
1. Cal-Amari Cooper – Good food + good player = cheesy good team name.
2. Kevin White Walker – Game of Thrones fans will enjoy this one and fantasy football team names this season will benefit from GoT references.
3. I'm a Barbie Gurley – The NFL is certainly far from a barbie world
4. Dorial Green-Eggs-and-Ham Beckham – Green Eggs and Ham is always a classic fantasy team name.
5. Funyuns4Funchess – If Devin Funchess doesn't enjoy Funyuns, I don't know what to believe in anymore.
6. Shareef Abdur Ameer Abdullah – Two of the greatest names in sports history, combined into one.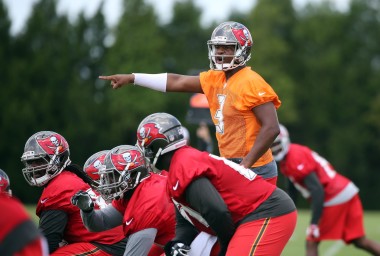 7. Jameis and the Giant Peach – Classic children's story with Jameis taking over.
8. I Got Clives On It – Clive Walford was one of the first tight end's off the board. If you're dominating your league, then you've got Clives on it. At the very least, you can have the best of the fantasy football team names in your league.
9. Sugar Shane Ray – If his career goes as well as Sugar Ray Leonard, he'll be a steal for the Broncos.
10. Ja-Miserables – Pronounced 'Jay-Miserables.' A little on the classier side, but a solid name nonetheless.
11. Will You Mariota Me? – Will you?
12. Marcus Mariota Kart – I really enjoy Mario Kart. Just hope Mariota doesn't hit any bananas.
13. Bryce Petty and the Heartbreakers – Tom Petty, Bryce Petty…get it?
14. P-p-p Petty and the Jets – He plays for the Jets now!
15. Petty Wap – An ode to one of the great songs of the last decade, Fetty Wap's Trap Queen.
16. Scherff and Turf – Would work better if OL Brandon Scherff was fantasy football relevant, but still a pretty good fantasy football team name.
17. Uptown Funchess You Up – One of the hottest fire jams of the year meets new Carolina WR Devin Funchess.
18. Owamagbe Odighizuwa – This isn't even an original team name, it's just the Giants new defensive end. His name is good enough to be a fantasy team name.
19. Tyler Kroft: Tomb Raider – Another Croft (in this case, Kroft) in the NFL means the Tomb Raider team names can be broken out again.
20. Justin and the Hardy Boys – Justin Hardy was a beast at ECU and if he can thrive in Atlanta this team name might be a popular pick this season.
DraftKings paid out 13 $1 Million Top Prizes Last Season! Sign Up Now and Receive a 100% Deposit Bonus up to $600!
Fantasy Football Team Names: Quarterbacks
1. Teenage Mutant Ninja Bortles – Even more relevant this year after the TMNT movie came out
2. Mr. Rodgers Neighborhood – RIP Mr Rodgers. Long Live Aaron.
3. Stafford Infection – Not the best visual, but should instill some fear in the rest of the league.
4. Teenage Newton Ninja Turtles – TMNT references are always hot.
5. Luck Dynasty – If it's a dynasty built on losing to New England in the playoffs, he's crushing it.
6. King of the Tannehill – Speaking of, have you seen Queen of the Tannehill lately? She's pretty good looking.
7. The Brady Bunch – Brady's gonna need his bunch to step up during that pesky suspension.
8. Kaep'n Crunch – With Anthony Davis retiring, we should see plenty of Kaep'n Crunch this year.
9. Inglorious Bradfords – Perfect team name for Bradford's attempt at a career resurrection in Philly.
10. Every Day I'm Russell'n – Does this mean throwing an INT at the goal line to lose the Super Bowl?
11. Luck Be a Brady Tonight – It's funny because Luck can't seem to beat Tom Brady.
12. You Kaepernick the Future – But you can predict that the 49ers made the wrong call by firing Harbaugh!
13. Manziel in Distress – Hopefully less distress this year after his little rehab stint.
14. Peyton the Town Red – Peyton isn't Peytoning the town red too much anymore.
15. Matty Ice – If you're younger and don't enjoy Natty Ice, I don't want to know you.
16. When in Romo – So simple. Still solid.
17. The Cutler Did It – Threw another interception…
18. Cry Me a Rivers – The Chargers tried to trade him this off-season, which could have led to this river full of tears.
19. Manning of Steel – Hopefully they mean Eli, because Peyton fell apart down the stretch last year.
20. Cutler Don't Care – I'm sure he really does care, but his facial expressions are far from ideal.
21. Flaccoroni and Cheese – Yummy.
22. RG3PO – When he's playing well, he's a fantasy superstar.
23. The Luckness Monster – The actual Loch Ness Monster might be hiding in Luck's neck beard.
24. Geno 911! – Honestly, most Jets fans probably want to report a crime to the police after watching Geno play.
Are you a fantasy football champion? Show your skills by playing at DraftKings for real cash prizes! –

SIGN

UP

HERE
Fantasy Football Team Names: Running Backs
1. Blount Rushmore – Even better for the early weeks with Brady suspended and Blount dominating the rock.
2. Drinkin' Fortes – Missed opportunity for Forte not to wear #5 and play for the Colts…"Colt Forte 5″
3. The Real McCoy – The Real McCoy is in Buffalo now, but when it comes to fantasy football team names location doesn't matter, production does.
4. DeMarco Polo – The Cowboys called out "DeMarco" and he popped up in Philly replying "Polo"
5. Charles In Charge – The consensus #1 pick this year is certainly in charge.
6. Mr. CJ Anderson – Matrix reference with a nice touch of a potential fantasy breakout player this season.
7. Forte Shades of Grey – Whew…is it getting hot in here?
8. Ellington Coat Factory – The actual store is known for having good deals. Ellington could be a good fantasy deal this upcoming season.
9. You Sankey'd My Battleship – Last season, Bishop Sankey Sankey'd your team's battleship.
10. Gotta Catch Jamaal – An actually impossible task.
11. Le'Veon a Prayer – If you take him in the top 3 while he recovers from his knee injury, you're Le'Veoning a Prayer for sure.
12. Call Me Shady? – We have more Carly Rae Jepsen throwbacks later on, but we'll get the first of the Carly Rae themed fantasy football team names out of the way here.
13. 50 Shades of Jonas Gray – He might not be on an NFL roster come the start of the season, but hopefully he sticks so this name can be used.
14. James Starks of Winterfell – More Game of Thrones references. Get ready for the next one…
15. Doug R.R. Martin – Boom…another GoT reference!
Fantasy Football Team Names: Wide Receivers
1. Roddy or Not Here I Come – Classic that stays relevant as long as Roddy White can still lace em up.
2. Demaryius Targaryen – Game of Thrones fans, go draft Demaryius Thomas so you can use this name.
3. Welker, Texas Ranger – Would love this a lot more if Wes Welker played baseball for the Texas Rangers.
4. Cruz Control – Simple but effective.
5. Final Dez-tination – Lots of rumors the final dez-tination was going to be outside of Dallas, but it looks like he'll still be Tony Romo's favorite target.
6. The Calvinists – If you're going to build your team around Megatron, this is a solid name choice.
7. Singin' in the Dwayne – Dwayne Bowe got out of Kansas City, so maybe he'll actually catch a touchdown this season?
8. The Boldin the Beautiful – Anquan Boldin seemingly doesn't age. He's productive every year. Among fantasy football team names, this is the Anquan Boldin of names.
9. Return of the Maclin – Sing it now…returnnn of the Mac (with Andy Reid!)
10. Ladies and Edelman – This name was great in years past, but after his little Tinder incident it's even better.
Fantasy Football Team Names: Tight Ends
1. Rudolph the Red Zone Finder – This name made a lot more sense when he was good, but with Bridgewater at the helm and Rudolph potentially healthy, we could see this name make a comeback.
2. Gronkey Kong – Besides the obvious wordplay going on here, Gronk is a little bit like Donkey Kong. Just pounding his fists into the ground and making powerful plays.
3. It Ertz When Eifert – A little childish of course, but still makes you chuckle while highlighting a pair of young, talented tight ends.
4. InstaGraham – Social media reference? Check. NFL Player name reference? Check. Good team name? Check.
5. Zeusis Kelce – Travis Kelce has already been nicknamed 'Zeus', because he's built like a damn Greek god.
6. Orange Julius – Vintage fantasy football team name but with Julius Thomas being in a new home (Jacksonville) it returns to relevancy.
Up to $600 Free When You Sign up at DraftKings through the Playbook – Click this link to

SIGN

UP

NOW
Fantasy Football Team Names: Randomness
1. Chip Kelly and a Chair – Nice poker reference of "Chip and a chair" is all you need to win. Also refers to what he has left on this roster after gutting it…a chair.
2. San Francisco Retirement Home – When 5 guys retire in one offseason, this makes a lot more sense.
3. Turn Down for Watt – Oldie but goody. And by oldie I mean that song was very popular last year. Still could play it off as a solid fantasy football team name.
4. The Blair Walsh Project – Another throwback that didn't quite qualify for legendary status (see below.)
5. Insane Clowney Posse – What would be insane is if Clowney played a full season.
6. Revis and Butthead – I'm sure some people in New England will be taking advantage of this name.
7. Every Given Sunday – For the emotional crowd.
8. The Abusement Park – If you're looking for a standard fantasy football name and you constantly beat up on your league, this could be the solution.
9. Discount Belicheck – Great coaches don't come at a discount.
10. Turn Your Head and Coughlin – A little crude? Sure. Funny? You betcha.
11. Clowney Question Bro – NEED a video of Clowney doing his best Bryce Harper impression.
12. JJ sWatt Team – JJ Watt…so hot right now…JJ Watt.
13. May God Have Percy on Your Sole – And on Percy's soul. He can't seem to find the field, but when he does, he's fun to watch.
14. Voldemortenson – Another likely popular fantasy team name in the New England region.
15. Practice Makes Burfict – This is so simple, and so perfect. If you are in a league with IDPs, consider drafting Burflict just to use this one.
Fantasy Football Team Names: All Time Greats
1. Somewhere over Dwayne Bowe – When you can incorporate the full name into a perfect team name, you have an all-time great.
2. Favre Dollar Footlong – Thank you Subway, for that promotion. Thank you Brett Favre, for all the incredible fantasy football team names.
3. My Ships Don't Lie – When you win multiple fantasy football championships, this is a nice way to brag over the rest of the league.
4. Wacka Flacco Flame – No explanation needed. Gold.
5. Me and Julio Down by the Schoolyard – Another all-time great despite Julio still being very, very relevant in the NFL.
6. Here's My Number, So Call Me Brady – Carly Rae Jepsen lit the internet on fire with Call Me Maybe. Light your league on fire with the hottest of fantasy football team names.
7. Whatchu Talkin Bout Hillis? – Long live the two seasons where Peyton Hillis was a top fantasy running back. If you want to throw it back, this is one of many solid fantasy football team names.
8. Corn on the Schaub/Corn on the Cobb – Either one is fine. Both are great fantasy football team names.
9. WD-Forte – The only downside on this one is that Forte isn't pronounced "forty"
10. Yellow Polka Dot Mangini – He wore an itsy-bitsy, teenie-weenie, yellow polka dot Manginiiii
EXCLUSIVE DEPOSIT BONUS

–

EXPIRES SOON

!
We have an exclusive Deposit Bonus for new users to DraftKings. Just follow the instructions below:
1) Sign up at DraftKings by clicking here.
2) Earn 100% of your first deposit in bonus dollars, up to $600!
-Deposit $100, earn $100 bonus dollars!
-Deposit $200, earn $200 bonus dollars!
-Deposit $300, earn $300 bonus dollars!
CLAIM YOUR EXCLUSIVE BONUS

AT

DRAFTKINGS NOW

!