WATCH

: Is Todd Gurley the Top 'Blazin' Game Day Pick?
---
The concept behind stacking a QB with his WR is simple: both players benefit from each completion, doubling the benefit of that play for your fantasy lineup. As Adam Levitan pointed out this offseason, 79 percent of the lineups that won DraftKings' Fantasy Football Millionaire contests used a QB stack in their lineup. With the significance of stacking in mind, this article aims to highlight the best stacking options for Sunday's main slate.
5. Russell Wilson ($5,700)/Doug Baldwin ($5,300),
SEA

at

OAK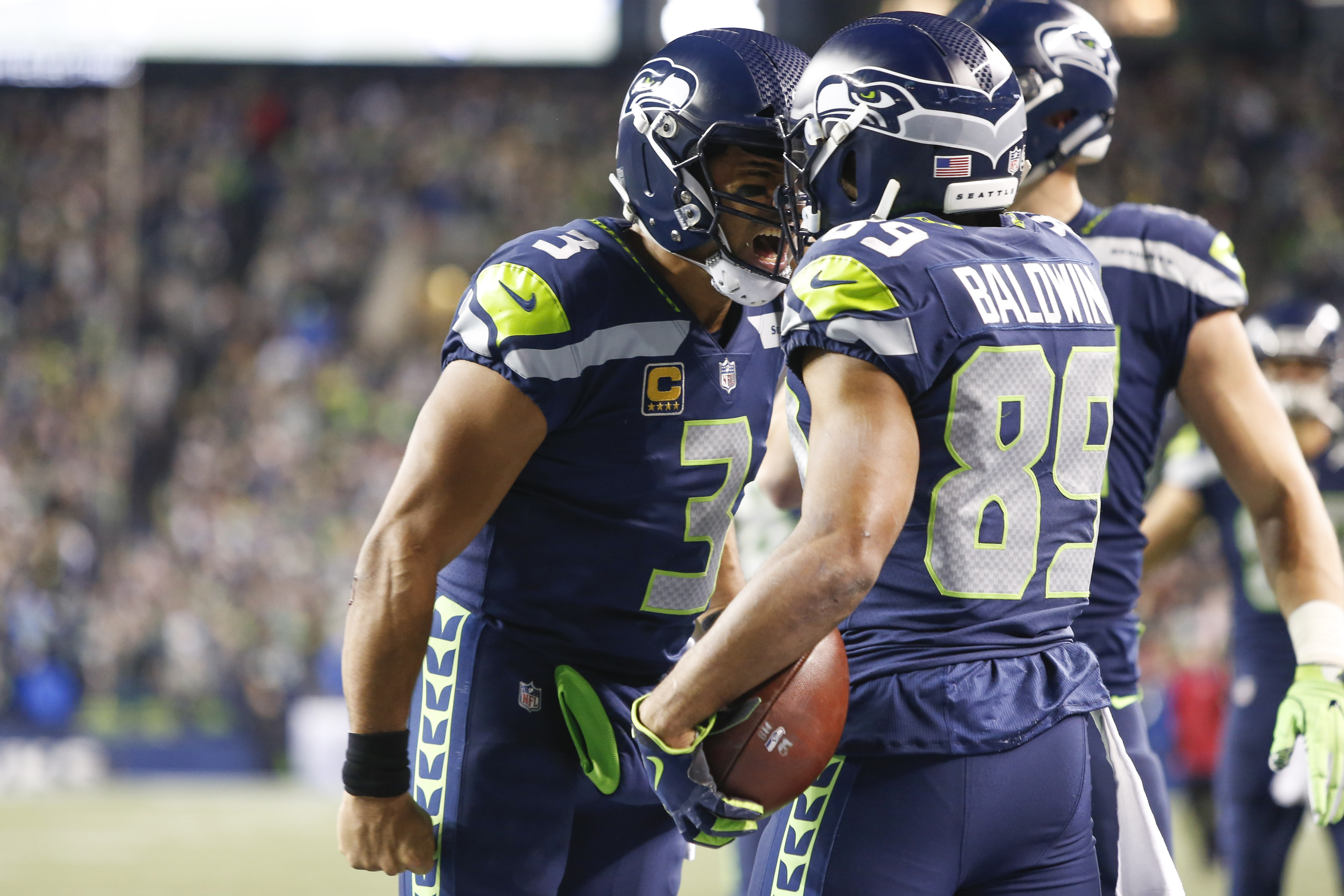 It's tough to have any kind of confidence in the Seahawks' offense these days, but these salaries are just so low. The two-time Pro-Bowler Baldwin costs less than Quincy Enunwa ($5,600)? Wilson with salary placing him in the bottom-half of starting QB? To paraphrase a wise man, these Seahawks kidnapped themselves with their inconsistent play and sometimes bizarre offensive game plans. But while these salaries seem to be at a low-point, I recommend taking a chance on what we know is exceptional talent – especially for managers who make multiple lineups each week. The Raiders are a mildly favorable opponent for the passing game, and they are third in points allowed per game. If you want to snag Wilson, but are scared off by Baldwin's low Week 5 usage, Tyler Lockett's ($5,100) salary also makes him a good option, especially in
GPP
s.
---
4. Deshaun Watson ($6,400)/DeAndre Hopkins ($7,700),
HOU

vs.

BUF
Hopkins is one of three players to receive double-digit targets in every game this season, and he leads the league in yardage. The Bills defense is not a great matchup, but they've also shown some signs of vulnerability. They allowed Adam Thielen to score 27.5
DKFP
in Week 3, and several mid-tier players like Willie Snead and Geronimo Allison have topped 14
DKFP
against them. This is Hopkins' lowest salary of the season, but he's faced better shadow corners (such as Janoris Jenkins) than anyone the Bills have to offer. Meanwhile, Watson has topped 300 yards and 25
DKFP
in four straight games, including against a tough Titans secondary in Week 2. Both of these players are rolling, and the Fantasy community-at-large's sudden fear of the Bills defense seems overblown. The Bills defense is good. Hopkins is much better. And Watson is good enough for
DFS
purposes.
---
3. Joe Flacco ($5,200)/John Brown ($5,500),
BAL

at

TEN
Two of my worst picks this season were the last time I recommended Flacco-Brown, and the last time I recommended a stack going up against the Titans. So much for learning from past mistakes. In all seriousness though, while both Flacco-Brown in Week 5 and the Jaguars in Week 3 flopped, the overall track record for this article has been highly successful this season. We can't let two misses scare us away from a process that has worked more often then it hasn't. And that process led me back to Flacco and Brown.
Brown has become a target machine, averaging 10 per week since Week 2. He sees more than 40% of the Ravens' total air yards, which says that they are trying to get the speedster the ball often and on big plays. His high volume makes for a solid floor, and his high targets and air yards implies a monstrous ceiling. Sometimes, as in Week 5, he'll be closer to the floor than the ceiling, but that shouldn't mean we start ignoring him. Brown saw 14 targets last week, but many were inaccurate, in large part because the Browns defense was so effective. The Titans defense is good, but they are not nearly as good as the Browns (yeah, that sentence felt as weird to type as it probably was to read, but the Browns are second in the NFL in defensive DVOA, per Football Outsiders – that's really, really good; the Titans are 12th). Meanwhile, Flacco is second in the league in pass attempts and ninth in yards. He's one of the cheapest QBs available. The Titans' strong secondary is a concern, but these salaries are tiny.
---
2. Matt Ryan ($6,800)/Julio Jones ($7,900),
ATL

vs. TB
Not exactly my boldest call of the week, picking the QB and WR on the team projected to win the game with the highest expected total score on the main Sunday slate. This will probably be a fairly popular play, but there is enough value here that popularity shouldn't matter – these two could very easily end up the highest scoring players at their positions this week. The Buccaneers' defense is dreadful. They allow the most points and passing yards per game, and hold both leads by significant margins. They allow more than 50 passing yards per game more than the third-worst team; that's the same gap that separates the third-worst team from the 12th-best team. Similarly, the Bucs' five extra points allowed per game over the third-worst team is the same as the margin between the third-worst team and the 15th-worst team. And two of the Buccaneers' four games were against Nick Foles and Mitchell Trubisky, so their schedule provides no excuse for their poor play. Their secondary looked like the weak spot for an already-below-average defense entering the season, and they now have four cornerbacks or safeties on
IR.
Lineup construction every week should begin by checking out who the Bucs are playing.
Beyond the near-ideal matchup, Ryan and Jones have been good in their own right, too. Though Jones still does not have a TD, he's third in receiving yards and seventh in targets. His salary is his second-lowest of the season. Last season he averaged 31.1 DKFP against the Bucs. Ryan has three games of at least 31 DKFP this season, and has 11 passing TDs over the last four games. If Jones is too expensive, or if you want a double-stack to take extra advantage of this matchup, consider Calvin Ridley ($6,300). Jones seems like the better bargain and has a much larger role, but Ridley still grades out as a slight discount and he has the biggest red-zone role of any Falcons' pass-catcher by a significant margin. Since Week 1, Ridley has only one fewer red-zone target than the combination of Jones, Mohamed Sanu (4,800), Devonta Freeman ($6,000), Tevin Coleman ($5,400) and Ito Smith ($3,100).
1. Jameis Winston ($5,800)/Chris Godwin ($4,400), TB at
ATL
I'm not going to get any creativity points for this one, either, but it is far and away the best combination of value and matchup available. Since the Buccaneers' offense can't play against the Bucs' defense, the Falcons might be the most favorable matchup they play all season. The Falcons are second in points allowed, and they've allowed four of the five QBs they've faced to score at least 22
DKFP.
Twelve different WRs have scored at least 12
DKFP
against them, meaning they are allowing multiple big games to the position each week. Despite the favorable matchup, Winston's salary is 14th among QBs in Week 5.
Since Week 1, every QB to face the Falcons has finished inside the top 12 for the week. Winston missed one game against Atlanta in 2017, and he scored 25.8 DKFP in the other. Godwin is clearly behind Mike Evans ($8,100) on the Bucs' WR chart, and, at least for the start of the season, he was behind DeSean Jackson ($5,900). But Godwin saw increased usage over the final four weeks of 2017 with Winston at QB, while Jackson's workload was falling over that same period. Ryan Fitzpatrick has shown more affinity for Jackson over the last two seasons, while Winston has tended to prioritize other WRs. Godwin's price is very low, especially considering he might be the second-most targeted WR in an excellent matchup.
---
I am a promoter at DraftKings and am also an avid fan and user (my username is arikleen) and may sometimes play on my personal account in the games that I offer advice on. Although I have expressed my personal view on the games and strategies above, they do not necessarily reflect the view(s) of DraftKings and I may also deploy different players and strategies than what I recommend above. I am not an employee of DraftKings and do not have access to any non-public information.