WATCH: WHO'D I MISS ON? WEEK 4
---
Fantasy Football: Week 4 Cash Game Recap
I'm mainly a cash-game player. Cash games refer to any contest in which roughly 50 percent of the field is paid out, such as head-to-head, double up or 50/50. I try to get a certain volume of head-to-head action every week and then supplement that with other cash games if my head-to-heads aren't picked up.
Each week, I'll review my cash-game lineup in this space. Sometimes I'll lose, but hopefully I'll win more often. Either way, I'll post it here and give you my thought process.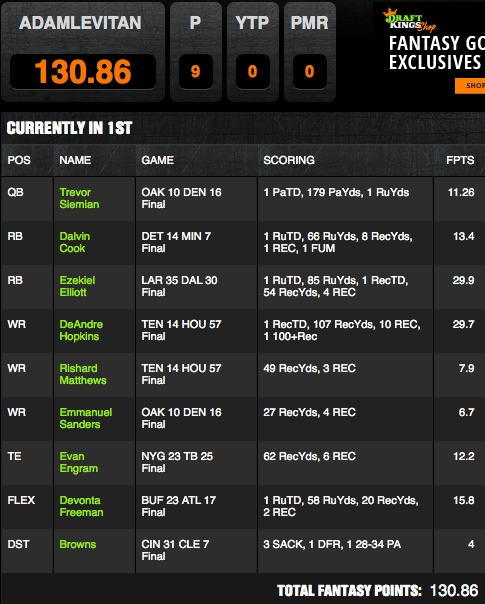 Because of the tightened slate size and a lack of quality options at both the very high and very low range, optimal roster construction came into focus very clearly in Week 4: A cheap quarterback, three of the high-volume running backs, three of the mid-range wideouts and a cheap tight end. For me, it merely was a matter of making tight decisions among players at similar price points.
MY

MUST PLAYS
As I noted in Leverage, this was a home-run spot for Ezekiel Elliott. After producing reasonably well through three tough matchups, he finally got a home game as a solid favorite against a beatable Rams defense. We've also seen Zeke's pass-game usage spike massively this season, raising his floor. So with a depressed pricetag down at $8,200, he was a lock for me.
Dalvin Cook came into Sunday as a three-down-plus goal-line back as a home favorite. Regular readers of this article know this isn't a spot I typically pass on, especially when it's a talented player who's mispriced at just $6,500. Cook averaged 23.6 touches per game coming into the game, and he was well on his way there again against the Lions before unfortunately blowing out his knee.
The Titans have been an unquestioned funnel defense for a few years now, faring far better against the run than the pass. It makes sense, given their personnel. We also knew that DeAndre Hopkins was set up for some of the most volume in the league this week, as noted in Target Projections. So given Hopkins' price ($6,400) and matchup, he was hard to pass on. It was easy to pass on Larry Fitzgerald for the reasons I described in Leverage, and I got off Golden Tate once Kenny Golladay was ruled out (making it more likely Tate would play outside and see Xavier Rhodes).
---
MY

WANT PLAYS
I had Leonard Fournette in my flex spot for much of the week. But after being burned in Week 3 by playing Jay Ajayi at the Jets, I was looking for reasons to move off. Perhaps that was recency bias, but I did think the spot for Devonta Freeman was better at just $600 more, as a home favorite who plays better in the passing game on a team that has scored at least 30 points in nine of its last 11 home games. I thought it was worth coming off the Ravens' D down to the Browns' D in order to upgrade Fournette to Freeman.
I knew I would go with one of Trevor Siemian or Deshaun Watson at quarterback. The mid-range options (Carson Palmer, Dak Prescott, Philip Rivers) had similar floor/ceiling projections at $1,000-plus more, and Matt Ryan and Tom Brady were far too expensive. So it was really close between Siemian and Watson, especially since I'd have a stack going with both via Manny Sanders/Hopkins. In the end, I decided the floor of Siemian was higher, but the ceiling of Watson was higher, so I played Siemian in

H2H

and Watson in leagues such as the Edge 4-man.
I wanted to get to Charles Clay at tight end, as he clearly had the best matchup relative to price. The Falcons' defense forces targets inside to tight ends/backs, which is fine by the Bills because they have no wideouts anyway. I thought about coming off Sanders to Adam Thielen in order to get up to Clay, but in the end, I decided Case Keenum left too low of a floor on Thielen. So I was fine to ride with Evan Engram, who quietly established a major role on a team with no run game. With Eli Manning projected to be among the league leaders in attempts each week, rostering his wildly athletic tight end who's playing a ton and cost $3,000 can't be bad.
I knew I wanted to fade Larry Fitzgerald and ride Emmanuel Sanders or Demaryius Thomas in that price range. I liked the matchup for the quick, shifty Sanders against the Raiders' bigger David Amerson and Sean Smith. Sanders has been an extremely consistent, high-floor wideout despite playing for the run-first Broncos, seeing at least six targets in 16 of his last 18 full games.
With Corey Davis (hamstring) out, the Titans' target tree was condensed. I also wanted to get in front of what I suspect will be a funnel defense in the Texans, who lost cornerbacks

A.J.

Bouye in free agency and Kevin Johnson to injury. So at just $4,900, Rishard Matthews' underrated talent had a real chance to shine here. Tyrell Williams, Jeremy Maclin and Marqise Lee also were in consideration in this range — especially Williams, who had the best matchup and projected game pace.
I wanted to get to the Bengals' D/ST, but it quickly became clear I wouldn't have the cap space. This lineup had room for exactly $2,400 at defense, which was what the Browns cost. I certainly didn't love them — especially without No. 1 overall draft pick Myles Garrett (ankle) again. But the Bengals' offensive line is extremely shaky, and this was a division game at home. The punt could have been far worse.
---
Week 4 Results
Going Siemian over Watson really hurt, and perhaps I should have considered bad game flow for the Broncos' pass game as a more real possibility — especially after Michael Crabtree was hurt. The Fitzgerald TD with 32 seconds left in overtime also was a real kick in the groin, as he had just 3-13-0 before that. The Cook injury really stung as well, too, as it put me behind people who went with Fournette or Todd Gurley. That said, I was happy with my construction this week and think it clearly was the right play. Sometimes the ball just doesn't break exactly your way.
---
Year-To-Date Results
Week 1: 149.58 points, won 92.9 percent of head-to-heads. Click here for recap.
Week 2: 168.32 and 147.92 points, won 61.2 percent of combined head-to-heads. Click here for recap.
Week 3: 95.28 points, won 25.6 percent of head-to-heads. Click here for recap
Week 4: 130.86 points, won 40.1 percent of head-to-heads.
---
I am a promoter at DraftKings and am also an avid fan and user (my username is adamlevitan) and may sometimes play on my personal account in the games that I offer advice on. Although I have expressed my personal view on the games and strategies above, they do not necessarily reflect the view(s) of DraftKings and I may also deploy different players and strategies than what I recommend above. I am not an employee of DraftKings and do not have access to any non-public information.