NFL fans got their money's worth in the Divisional Round of the playoffs; outside of the Seahawks' predictable takedown of the Panthers, every game was a nail-biter.
Of course, everyone is talking about the Dez Bryant catch/non-catch. Not only did that shake up the NFL playoff picture, but it also changed some fortunes on DraftKings; Bryant and Romo lost points, and you have to think DeMarco Murray owners would have been able to secure another rushing touchdown if Dallas had the ball on first down at the Packers' one-yard line.
The only upset of the weekend came in Denver, where Andrew Luck and the Colts stunned the Broncos. Indy's ability to halt the Denver offense is ultimately what ended up turning one DraftKings user into a millionaire. Let's break down the lineups for $1 million winner TwoGun, as well as a couple other big winners from this weekend's action.
Millionaire Maker Encore: TwoGun (209.74 points)
If the name 'TwoGun' looks familiar, it's because he absolutely dominated on DraftKings in Week 17, taking down around $700,000 in prizes (yes, you read that correctly). With this huge win, TwoGun arguably became the biggest tournament winner in DraftKings' history in a period of two weeks.
TwoGun used the wide-receiver-in-the-flex strategy that we've seen so many DraftKings winners employ this season. Wide receivers have statistically led to the highest rate of tournaments wins when placed in the flex position because they generally have more upside than running backs. It wasn't a necessity this week in a short slate, but it ultimately paid off with all of the low-priced wide receivers who went off.
The player TwoGun used in the flex – Davante Adams – was the perfect choice. Adams was cheap, had a ton of upside against a Dallas defense that defends better on the outside than over the middle of the field, and was in only 7.9 percent of Millionaire Maker lineups. Whenever you can get a high-ceiling player at that type of ownership in a four-game slate, that's a huge win. Adams delivered with 117 yards and a touchdown, leading all of TwoGun's players in points with 27.7
TwoGun's other MVP was Jermaine Kearse, who was found in only 5.8 percent of all lineups. Kearse's 129 yards and a touchdown led to 24.9 points on DraftKings. Combined with Adams, that's over 50 points from two low-usage receivers, and that contrarian approach ultimately helped TwoGun win $1 million.
Note that TwoGun didn't go crazy with his contrarian approach, however. One of the traps new players fall into is trying to differentiate their lineups so much in tournaments that they're ultimately left with no value. TwoGun rolled the dice with Adams and Kearse, but he also rostered high-value players like Daniel Herron, who was in 43.5 percent of all lineups. That perfect balance of value and against-the-grain selections was the primary reason TwoGun was able to turn in one of the greatest two-week stretches in the history of daily fantasy sports.
And of course this win didn't come without a big-time sweat. On DKTV, we estimated TwoGun's chances of winning to be around a coin flip at best at the start of the fourth quarter. He had a decent lead, but also needed to fend off an entire field with lineups that contained Demaryius Thomas, Julius Thomas, and Emmanuel Sanders, among others. It's never fun to be in that position…until it's over and you're $1 million richer, that is.
Flea Flicker: hubbarsh (211.12 points)
It's always difficult to see lineups that would be $1 million winners had they been placed in the Millionaire Maker. That's what we had with one lineup in the Flea Flicker – a $5 entry contest – with hubbarsh's 211.12 points.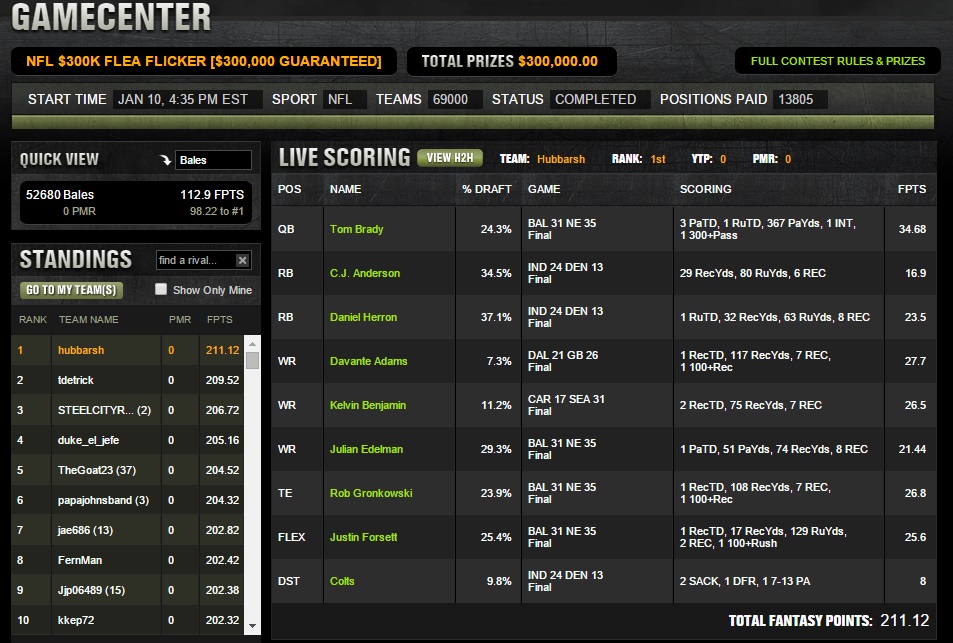 Like most winners, hubbarsh was all over the Patriots. Interestingly, he didn't have Danny Amendola in his lineup, but he built well around his Brady/Edelman/Gronkowski stack with players like Davante Adams and Kelvin Benjamin. The latter was in only 11.2 percent of lineups in a perceived horrible matchup against Seattle, but still managed to find the end zone twice.
It was interesting to see such a high score from a lineup with a running back in the flex, but this was probably one of the weeks to get away with that approach. With a limited player pool, users were trying to find value wherever they could get it. A few low-priced, low-usage receivers ended up coming up big (and hubbarsh had two of them), but the Anderson/Herron/Forsett three-headed running back monster ended up working out for him.
The most interesting contrarian choice here was the Indy defense, which was in only 9.8 percent of all lineups. I thought ownership would be even lower than that going up against Peyton Manning and the Broncos, but the choice ended up working out; the money hubbarsh saved on his defense allowed him to fit a top quarterback, three fairly expensive backs, and the top tight end into his lineup.
Congrats to hubbarsh on a great roster and turning $5 into $25,000!
Divisional Clash: Bobbinhead23 (215.62 points)
The sickest lineup of all came in the Divisional Clash, where two users took down the same TwoGun lineup that won the Millionaire Maker, led by Bobbinhead23 and his 215.62 points.
First of all, Bobbinhead23 had a ridiculous sweat on his hands, as he almost completely faded the Sunday games. Outside of the popular Daniel Herron, Bobbinhead23 had no other players on his roster left to play after Saturday night. He actually had over 192 points by that time, which is an insane total after only two games.
Actually, Socrdave, dinkpiece, and I talked about some of these numbers on DKTV last night. I suggested that perhaps the insane scores we sometimes see posted in short slates – when users are forced to load up on a couple games – could be evidence that we should stack teams/games even more so than we typically do during normal slates. I personally have not paired running backs with the quarterbacks/wide receivers on the same team very often, for example, because I feared it limited upside, but maybe the short-slate scores show that stacking entire offenses isn't such a poor strategy.
Either way, Bobbinhead23 was in a great spot on Sunday, but he still needed to fend off a few different lineups late in the Broncos-Colts game. The most obvious one was breezeproductions, who ended up finishing second and needed just 3.05 more points from Emmanuel Sanders to take the lead. A single catch for 21 yards or even two catches for 11 yards would have done the trick, but the Broncos were unable to move the ball late and Bobbinhead23 held on for the win, turning $20 into $100,000.
Congrats to all of the big DraftKings winners from the Divisional Round of the NFL playoffs! See you on Sunday for Championship Weekend!