This year will be the end of the Steelers' dynasty, and I'm calling it now. Big Ben has been trying to retire for years now and his body is hanging on by a thread. He leaves every other game with some sort of lingering injury that follows him into the next game. Antonio Brown has jumped ship from the toxic environment, and although people are keen on the assumption that JuJu Smith-Schuster is going to be fine as a primary option, it's not something we can count on in circumstance.
They have lost defensive pieces and have shown an issue with playing down to opponents. This is the year it unravels. Yes, the Steelers were a top-10 offense in the league in all categories besides rushing (90.3 yards per game because they hardly ran at all), but things can fall off a cliff quick in the NFL. Although I think there is fantasy relevancy in James Conner and Smith-Shuster, the better idea is to fade the big pieces and take the late-round guys like James Washington because at face value the main pieces are too expensive and this offense probably will take a big step back.
---
Team Preview
---
Key Departure:
Antonio Brown, WR
Key Acquisition:
Donte Moncrief, WR
---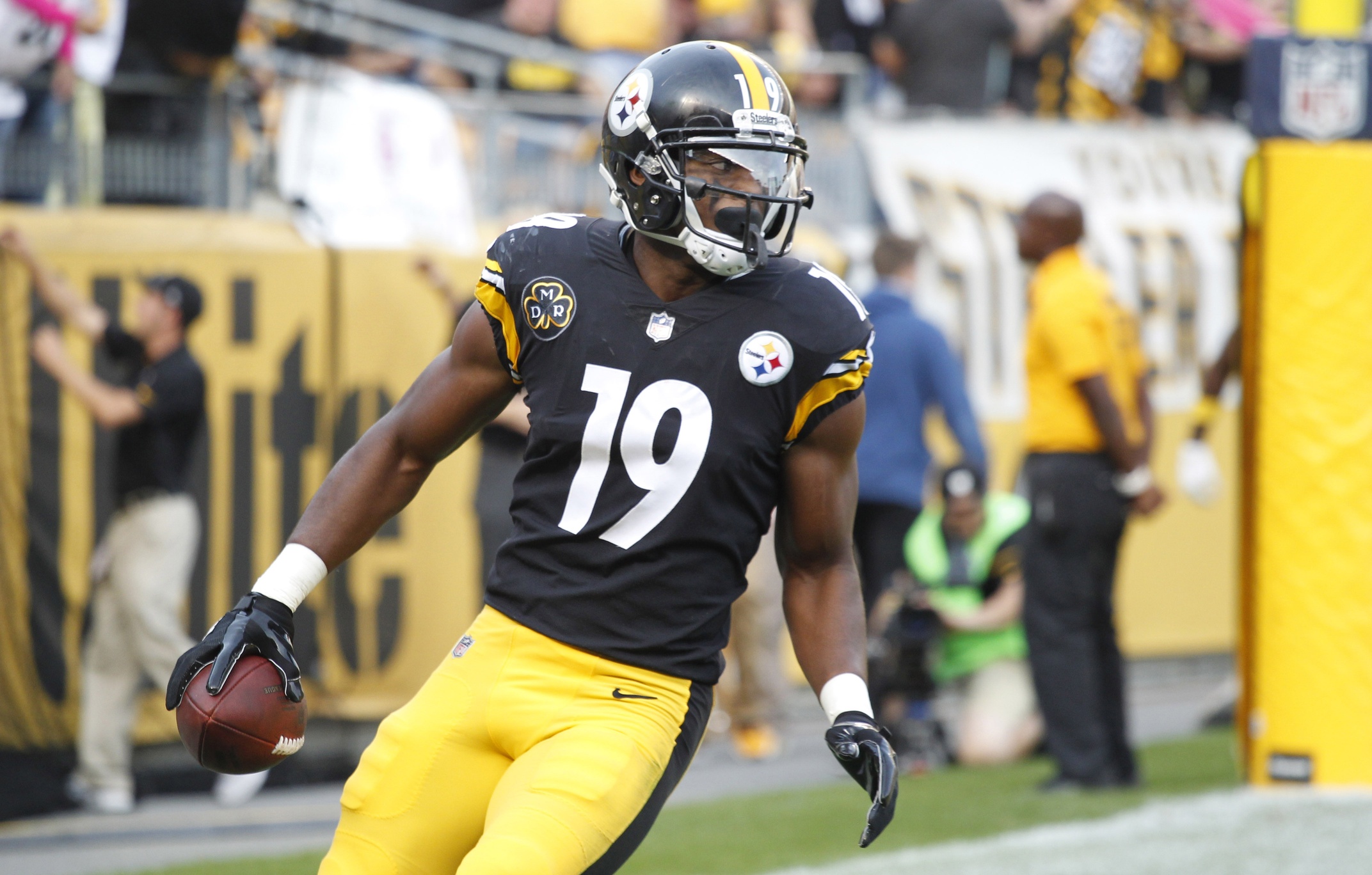 2019 Fantasy
MVP
JuJu Smith-Schuster, Wide Receiver
Alright so look, I am not a fan of this team at the current price you have to pay to own any of the big pieces, and JuJu is no exception. However, the dude is good, and he's going to get all the opportunity he can handle as the unquestioned primary option on a team that does everything it can to avoid running the ball.
It's a miracle Ben Roethlisberger still has his right arm. Surprisingly, it hasn't emancipated itself and started a career doing less physical labor. Even with Antonio Brown on the team in 2018, JuJu racked up 1,426 yards receiving at a 12.8 yards per reception rate with seven touchdowns. In fact, the only thing Brown had over Smith-Schuster was touchdowns, so the ceiling is significantly higher due to the marketshare JuJu should expect in 2019. If this team is somehow able to hold off the aging of its franchise QB and the incompetence of its head coach to maintain the offensive success it has had over the past decade, JuJu will thrive and finish the year as a top-three wideout in fantasy with 2,000 yards and 15 touchdowns. That is, unfortunately, a big if.
---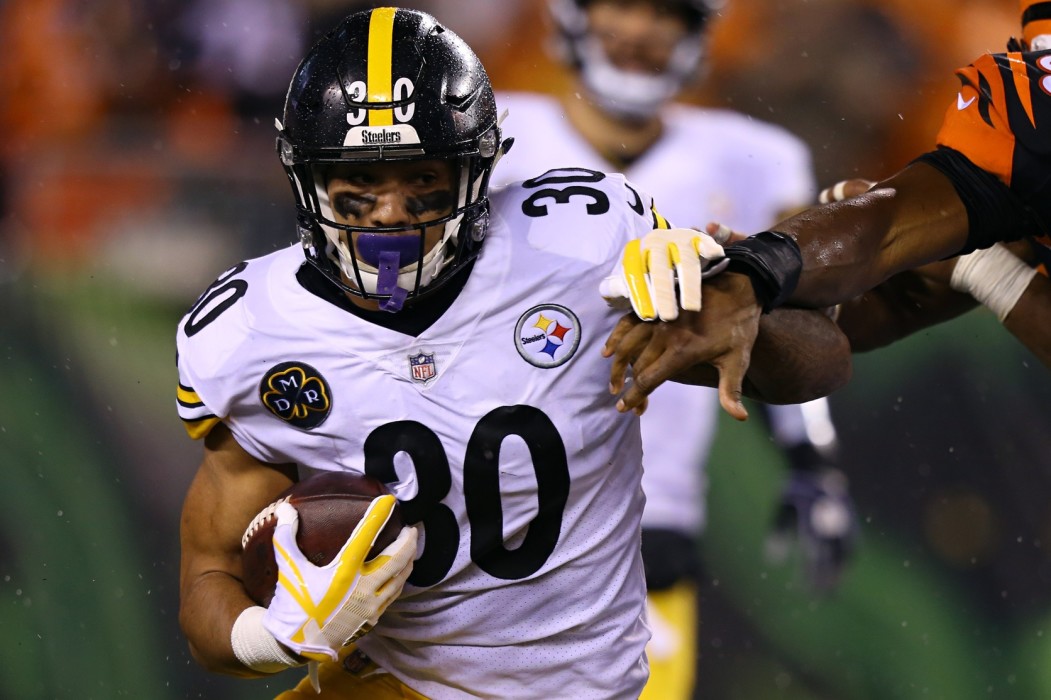 2019 Fantasy
LVP
James Conner, Running Back
He came through as a solid piece of the offense in 2018 with 215 rushing attempts, but even on that many carries he couldn't break the 1,000-yard mark, which is a pretty big disappointment if you consider what Le'Veon Bell was able to accomplish as the No. 1 RB option on this team. He doesn't have the same receiving chops as Lev did and isn't used in the same ways with a lot of his receptions coming behind the line of scrimmage and rarely lining up in the slot, and that makes him a lot less valuable.
If you think this team will have less overall offensive success like I do, you'll agree the Steelers will have way less chances for touchdowns, which were the biggest reason Conner had relevance — 12 rushing touchdowns and one through the air. If his touchdowns drop by a good amount to, say, eight rushing and one receiving, and he has less wiggle room on the ground due to more stacked boxes with an aging QB, we could see a massive drop in his already unstable production on a team that doesn't want to run. There is way more downside than upside with Conner.
---
2019 Breakout Player
James Washington, Wide Receiver
With Antonio Brown out of the picture there's going to have to be somebody to soak up the extra production left in the aftermath. It would make a lot of sense the person to take it would be Washington. He was really good in limited fashion in 2018 with 217 yards and 16 receptions, which was good for a 13.6 average yards per reception.
He's a small guy but a good route runner and should be able to fill the outside receiving role with no issues while JuJu maintains his rightful position in the slot. Sure, he has to deal with Ryan Switzer as well, and Vance McDonald will have his cut of the pie, but neither of those guys are going to be taking the targets Brown left behind. You can get Washington cheap, and with the circumstances behind this team, you don't need the Steelers to do well for him to break out (look at Tyler Boyd with the Bengals). I love taking him later in drafts this year, and he makes for a great option to fill out DFS rosters until the industry starts piling on him.
---
Final Thoughts
I understand I'm in the minority here in terms of how I see this team playing in 2019 and that's fine; I just don't trust Roethlisberger's body to hold up and the times are passing by a coaching staff that continues to make dumb mistakes. If Ben does get hurt early in the season and they have to rely on some combination of Joshua Dobbs and whoever else they have to be underwhelming behind him, it could get really ugly for the Steelers really quick.
There's plenty of upside in JuJu, and Washington is a good pick so long as he's available later in drafts, but the risk is too large and the hype too big for me to back this team in its condition. I prefer the Browns and even the Bengals in this division as I think the Steelers finish 7-9 and miss the playoffs.
---
Put your knowledge to the test. Sign up for DraftKings and experience the game inside the game.
---
I am a promoter at DraftKings and am also an avid fan and user (my username is Multichem) and may sometimes play on my personal account in the games that I offer advice on. Although I have expressed my personal view on the games and strategies above, they do not necessarily reflect the view(s) of DraftKings and I may also deploy different players and strategies than what I recommend above. I am not an employee of DraftKings and do not have access to any non-public information.