The Cardinals are coming off of an absolute disaster of a season. It is fairly difficult for the first year of a rebuild to go so poorly that you hit the reset button again, but that is exactly what Arizona did. Armed now with a new head coach and quarterback, we'll see if the Cardinals can get it right this time around. And more importantly, what they can do for your fantasy teams!
---
Team Preview
---
Key Departures:
Josh Rosen, QB
Key Acquisitions:
Kyler Murray, QB; Andy Isabella, WR; Hakeem Butler, WR; Charles Clay, TE
---
2019 Fantasy
MVP
Kyler Murray, QB
Choosing a rookie QB as a fantasy MVP may seem odd, and that's before mentioning that he is under six feet tall. However I am a real believer in not just Murray, but this new Arizona offense under Kliff Kingsbury.
First, on Murray. He demolished college football in his only year as the starter at Oklahoma. While it seemed nearly impossible to follow up what Baker Mayfield accomplished in 2017, Murray arguably was better. On a per-attempt basis, Murray was the more productive passer, and also contributed 1,001 yards and 12 TDs on the ground. The only college QB to post a better passer efficiency rating since 2000 than Murray in 2018 is Tua Tagovailoa.
While Kingsbury joins the Cardinals after being fired by Texas Tech, his release was not due to the success of his offense. The Red Raiders had a top-25 offense by Football Outsiders S&P+ all six years Kingsbury was there. It is an Air Raid approach that also moves fast. Tech was first in plays per game during Kingsbury's tenure as well.
This is a perfect marriage of talent and offensive creativity. Murray's rushing ability is the cherry on top to what should be an explosive rookie year.


---
2019 Fantasy
LVP
Larry Fitzgerald, WR
Fitzgerald is one of the greatest wideouts to ever play the game, but he is entering his age-36 season, and will face his stiffest competition in years. The Cardinals selected three WRs in the 2019 NFL Draft, and still have Christian Kirk, a 2018 draft holdover. Fitzgerald himself saw five-year lows in targets, receptions, yards and TDs in 2018.
While the Air Raid is a terrific offense, and one I expect the Cardinals to execute at a high level, the ball should be spread out between a lot of these weapons. Fitzgerald simply no longer has the athletic ability to produce without a bevy of targets. He had just one 100-yard receiving game in 2018.
This wouldn't be a huge deal if Fitzgerald wasn't expected to be a top-100 draft pick in fantasy leagues this summer. The future Hall-of-Famer is closer to undraftable than a fantasy starter.


---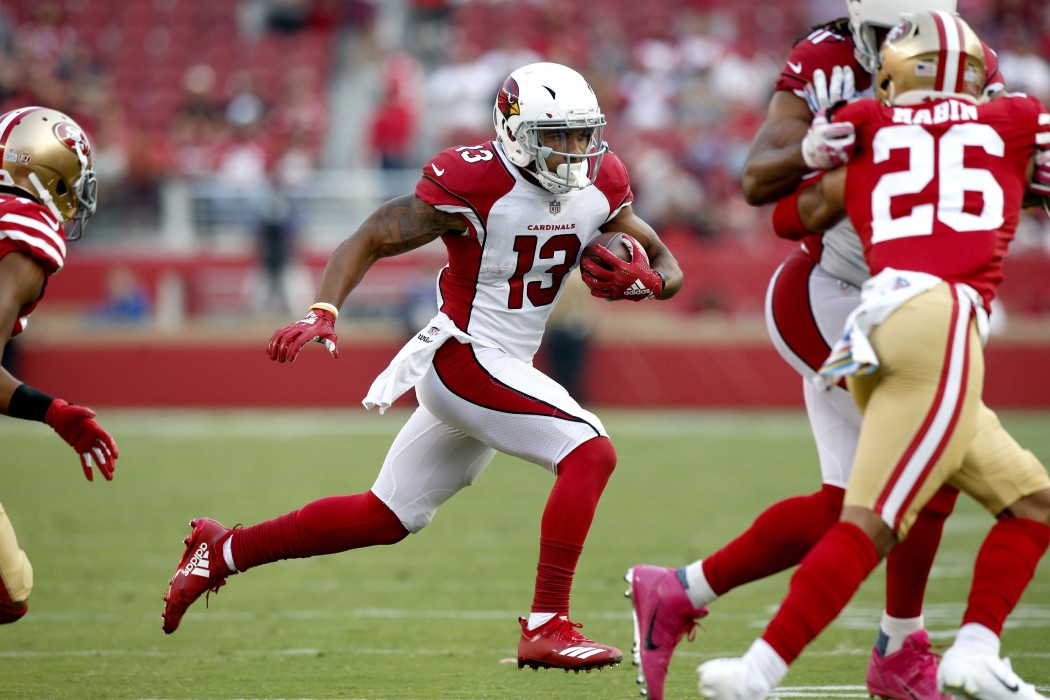 2019 Breakout Player
Christian Kirk, WR
While the Cardinals should spread the ball out plenty in 2019, Kirk should be the team's top target and possesses tremendous ability in space, something the Air Raid offense demands of its WRs. In addition to being a star receiver at Texas A&M, Kirk was a fantastic player in the return game. He averaged over 20 yards per kick and punt return, scoring on a whopping six punt returns.
Kirk also has some familiarity with his new QB. The pair played together in 2015 when Murray was a freshman at Texas A&M. Having a leg up over his teammates in playing time with Murray should go a long way towards establishing him as a go-to player in the offense.
In 2018, Kirk had 590 yards in 12 games before breaking his foot. This was with the second-lowest number of plays run. If Arizona plays a true Kingsbury Air Raid offense in 2019, they should be both pass-heavy and fast-paced. That means plenty of volume and production for the second-year
WR.
---
Final Thoughts:
Arizona was last in the
NFL
in yards per play by 0.4 yards in 2018. They had one of the worst offensive lines in football and sputtered under a rookie QB and first-year, defensive-minded head coach.
Now with Kliff and Kyler at the helm, the Cardinals have the potential to be one of the more exciting offenses in 2019. We have seen over the past few seasons that offensive ingenuity and unique talents can make for some impressive football. The Rams and early Chip Kelly Eagles both experienced immediate success with their new approaches. I expect the same to happen in Arizona this season.


---
Put your knowledge to the test. Sign up for DraftKings and experience the game inside the game.
---
I am a promoter at DraftKings and am also an avid fan and user (my username is amicsta) and may sometimes play on my personal account in the games that I offer advice on. Although I have expressed my personal view on the games and strategies above, they do not necessarily reflect the view(s) of DraftKings and I may also deploy different players and strategies than what I recommend above. I am not an employee of DraftKings and do not have access to any non-public information.