Another week of NFL football brought us 8 more qualifiers into the Fantasy Football World Championship. Let's take a look at the winning lineups from each!
FFWC

Qualifier #13: Joepic02
Joepic02 went with an all-out Patriots stack in this Q. Tom Brady, Julian Edelman, Rob Gronkowski, Scott Chandler, and Dion Lewis all found their way into the lineup. Having Dion Lewis at 1.1% owned on a day where RBs were SO difficult to get right will certainly help win a qualifier.
FFWC

Qualifier #14: Slick74
Another Tom Brady – Julian Edelman – Rob Gronkowski combo, another qualifier win. Brandon Marshall's 26.1 point performance took Slick74 to the top of the leaderboard. Also, having Travis Benjamin at 1.1% with 35.5 points didn't hurt.
FFWC

Qualifier #15: Beanman14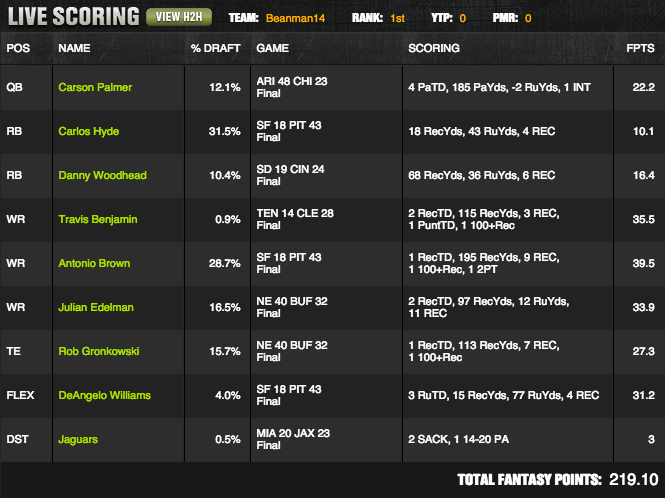 Beanman14 went with a different approach – playing Carson Palmer without an Arizona WR. While he missed out on Larry Fitzgerald's success on Sunday, Beanman14 made up for those points with Antonio Brown, Travis Benjamin, and Julian Edelman – all of whom had over 30 fantasy points.
FFWC

Qualifier #16: Jp5283
Jp5283 paired Ben Roethlisberger with Antonio Brown, and it certainly paid off. He also included DeAngelo Williams in his lineup, which is definitely a contrarian approach. All three of those players scored over 30 fantasy points for Jp5283.
FFWC

Qualifier #17: TwoGun
We have a Blake Bortles sighting! TwoGun definitely went contrarian in pairing Bortles with Allen Robinson. Bortles putting up 21.62 fantasy points while being 0.1% owned is what you're looking for in tournaments and qualifiers. Add in a 36.5 fantasy point day from one of his receivers, and you're on your way to Vegas for the FFWC. Even with a -1 from the Ravens D, TwoGun still had enough points to win the Q by about 6 points.
FFWC

Qualifier #18: Thesportsgeek
Another Blake Bortles sighting! The Bortles/Robinson pairing again won another player a seat in the FFWC. Thesportsgeek certainly paid up for WRs in this one, dropping dough on Odell Beckham Jr. and Antonio Brown. Well, he cashed in on their success, and won himself a seat in the Fantasy Football World Championship.
FFWC

Qualifier #19: Bales
Bales was in a decent position going into Monday night, as he had the Matt Ryan/Julio Jones pairing that combined for 50.92 fantasy points. He also got 40.2 fantasy points out of Larry Fitzgerald, who was only 7.0% owned. Bales won the Q on the back of Eric Decker's 23.7 fantasy point performance last night, however; squeaking past the 2nd place finisher by 0.36 points.
FFWC

Qualifier #20:

PSBC22
PSBC22 had a come-from-behind win last night with an awesome performance from Ryan Fitzpatrick and Eric Decker. Despite only having 12.2 combined fantasy points from his RBs, PSBC22 got enough out of Beckham Jr., Antonio Brown, and Julio Jones to take down the qualifier.