Week 1 of 2016 NFL Preseason is in the books. And while we mostly saw rookies get their feet wet, third-stringers trying to earn a spot on the 53-man roster and no serious game plans revealed there were still some noteworthy events when it comes to fantasy.
Here's 10 things we learned (good or bad) in Preseason Week 1:
10. Jared Goff and Carson Wentz Get Rude

NFL

Welcomes
Not that it's a huge surprise that rookie quarterbacks taken No. 1 and 2 overall struggled for their respective teams in their debuts, but things could have gone better. Especially when you consider neither of them started and played against a first-string defense. Goff went a mere 4-for-9 for 38 yards, getting picked off once and taking a sack for nine yards. Wentz might've been a tad better in the sense he was 12-for-24 for 89 yards without a sack, but he also tossed an interception. Wentz had the worse day given the news of a fractured rib that could keep him from taking anymore valuable reps this preseason.
---
9. Cardale Jones and Dak Prescott Surprise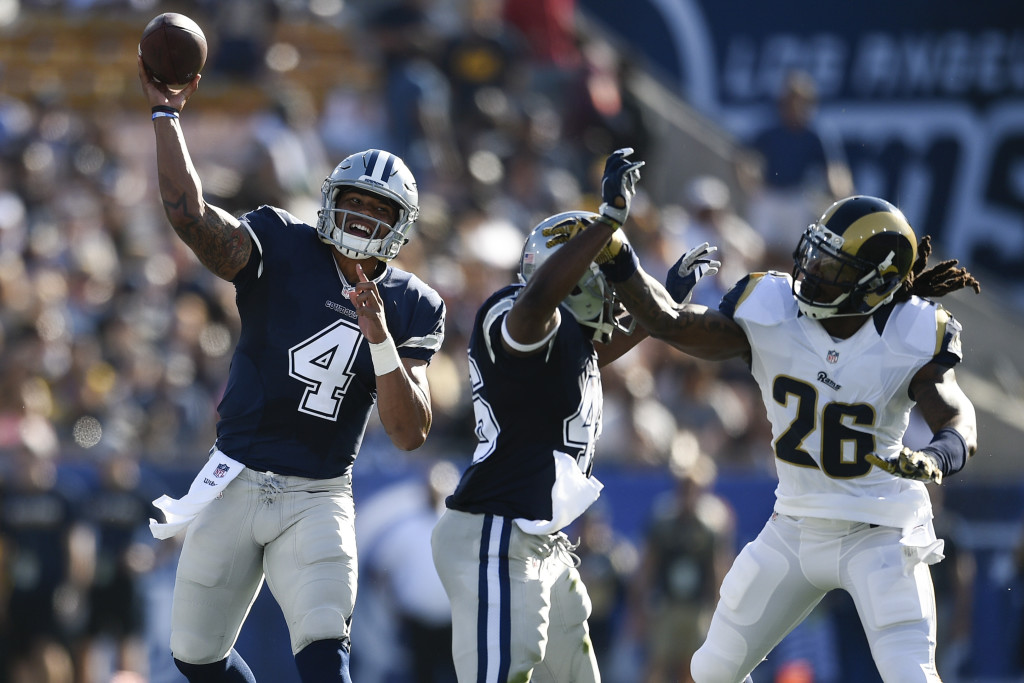 One week of preseason football means nothing. That still doesn't mean we can't overanalyze it. After signing an extension, Tyrod Taylor is the guy in Buffalo, but Cardale Jones might already be mounting a challenge for the starting job. Jones needs to improve his accuracy after going 11-for-21, but going for 162 yards with a TD and zero INT is a great start. Jones also scrambled out of the pocket for another 34 yards on the ground. Prescott probably made the best rookie debut of the weekend though. With no Romo, Prescott was playing with the starters and put up this stat line: 10/12, 139 YDS, 2 TD, 13 rush YDS. That's good enough to keep Tony looking over his shoulder. Perhaps the 'Boys found their QB of the future.
---
8. Broncos vs. Bears Was Exactly What You'd Expect
If I told you before this game kicked off that the Denver D would pitch a shutout, sacking the Bears seven times (along with a safety), that the Chicago offense would appear to be in shambles (gaining just 82 yards in the passing game) and all three Broncos' quarterbacks would play pretty evenly, you'd say: seems about right? Denver's defense is still elite. Chicago's offense is as bad as it gets. And this is what we have to make of The Mile High QB situation: Sanchez — 10/13, 99 YDS, TD, INT, Siemian — 7/12, 88 YDS, Lynch — 6/7, 74 YDS (sacked three times). Go figure.
---
7. Teddy Bridgewater Shows Huge Developments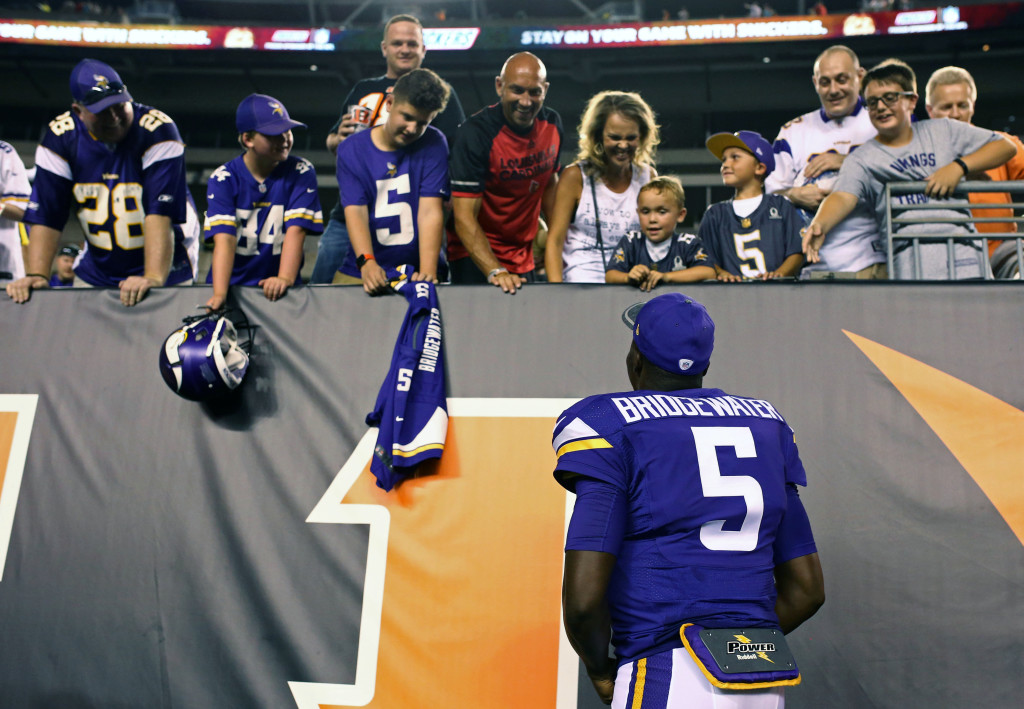 If you've been playing preseason DFS then you know it's typically pretty smart to avoid the starters until Week 2 or later. There are always a few exceptions, and Bridgewater was one of them. All the talk surrounding this kid is that he's going to develop into a very good QB. He showed us why in limited action: 6/7, 92 YDS, TD (on a 49-yard bomb to Charles Johnson).
---
6. Jameis Winston Looked Like A Star
Winston wasn't coming out of the game until Tampa got a look at him for a full drive. He impressed with 97 yards and a touchdown on a solid 7-for-9 passing. Winston is one of my favorite candidates to breakout this season at QB. The former No. 1 overall pick has all the skills and weapons to improve by a wide margin. Tampa may be the second-best team in the NFC South if Winston can handle everything that comes with being the face of a franchise.
---
5. Robert Griffin

III

Has Plenty Of Rust To Knock Off
This is probably to be expected, but I still kind of like RG3 this season in the long run. Griffin went 4-for-8 for 67 yards and an interception in his Browns debut. That's not what's really important. RG3 hasn't been a healthy starting QB since his rookie season, but since then it's been all injuries. His success will hinge on his mobility and he appeared to look pretty fresh. I'll say it again, healthy legs will mean everything to RG3 this season.
---
4. Brock Osweiler Was Unimpressive In Texans Debut
Let's make something out of nothing. Brock wasn't on the field too long, but like RG3 he did not impress his new team (that paid him a whole lot more). Osweiler went 4-for-7 for just 27 yards and also took a sack. Tom Savage came on to toss a pair of touchdowns on 14-of-24 passing for 168 yards. This is a non-story right now. But if Brock isn't playing well five or six games into the season…
---
3. Jimmy Garoppolo Only Needs To Be Solid Behind Patriots D
Jimmy G had a tough start against the Saints by holding onto the ball too long trying to make a play… AKA exactly what Tom Brady doesn't do. By the end of his half of play, Garoppolo at least improved to "solid" as a first impression (11/18, 168 Yds). Not bad considering Gronk, Edelman and Amendola weren't out there with him as we expect them to be in Week 1 of the regular season. But if Garoppolo can be simply "solid" after what we saw from New England's defense — two sacks, two interceptions (one returned for a pick-six), two forced fumbles (another returned for a touchdown) — the Pats will be just fine.
---
2. Blake Bortles and Allen Robinson Are On The Same Page
I made mention to Bridgewater and Winston as starters who had a strong first preseason game in just a drive or two. Not only did Bortles do the same, he also made sure to let us know that he and Robinson are going to pick things up right where they left off. Many expect the Jags to take a huge step forward this season on both sides of the ball. Perhaps the biggest reason why is the Bortles/Robinson connection that went for three catches on three targets for 80 yards right out of the gate.
---
1. Titans Backfield Dazzles
Tennessee's three-headed RB monster stole the weekend in terms of fantasy news. DeMarco Murray was acquired to be the starter, a high pick was used on Derrick Henry and Bishop Sankey was already in place as the third-stringer/former starter. It'd be shocking to see the pecking order change from how I listed it, but after seeing them in action, it would also be shocking not to see all three have roles in the offense. Murray took six carries for 93 yards (including a 71-yard TD). Henry pounded the rock 10 times for another 74 yards and a score (consistently gaining yards with a long of 16 yards). While Sankey just barely got in the mix with three touches, he made the most of them with 52 yards and a third touchdown for the group (on a 41 yard rush). This is obviously a RB committee to keep your eyes on.
Find me on Twitter @julianedlow
---

I am a promoter at DraftKings and am also an avid fan and user (my username is jedlow) and may sometimes play on my personal account in the games that I offer advice on. Although I have expressed my personal view on the games and strategies above, they do not necessarily reflect the view(s) of DraftKings and I may also deploy different players and strategies than what I recommend above.