Forget losing, if Team USA allows a game to even come down to the last couple of minutes in these Olympics it'll be a shocker. That deprives us of a real storyline here, so let's make some.
Here's the biggest stories to watch for some of the stars on the USA Basketball roster.
Carmelo Anthony
Believe it or not, Melo is the face of USA hoops. This will be his fourth Olympics — the most ever for a men's baller. Anthony is virtually in reach of every Olympic record, and by the end he'll be the leader in games played and points scored for sure.
---
Harrison Barnes
Barnes is in a really awkward role on this team. He's playing alongside two ex-teammates (Klay and Draymond) and the man who took his place (Durant). How will he respond? So far Barnes has fit in well and come up with some ferocious dunks in the preliminary games. Barnes needs to build his confidence against the best of the best if he's going to develop into a star in Dallas.
---
Jimmy Butler
The Bulls had a really weird offseason and the end result is that it's now Butler's team. However, Jimmy does have to learn how to play alongside/get the most out of Rajon Rondo and Dwyane Wade. Being surrounded by studs on Team USA will only help him learn how to gel with his new co-stars.
---
DeMarcus Cousins
Boogie is rotting away in Sacramento searching for the meaning of life (and why the Kings keep drafting bigs). This is actually a great opportunity for him, though. Cousins is constantly labeled as a coach killer, the guy with all the negative energy on the team, etc. It should be easy to do, but if he can bury all that during the Olympics and bring nothing but positive vibes it will benefit him whether he's traded or not.
---
DeMar DeRozan
I won't lie to you and say there's anything too crucial surrounding DeRozan here. He just signed his mega-deal to stay in Toronto. He's a very good player with no real personal issues that's not going through any change in his career. But I'll give you this. DeRozan is going to be the guy that's throwing down insane jams when USA is up by 50 points. So that'll be fun.
---
Kevin Durant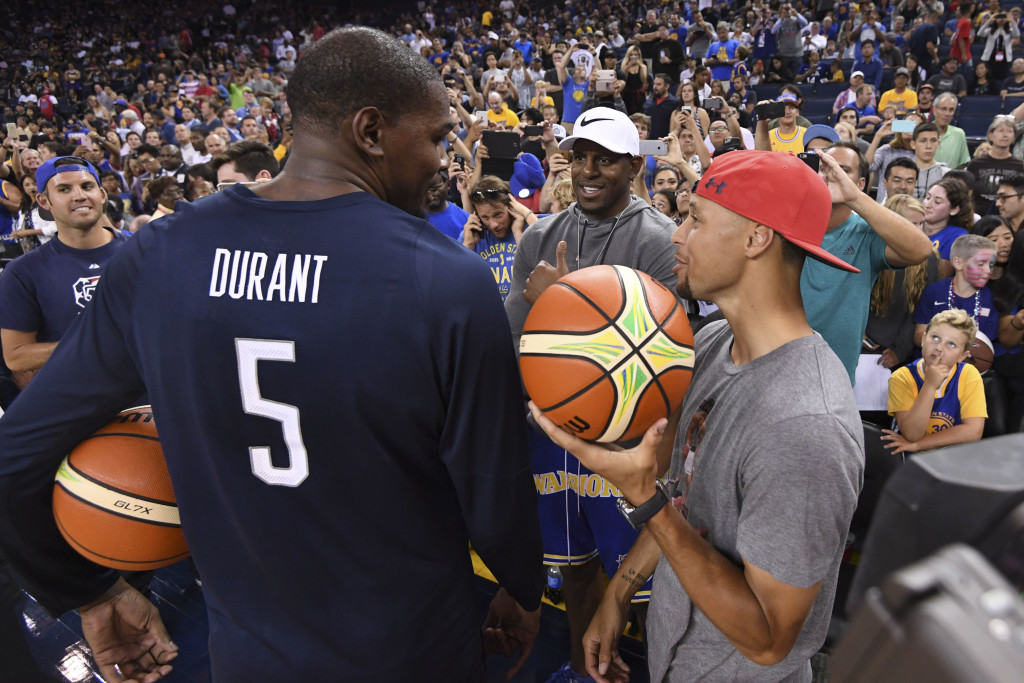 Durant hasn't exactly been out of the headlines this summer. What we're watching for is obvious — we want to see how he fits in with his new Warriors teammates. The only thing that could've made this better was if Steph were playing and Coach K was able to practically just play Golden State as a unit. KD is clearly the best player on this team. Let's see if he plays like it.
---
Paul George
Just a few years ago, George may have been the third-best wing player in the NBA behind LeBron and KD. Then he went down with that gruesome leg injury. He finally showed flashes of the old PG late last season, and dominated Toronto at times in the postseason. George is the talent that can go toe-to-toe with Durant when he's at the top of his game. Although they won't be competing, let's see if he can keep up.
---
Draymond Green
Draymond was hugely credited for helping recruit Durant to Golden State … and he'd been working on it for a while. Maybe Green is working on recruiting another USA teammate to the Bay in the next year or so. Either way, his leadership and all-around game should provide the anchor for everything Team USA does.
---
Kyrie Irving
Handle. Handle. Handle. You think Kyrie looked smooth putting the moves on the Warriors in the Finals? This dude's going to be crossing everyone up in the Olympics. RIP opposing guards. You'll be featured on plenty of Vines over the next month.
---
DeAndre Jordan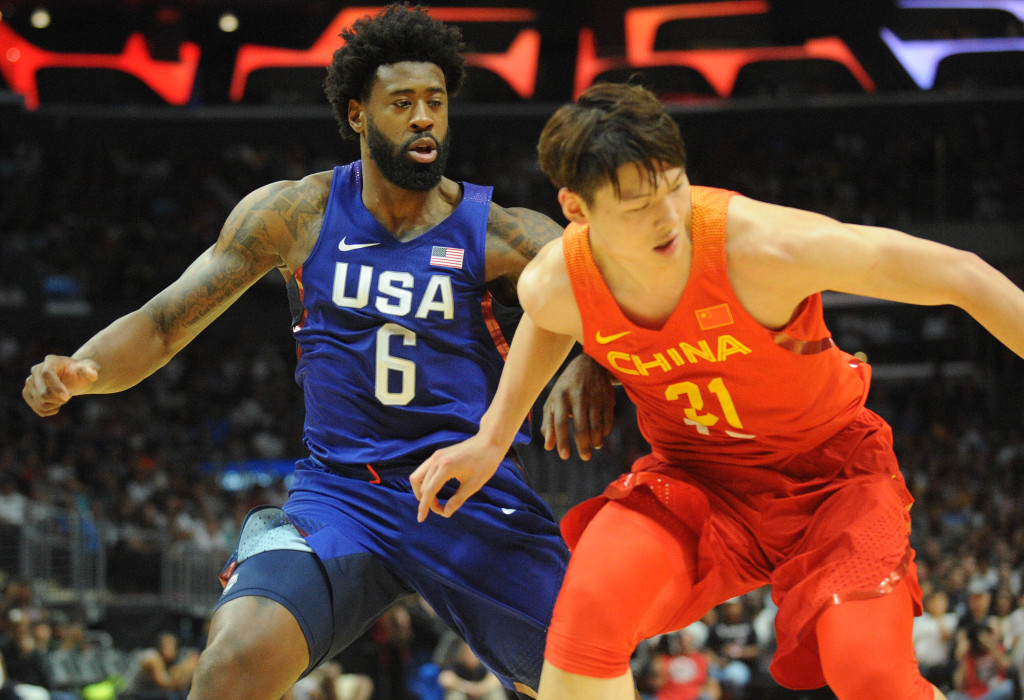 Alley-Oop. Alley-Oop. Alley-Oop. DJ is the most imposing physical force in the Olympic hoops field by far. He's just going to be tearing the rim down the entire time and putting shots into the tenth row on the other end. Not much anyone can do about it.
---
Kyle Lowry
This is actually a thin roster when it comes to point guards. Typically there are more than two and combinations of PGs will play together at times. Without a versatile player like LeBron, one of the PGs will likely be on the floor at all times. The takeaway is that Lowry is going to get a lot of minutes behind Irving and be a crucial part of Team USA.
---
Klay Thompson
Klay's going to feel like he's on Team USA all season when Durant and Curry (and even Draymond at times) are getting all the attention. Apparently Thompson is a personality that prefers it that way. When it comes to on the court, we're going to see Thompson play a lot like he's expected to next season. Feed off the superstars and shoot the lights out when the ball's in his hands.
Find me on Twitter @julianedlow
---

I am a promoter at DraftKings and am also an avid fan and user (my username is jedlow) and may sometimes play on my personal account in the games that I offer advice on. Although I have expressed my personal view on the games and strategies above, they do not necessarily reflect the view(s) of DraftKings and I may also deploy different players and strategies than what I recommend above.