If you've been reading my NBA Draft prospect rankings this season, then thank you very much. This, however, is a totally different animal. Forget the future. With one of the most level playing fields in tournament history, here are the top-10 players you want on your team for this season's NCAA Tournament. Happy March Madness to all!
10. Ben Bentil – Providence
(21.8 points/7.8 rebounds)
Providence – #9 Seed in East
PC is a very talented 9-seed, as you'll realize when sorting through this list. The emergence of Bentil has been the prime reason. He's coming off laying an egg against 'Nova but prior to that, Bentil carried the Friars to victory over Butler, dropping 38 points while playing the entire game. Back in February Bentil had a 42-point game at Marquette, so these explosions are something he's very capable of, even at his young age.
9. Yogi Ferrell – Indiana
(17.0 points/5.5 assists)
Indiana – #5 Seed in East
Ferrell is Indiana's clear-cut best player and the heart and soul of their team (that arguably got screwed with the 5-seed). I'd expect the senior to take the seeding personally, which mean we should see his best in the tournament. Farrell's been a star for the Hoosiers for three seasons now, rarely having a bad game. He has 30+ point potential and can flirt with a triple-double when it comes to his passing and rebounding abilities.
8. Jamal Murray – Kentucky
(20.1 points/5.1 rebounds)
Kentucky – #4 Seed in East
Murray didn't shoot all that well in Sunday's epic SEC Championship game but he was impressive when it mattered most. He's always poised and stays ready to hit the big shot when it counts. This kid is just so mature (the only freshman on the list) for his age and it shows in his elite/timely scoring ability. This is where Kentucky goes with the ball when it's do-or-die time, and Murray generally responds.
7. Georges Niang – Iowa St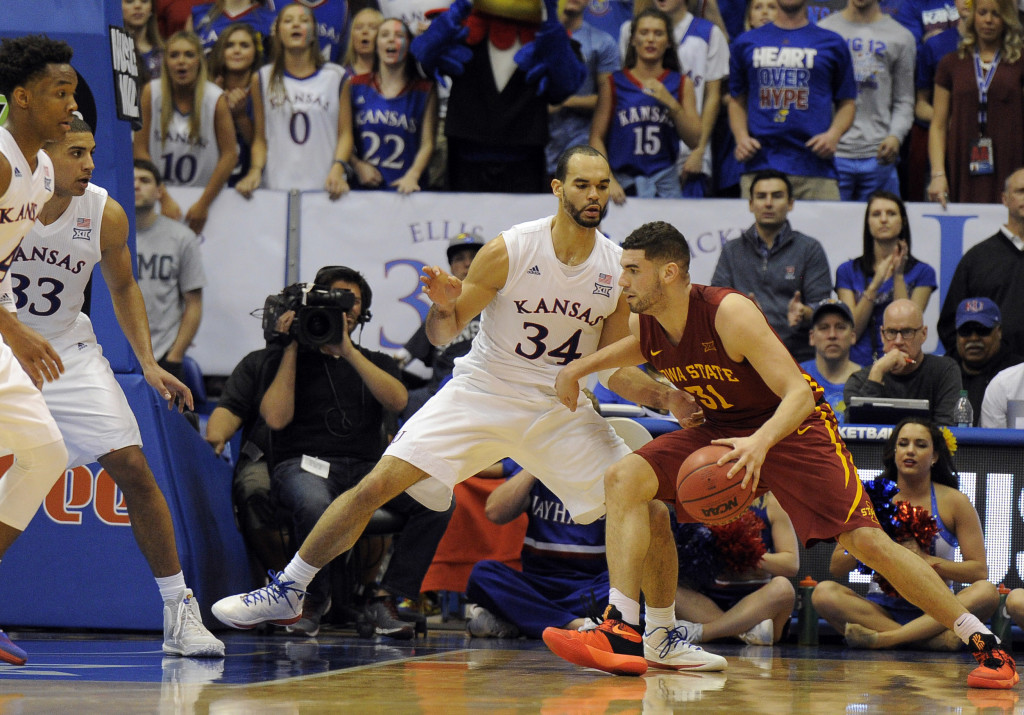 (19.8 points/6.2 rebounds)
Iowa State – #4 Seed in Midwest
Niang is a beast around the rim and in the mid-range game. He's coming off a 31/7/5 game with a pair of blocks in a thrilling loss to Oklahoma in his conference tournament. Foul trouble can hinder him, so hopefully he gets to stay on the floor in his tournament game(s). However, Niang shot nearly 55% from the field this season when he was on the floor. He can be an unstoppable scorer at times.
6. Brice Johnson – North Carolina
(16.6 points/10.6 rebounds)
North Carolina – #1 Seed in East
Johnson's been somewhat human of late, but he's a big man that can run the floor and both score/rebound with the best in college hoops. Just take a look at some of these MONSTER games this season — 18 points/21 boards vs. Duke, 29/19 vs. Duke again, 19/17 vs. VT, 27/11 vs. Wake and … 39/23 vs. FSU. THIRTY-NINE AND TWENTY-THREE! Johnson is a matchup nightmare for pretty much any big.
5. Malcolm Brogdon – Virginia
(18.7 points/4.1 rebounds)
Virginia – #1 Seed in Midwest
Brogdon is the best player that nobody talks about. His game isn't flashy, but he's a hard worker on both ends of the floor, and will find ways to score by continuously moving until the ball finds him in the right spot. Brogdon will get you 20 points without dominating the ball and otherwise may barely show up in the stat sheet despite doing all the little things on the floor. Clearly he's doing something right because he led his team to a 1-seed.
4. Tyler Ulis – Kentucky
(17.2 points/7.2 assists)
Kentucky – #4 Seed in East
I'm tempted to put Ulis higher on my list but this is probably the right spot. He was sensational in the SEC Championship game — 30 points, five helpers, three boards and three steals. Despite his size, Ulis is fantastic at controlling the tempo for Kentucky and knowing when to attack versus work the clock. Murray and Ulis are no doubt the best backcourt in this tournament, which we know can be a dangerous combo. I like Kentucky to go very deep.
3. Kris Dunn – Providence
(16.0 points/5.5 rebounds/6.4 assists)
Providence – #9 Seed in East
Dunn is electric with the ball in his hands and as a 6'4" PG, also presents himself as perhaps the best defensive guard in the field (2.5 steals per game). He's on triple-double watch every time he sets foot on the hardwood, so if you haven't noticed by now, Dunn literally does everything. Dunn and Bentil are an absolute joy to watch when they play together. PC vs. UNC appears likely as a second round matchup … which is going to be a hell of a game.
2. Buddy Hield – Oklahoma
(25.0 points/5.6 rebounds/46.4% on 3-pointers)
Oklahoma – #2 Seed in West
Hield had his worst game of the season against West Virginia on Friday (his only single digit scoring output of the season), but it came in wake of a 39-point performance the day before vs. Iowa St. By now you probably know all about Hield — he's essentially the Steph Curry of the college game. There's not much to dislike about him, so I'll be pulling for him in March. Enjoy watching his heroics this month though, because his NBA potential isn't nearly as bright (which we also said about Steph so he'll probably only turn out a few MVP awards).
1. Denzel Valentine – Michigan St
(19.4 points/7.6 rebounds/7.6 assists)
Michigan State – #2 Seed in Midwest
Denzel is my National Player of the Year. He's SO talented in every aspect of the game that he deserves it over Hield's insane ability to fill it up from downtown. Valentine flirts with a triple-double seemingly every game, which is pretty much impossible in college basketball. He's more lethal than Dunn and seems to bring more out of his teammates. You should get a good look at him, because Denzel will probably carry the Spartans deep into the tournament once again. A few years from now we could very well be talking about him like we talk about Draymond Green today.
Honorable Mentions
Small School Stud:
A.J.

English, Senior, Iona

(22.4 points/5.0 rebounds/6.2 assists)

English is one of the best players in the country that doesn't play in a major conference. He deserves a mention here, and is worth keeping an eye on against Iowa St. in the first round ( cough keep and eye out this week for the most likely upsets in the tournament cough).
NBA

Draft Stud: Brandon Ingram, Freshman, Duke

(16.8 points/6.8 rebounds)

Ingram is probably somewhere around 15th when it comes to ranking players in this tournament, so he's not far out of the top-10. His name needs to be brought up here because with the way Ben Simmons has been shying from the spotlight lately, Ingram can elevate himself to the No. 1 overall pick in the draft if he takes the bull by the horns in this tournament.

Find me on Twitter for comments: @julianedlow