Good morning, East Coasters!
Boy, did you make a good call going to bed early last night. What an absolute snoozer between the Los Angeles Clippers and Houston Rockets.
With a 19-point lead late in the second half, it appeared Chris Paul was finally able to overcome the dreaded "Yeah, he's great, but, he's never even been to a Western Conference Finals so he doesn't matter" narrative.
Hell, CP3 was invincible
Things were so good he was high-five'ing his owner!
https://vine.co/v/eKwFEF0I6TY
Did someone say 'Ballmer'?
The Clippers fans were so content with the situation that they were even having fun trolling Dwight Howard…
https://vine.co/v/eKdzZrLmqFV
Blake Griffin was dunking…
and showing off…
Deal with it. pic.twitter.com/qR7GTbUNns

— SB Nation

GIF

(@SBNationGIF) May 15, 2015
¯\_(ツ)_/¯
Western Conference Finals, here we come!
…………
BAW GAWD, IS THAT? IT IS, KING, THAT'S JOSH SMITH'S MUSIC. AH!!! HE'S ALIVE AND GOOD GOD ALMIGHTY THE ROCKETS JUST ROCK BOTTOM'D THE CLIPPERS OUT OF STAPLES CENTER!!!
https://www.youtube.com/watch?v=n_gvileSm2c
You Can Watch the full highlights of the comeback by clicking this link
The Clippers' win %, in the 4th Quarter, looks like the odds of me picking up a chick from the bar as it gets closer to last call.
Long Story Short: The Clippers absolutely dominated Game 6 of the Western Conference Semi-Finals for 36 minutes, and held a 13 point lead headed into the fourth quarter. It felt like 130 points, honestly … to the point that I had the audacity to tweet this…
Nice gesture by McHale here keeping Harden out of the game, making sure James is nice and rested for his summer vacation tomorrow.

— Rob Perez (@WorldWideWob) May 15, 2015
To my credit … James Harden was, for the most part, worthless…
Rockets (+/-), Game 6

Josh Smith: +11
Trevor Ariza: +11
Dwight Howard: +15
Jason Terry: +12
Corey Brewer: +32
T Jones: +1
James Harden: -21

— Rob Perez (@WorldWideWob) May 15, 2015
…so worthless that HE DIDN'T PLAY A SINGLE MINUTE IN THE FOURTH QUARTER. Yes, the same James Harden who many argued should have been named the league's most valuable player.
You see? …even he thought it was over.
Between emo Harden and Dwight Howard completing the rare 'NBA Cycle' of fouls: 1 Flagrant Foul, 1 Technical Foul, and 4 Personals — this team looked as though it was about to roll over and give up for the zillionth time this season. Yet: somehow, someway… trailing 87-68, the Rockets outscored the Clippers 51-20 during the final 14 minutes of game time, and sent ~17,000 Clippers fans home in absolute silence.
The usually soulless Rockets resurrected from the dead, pulling off one of the most incredible comebacks we have ever seen…
…lead by Josh Smith…
…shooting 3s…
Corey Brewer and Josh Smith outscored the Clippers 29-15 in the 4th quarter. WHAT IS THAT SENTENCE I JUST TYPED?

— conrad kaz (@conradkaz) May 15, 2015
That's not a typo. Re-watch the video compilation of it above if you have to. Josh Smith single-handily erased a 19-point deficit by shooting & making contested 3s. This is a real thing that happened. The Josh Smith whose home crowd audibly screams: "NOOOOOOOOOO!!!!!!!!!!!!!!!!" whenever he attempts a jump shot outside of four feet, as if they're Frodo when he sees Gandalf fall into the abyss in 'Lord of the Rings'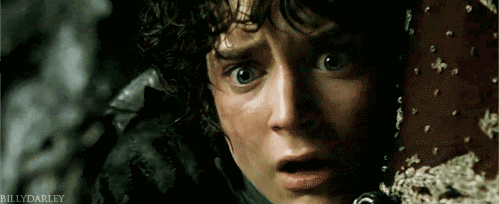 After a Chris Paul layup with 6:47 on the clock, the Clippers didn't hit another field goal until a meaningless three at the buzzer — and the Rockets went on a 23-2 run to take a commanding 111-102 lead with 1:44 left.
The fourth quarter box score is literally unbelievable…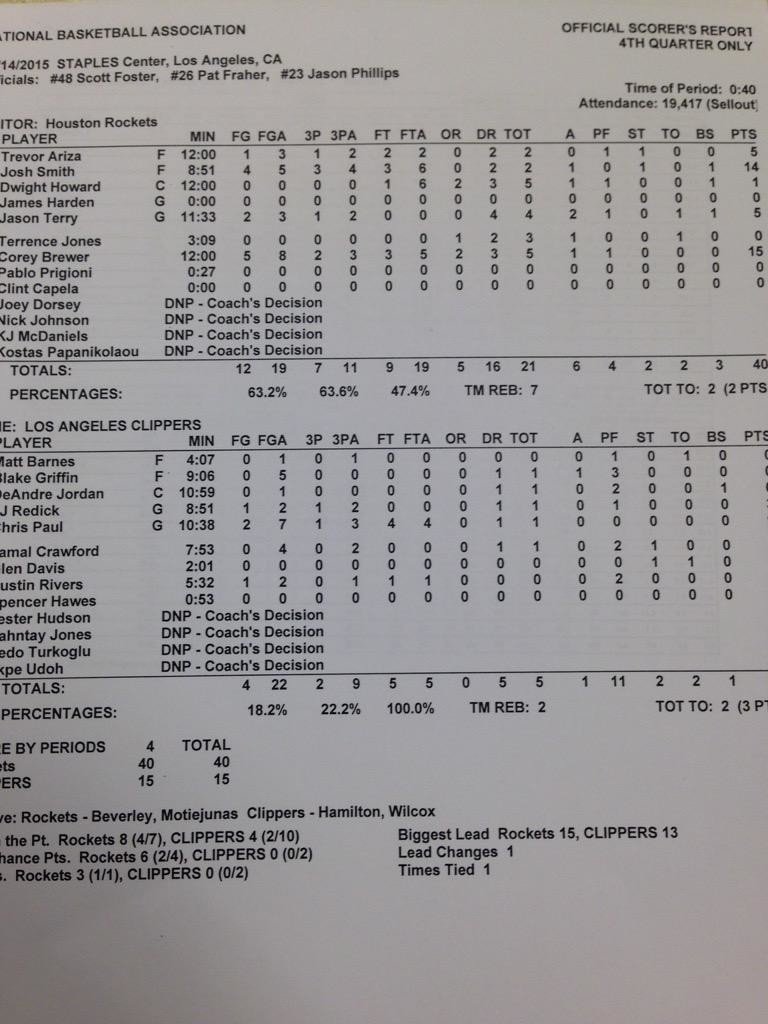 We live in a world where Josh Smith and Corey Brewer are the best basketball players on Earth. What a time to be alive.
Anyways, here's what both coaches had to say after the game…
"That group just went out there and they just scrambled, they fought and they played their tails off on defense," Rockets coach Kevin McHale said after the game. "They had a great sense about them that they were going to accomplish something."
As for Clippers Head Coach Doc Rivers…"We were trying to run the clock out, and we stopped playing … We gave this one away."
Game 7 is Sunday afternoon at the Toyota Center in Houston, and I will require adult supervision.