Stephen Curry wasn't just the first ever unanimous MVP this season, he was arguably the MIMVP of all-time — the most improved most valuable player.
Steph is the 11th player to win back-to-back NBA MVP awards, and next season will have a chance to join Russell, Wilt and Larry Legend as the only men to three-peat. It's also worth noting that although they never got three in a row, both Kareem Abdul-Jabbar and LeBron James did go back-to-back on multiple occasions.
So where does Curry rank on this list of the elite of the elite? It's tough to rank all the back-to-back winners with them playing in different generations, but I'll do my best with the standard being how impressive they were during their MVP seasons.
---
Want more Steph? Check out the Top 10 NBA Bench Performances HERE
---
11. Steve Nash
Phoenix Suns: '04-'05/'05-'06
Nash's MVP awards are a little tainted in my opinion. The first one was Shaq's first year in Miami. Voting came down to the wire, but Nash barely edged out Shaq — who many still believe was much more deserving of the award. With that said, Nash still transcended the NBA, speeding up the game and helping it become what it is now. These were somewhat down years when it came to individual players putting their stamp on the league. Remember the "superstar-less" Pistons were one of the more dominant teams AND ready to have your mind blown? Some bozo voted for P.J. BROWN on their MVP ballot! Wow.
---
10. Wilt Chamberlain
Philadelphia 76ers: '65-'66/'66-'67/'67-'68
I'm making Chamberlain and Russell pay for the eras they were in. Obviously, it's not Wilt's fault he was a physical freak of his time, but he had things pretty easy. I'm not even talking about how physically imposing he was, I'm simply talking about the NBA having less than half the teams it does now.
---
9. Bill Russell
Boston Celtics: '60-'61/'61-'62/'62-'63
Same case for Russell here, except for the fact that, well, Russell > Chamberlain. Wilt was the scorer but Russell was the winner. Yes, the league was smaller, but the Celtics had a monopoly going in the NBA during Russell's time — winning 11 rings in 13 years. How dominant was Russell? He actually won the MVP during the season that Wilt averaged over 50 points per game!
---
8. Moses Malone
Houston Rockets: '81-'82
Philadelphia 76ers: '82-'83
The most impressive aspect of the late, great Moses' accomplishment was doing it with different teams. Malone was traded after his dominant year in Houston and was even better the next year, leading the Sixers to a championship. Malone is truly one of the forgotten talents of his generation. Winning back-to-back MVP's with Magic and Bird on the rise and Kareem in his prime proves it.
---
7. Tim Duncan
San Antonio Spurs: '01-'02/'02-'03
The Spurs never like to make it about one guy, but in the early 2000's it really was all about Duncan. David Robinson was on his way out and Tony Parker and Manu Ginobili were just getting their feet wet in the league. Duncan's pair of MVP seasons were his two highest in minutes, points, rebounds, assists and blocks. So yeah, they were pretty good, especially during an era where he had to share the spotlight with Shaq.
---
6. Stephen Curry
Golden State Warriors: '14-'15/'15-'16
Curry's right in the middle of the pack in my mind (which is pretty good when the guys ahead of you may be the five best players of all-time). The thing that I want to give Curry the most credit for is how he's changing the game. It doesn't matter how many more triples players have been taking, he's elevated the 3-point shot to a whole different level. An unfathomable level. He can score in the paint, he can handle, he can pass and he's tougher than he gets credit for. He might be playing on the perfect team at the perfect time, but Steph will still go down as an all-time player eventually.
---
5. LeBron James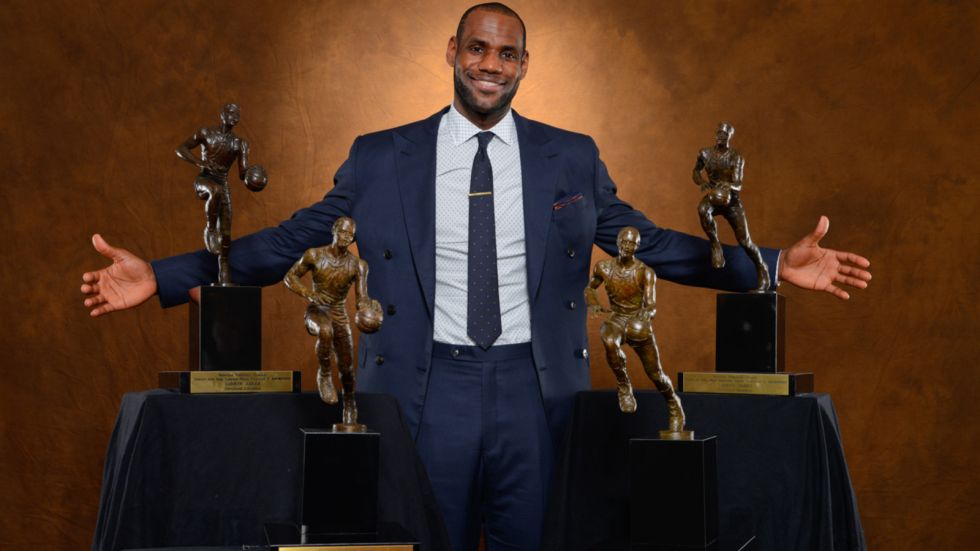 Cleveland Cavaliers: '08-'09/'09-'10
Miami Heat: '11-'12/'12-'13
Winning back-to-back MVP's on multiple teams is more than impressive. Since it's LeBron, we overlook a lot, but four MVP awards tell the real story. It is painful that he's 2-for-6 in the NBA Finals, but he's taken some not-so-good teams there and run into some tough matchups. Yes, he's also choked on the big stage. He's still a once in a generation player that you can argue as the MVP every season.
---
4. Magic Johnson
Los Angeles Lakers: '88-'89/'89-'90
Now we're in Bird/Magic territory, but before you argue Magic as the better player, let me tell you that I agree. Magic > Bird all-time, however, Bird's MVP seasons were better than Magic's. The Pistons actually won the title in both of Magic's MVP years, but they were his most well rounded as an individual. With Kareem gone, Magic kept his assist numbers up while improving his scoring and rebounding. We all know what the duo was capable in the early-mid 80's.
---
3. Larry Bird
Boston Celtics: '83-'84/'84-'85/'85-'86
To go for a three-peat as the MVP in the golden years of the NBA shows us just how incredible Bird was. Bird was an ultra competitive scoring machine in the heart of his prime. Hands down the best player in the NBA of the mid-80's that included Magic in his prime, Thomas in his prime, Kareem still elite and a young Jordan on the rise. The Celtics nearly three-peat'd as champs in these years, but Magic barely stole '85 from Boston.
---
2. Kareem Abdul-Jabbar
Milwaukee Bucks: '70-'71/'71-'72
Los Angeles Lakers: '75-'76/'76-'77
After Russell and Wilt, Kareem was the next generation of dominant big men. The difference is that Kareem dominated for much longer AND did it during an era when perimeter scorers became relevant. Kareem also had is unstoppable secret weapon — the sky hook. Yeah, yeah, it sounds old school but it worked. Kareem's hooks were what Curry's 3's are today. He was a 30+ points/15+ rebound guy without doubt every night. Automatic.
---
1. Michael Jordan
Chicago Bulls: '90-'91/''91-'92
Let's be real, MJ contended for MVP's in the late 80's (maybe should have won one when he was defensive player of the year while averaging 35 PPG) and then was realistically the MVP from 1990 until he retired from the Bulls for good. Charles Barkley and Karl Malone had some great seasons, but Jordan was the MVP each of those years. Nobody has ever owned the modern NBA the way Jordan did, and I doubt anybody will. Steph literally has to keep up the way he's playing for another 6-8 years to even be mentioned in the same breath.
Find me on Twitter @julianedlow