Sunday evening, the NBA's Western Conference set the All-Star record for points scored in a single exhibition with 196 — ONE HUNDRED AND NINETY SIX POINTS. I don't care how many Steph Currys you have on the team, this # is unfathomable — even for an All-Star game. Yes, there is hardly any defense played — and the word 'defense' is probably a big enough exaggeration to begin with — but still, there were some great highlights plays and special moments so let's run through the best and brightest of All-Star Weekend's Main Event
It started off with CP3′s kid "Little Chris" ripping Kobe Bryant during warm ups.
https://vine.co/v/inlv1vJbM9H
Time to hang em up, Kobes….
Drake handing Meek another L
LET'S GO

🔥🔥🔥🔥🔥🔥🔥🔥🔥🔥🔥🔥🔥🔥🔥🔥🔥🔥🔥🔥🔥🔥🔥🔥🔥🔥🔥🔥🔥🔥🔥🔥🔥🔥🔥🔥 pic.twitter.com/z566olcW9N

— Rob Perez (@WorldWideWob) February 15, 2016
HEEEEEERE'S RUSSSS!!!!!
Can you imagine if Wade and LeBron ever played on the same team omg
You think Westbrook gonna give NBA rims a break bc it's the All-Star game? GOOD GOD NOPE
Tehehehehehehehe
Dear NBA please get these two on the same team immediately k thanks bye
Goodness, Air Unibrow…
Not gonna lie I KINDA MISS THIS
The War between Westbrook and NBA Rims this season is lowkey the most intense storyline
And now it is time to Unleash Westbrook
Russ was gettin mad at players for trying to ruin his MVP LOL
Synchronized Russ'ing
Wait a second, Kawhi smiling? KAWHI SMILING!!!!!
Don't care if the game is an exhibition, ima still be watchin this GIF until the day I die.pic.twitter.com/BKJcQoWo64

— Rob Perez (@WorldWideWob) February 15, 2016
This is now part of the program where I show you a KOBE SKYHOOK*
*Sigh Hook, sorry.
Then the World was introduced to Jordan Kilganon during the TV timeout and his world-renowned Scorpion dunk
https://vine.co/v/inljvbTbb1F
Kobe left the court for the final time to a standing ovation…
Kobe Bryant is subbed out for the last time. #NBAAllStarTO pic.twitter.com/4gYX3J2h5t

—

TSN

(@TSN_Sports) February 15, 2016
And then Steph made a 3 from where they film that 'Life Below Zero' show on National Geographic.
Steph Curry finished the All-Star Game with a bang: pic.twitter.com/hd1qqyLFKc

— Deadspin (@Deadspin) February 15, 2016
…and STILLLLLLLLLL!!!!! The league's most valuable All-Star… THE BESTBROOK OF ALL WESTBROOKS!!!!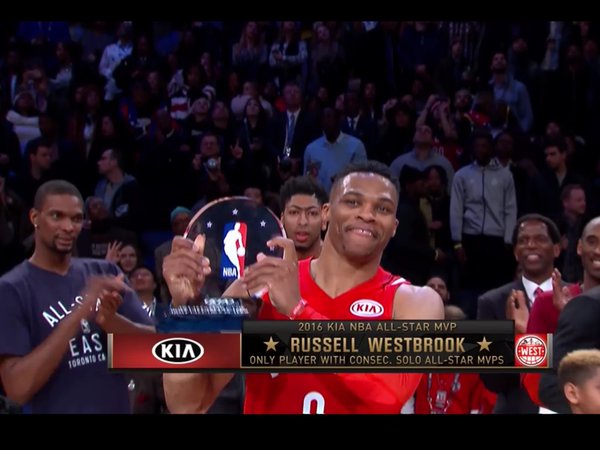 Wait a second….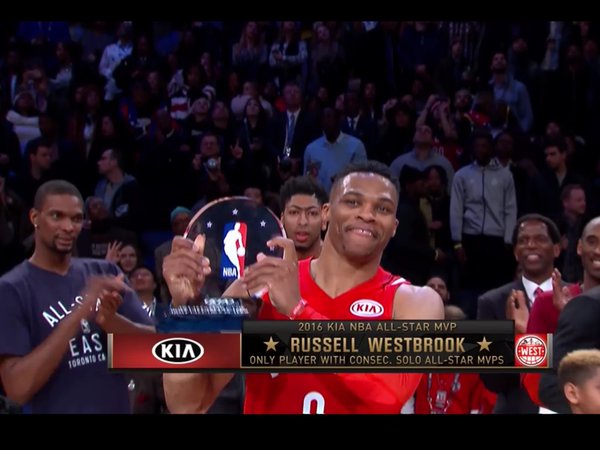 Chris Bosh is on the prowl again RUN FOR YOUR LIFE RUSS BEFORE IT'S TOO LATE
Anyways, that's a wrap for all-star weekend — and what a weekend it was…kudos to the NBA for a phenomenal show once again…
P.S. LOOK IT'S THAT MICHAEL JORDAN GUY BUT HE'S NOT CRYING