Winning in tournaments requires getting not just good efforts from your roster, but some extra high point production. Sometimes this requires differentiation in roster, and other times, it's just identifying the high-ceiling plays for the slate.
For our purposes, we're going to focus on the high-ceiling plays by position, and salary tier (top end, mid tier and low end), for tonight's games, a rest stop of a four-game slate. These are plays that could go for about, on average, six times what their salary is. (Ex. $6,000 * 6 = 36DK points equals value.)
Let's line em up! Ask any questions on Twitter @JasonWalker_72.
Guards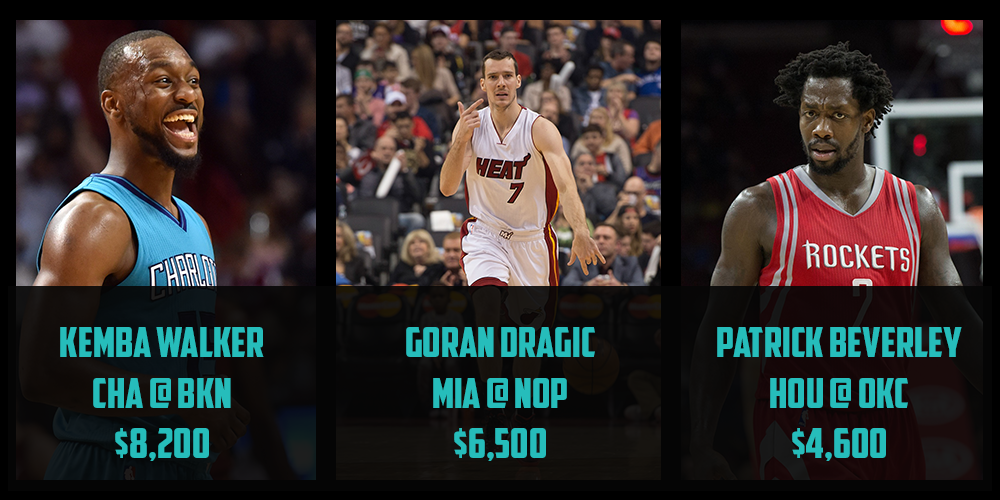 Kemba Walker – CHA @ BKN – $8,200 – If you want to differentiate yourself tonight, stay away from the Rockets/Thunder game or roster the lower salaried guys in that contest. Of the non-participants of that game at PG, Walker has the best individual matchup in the Brooklyn Nets. Walker also has not been great, averaging only 30 DKPPG over his last four games, but he still carries a 24% raw usage rate over his last five games and the game against the Spurs yesterday was brutal, allowing recency bias to curb his ownership. It'll be interesting to see if he's below 20% owned even on a four-game slate like this.
Goran Dragic – MIA @ NOP – $6,500 – Dragic has really upped his production with the improved pace of the Heat over the past 15 games, climbing up to 37 DKPPG and 23.2% raw usage over that span. The jury is out if the public really believes in Dragic's improvement or the perception about the slow paced Heat has changed at all. With Westbrook on the high side in the marquee game, Dragic may easily go overlooked in the mid tier as players scramble to stars and scrub their way to the top scorers tonight.
Patrick Beverley – HOU @ OKC – $4,600 – Bev's played really well recently behind some strong, steals and assists led peripherals. Beverley has averaged 18 DKPPG from peripherals over the past four games and has averaged 27.9 DKPPG overall over that span. It's a plus matchup against Westbrook and he'll have to play longer minutes tonight so Jason Terry doesn't have to try and keep up with Russ.
---
Forwards
Thaddeus Young – BKN vs. CHA – $7,100 – Thad Young has been the Nets player with the best peripherals over the last 10 games, with a 20 DKPPG average on that alone over that span. He has a good individual matchup against the Hornets frontcourt tonight as well and won't be highly owned with people rostering the Harden/Westy/Durant triumvirate tonight.
Lance Stephenson – MEM @ LAL – $6,500 – People are going to see Matt Barnes starting at SF against PHX last night and Stephenson corresponding low minutes and stay away from the $6.5K Lance. But remember this, Barnes is a 37 year old player who just logged 34 minutes and now has a back to back game here. Stephenson only logged 22 minutes and still rocks the high 20% raw usage when in the game. He's boom or bust that's been booming in MEM when getting the minutes so he's a strong tourney look and a lot lower owned than he would have been two games ago with the same upside.
Michael Beasley – HOU @ OKC– $4,900 – Counter-programming to the roster the high salary guys from this game, I'm guessing that at nearly $5K, maybe the brakes will get applied to Beasley's ownership, especially in a matchup where so many eyes will be on the shinier objects in this game. But I'm willing to go for it with a player with near 30% raw usage when in the game and getting 18.5 regular points per game in his 25.1 minutes per game average.
---
Centers
Hassan Whiteside – MIA @ NOP – $8,000 – Folks will be spending down at center tonight, trying to get Cody Zeller or Omer Asik in there so that they can roster Russ and/or Harden. Whiteside has a plus matchup, with Kendrick Perkins joining him on the floor tonight as Hassan comes off the bench. Whiteside is a peripherals beast, jiving with his league leading shot blocking and rebounding rate. This is good against a Pelicans team who, in the last five games after the team has had a slew of injuries, gives up a lot of defensive rebounds (Bottom five over last five games).
Enes Kanter – OKC vs. HOU – $5,200 – Kanter has played more minutes per game against the Rockets this season than has Steven Adams and Kanter is a mid-20s raw usage player when on the court. He has 35-40 DK point upside in a positive matchup against Dwight Howard tonight.
Cody Zeller – CHA @ BKN – $3,500 – He has low raw usage, but has been putting up solid peripherals over the last five games, and near Batum-level peripherals the last two games. He has a plus matchup tonight against Brook Lopez or his replacements and they may need him more minutes from Cody with Marvin Williams questionable tonight with an ankle injury.