Winning in tournaments requires getting not just good efforts from your roster, but some extra high point production. Sometimes this requires differentiation in roster and other times it's just identifying the high-ceiling plays for the slate.
---
Looking for more NBA content? Check out these articles:
NBA Targets
NBA Cheat Sheet
NBA Game Breakdown
---
For our purposes, we're going to focus on the high-ceiling plays by position, and salary tier (top end, mid tier and low end), for tonight's games, a solid six-game slate. These are plays that could go for about, on average, six times what their salary is. (Ex. $6,000 * 6 = 36DK points equals value.)
Let's line em up! Ask any questions on Twitter @JasonWalker_72.
Guards
Stephen Curry ($10,700) – Anytime there is a game against another great team, Stephen Curry has to be considered in tournaments. George Hill is a tough defender this season, but Curry has overcome tough matchups rather easily all year. With James Harden and Russell Westbrook slightly less expensive, there might be a temptation to pass on Curry, but the top player in the top game and team total of the night will be in play for sure.
Elfrid Payton ($6,400) – The Nuggets backcourt is a raging, hot mess and teams are exploiting that. Marry that with the fact that the Magic have been leaning more and more on their backcourt for success and Payton falls into place here. Payton's inconsistency relative to his salary makes him a danger play in cash games, but in tourneys he has the upside we're looking for as he has led the Magic in DKPPG over the last 10 games.
Rodney Stuckey ($4,700) – Here's another guy you wouldn't roster in cash but has nice ceilings for tournaments. Stuckey started the season slow, but has come on of late, scoring 29.3, 38.3 and 30.8 in his last three games. Stuckey has the upside to spike even higher than that, evidenced by his six 40+ DK point games last season. Against Golden State, with a high game total and the Warriors' excellent team defense, Stuckey's instant offense will be in higher demand.
Forwards
LeBron James ($10,000) – I like the matchup here for James and if Mo Williams misses the game (he's questionable), James will need to do more scoring to add to his value. James has been cash game consistent and his usage (33%) speaks to the ability to soar far beyond that. The popular play may be to back off because of Al-Farouq Aminu, who has been stellar defending even the likes of Paul George, but LeBron is bigger and stronger than George and will be at the center of everything the Cavs do here.
Thaddeus Young ($7,100) – Tempting to go Derrick Favors here, but Young has burned so many folks and with Brook Lopez in play tonight, too, Young could easily get overlooked, even on a six-game slate. The Rockets have been second worst defending opposing power forwards this season and the game total is a healthy 207.5.
Trevor Booker ($4,600) – Only the strongest stomached will try this again, as Booker has had his minutes be very inconsistent the last few times he's been called on here. He was marvelous, however, in Utah's come from behind, overtime win against Indiana and the Jazz are going to need his relative size and energy to combat DeMarcus Cousins and Kosta Koufos inside. He's risky, but he has 30DK point upside in a majorly pace-up game for the Jazz. Now come on, Quin Snyder, just play this guy 30 minutes and let's all enjoy.
Centers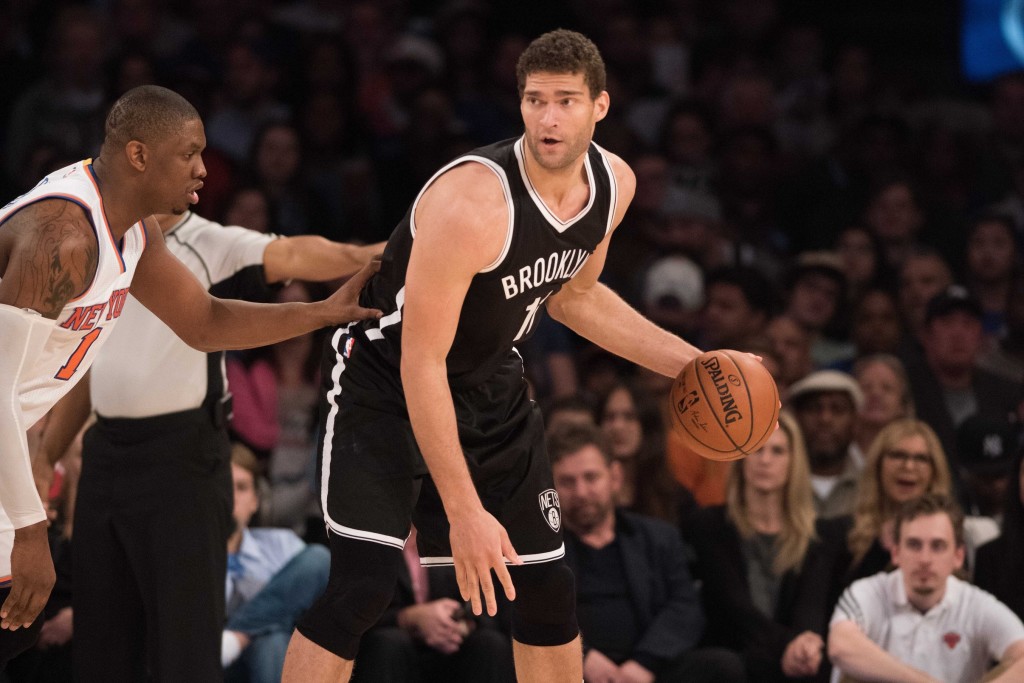 Brook Lopez ($7,700) – Lopez is the highest salaried center with Marc Gasol, Nikola Vucevic and Dwight Howard salaried below him. People are going to want to roster James, Westbrook, Harden, Durant, Curry, George, etc and so they will not want to spend all the way up for center. Enter Lopez, who has a sneaky good matchup against the no longer daunting Howard defense. He has a strong game total, at home, and his usage has been high. Should be a good night for the Nets frontcourt tonight.
Nikola Vucevic ($7,000) – Since we can't go into the top tier tonight, here's another mid-tier play. Of the remaining centers, Vucevic has the biggest ceiling playing against the rag-tag frontcourt of the Nuggets. The game is ugly enough to where Gasol or Howard likely look better, so Vucci could be lower owned than those two. He's second to Oladipo in usage over the last 10 games.
Kosta Koufos ($4,700) – The Kings may decide they want to have Koufos in there to defend Favors and that will help his minutes as it did when they played the Rockets and Koufos scored 37 DK points in 30 minutes. That his role is unsure makes him a tourney play, but if you aren't going to roster one of the 7K centers then Koufos can get to that 30-35 DK range for lower cost.