We only have a three game slate here for Thursday, so we don't have a ton of options at some positions. I will try to break down all the relavent guys for you here, but the options are limited with only 6 teams playing.
---
Looking for more NBA content? Check out these articles:
NBA Cheat Sheet
NBA Game Breakdown
---
Point Guard
Stud
Steph Curry ($10600) – If you choose to pay up at PG today I think Steph is the only option that makes sense. Chris Paul is banged up and Brandon Knight has not been reaching upside at his price and that really only leaves one expensive option to consider. Rubio may or may not be out for this game, but he is banged up too. I think Steph can have another huge game regardless of whether he sees Rubio or Zach Lavine defense in this one. Steph's floor this year has been 40 points. While that is not amazing value for his price, on a small slate it's tough to fade the probable high scorer at the position. Steph can shoot a little bit, in case you have been living under a rock. That means he should have a bunch of points and a few of those 3 point bonuses. He also racks up the assists, gets a few steals, and rebounds well for a PG. Add that together and you can see why he is safe to play and also has the 60-80 point upside we like for tournaments.
Value
Trey Burke ($4600) – I can not see any of the options above him being the top value on the day, but I can see Trey with a chance to be that guy. His price is very cheap, so he really only needs about 28 points to pay it off. He is still only playing half a game, but he has scored double digit points in six straight games. A low scoring game is expected here and the Heat are not giving up a ton of points to their opponents anyway. If you want to use guys from this game, it makes more sense to take the cheap ones. Burke is one of the better options to use in that case.
Zach Lavine ($3500) – If Rubio does play, Lavine will probably see about 20 minutes and score just shy of 20 fantasy points. It's not exciting, but it is pretty standard, so that makes him a decent option at $3500 for over five times value. If Rubio is out though, Lavine has been seeing 30+ minutes and producing 30+ points. He becomes a must play tomorrow if Rubio is out, so monitor the situation and see what shakes out. If Rubio is in, Burke makes more sense for me to use with the way he has been scoring while leading the second unit.
Shooting Guard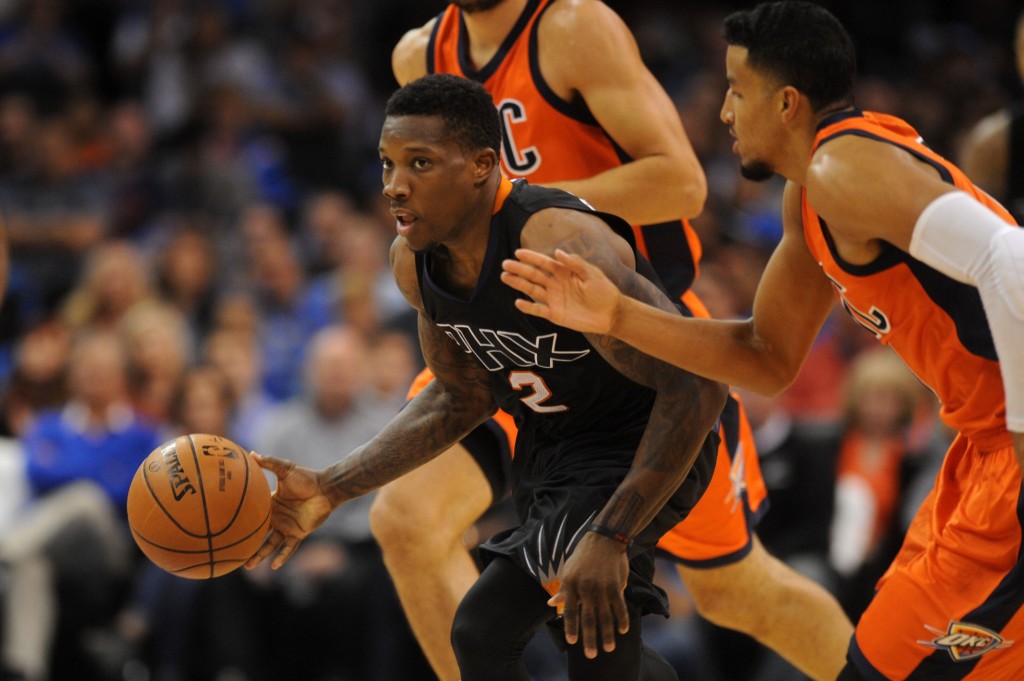 Stud
Eric Bledsoe ($8000) – The one guy who has been returning sick value at the SG spot is Eric Bledsoe. In his last six games, Bledsoe has a floor of 33 and has gone over 47 in three of those six games. That would be 6 times value at his price today of $8000. He is playing 35+ minutes and really has ticked up his assists numbers. His scoring has been solid too, with over 20 a game as an average here. He has even managed to add a few rebounds to his totals. Bledsoe is the one guy at the position I think is capable of getting 50+ fantasy points and I would look to roll him out in all formats.
Value
Alec Burks ($5000) – Burks is the one mod tier option who makes a little bit of sense. I liked him a lot more last week when the price was in the mid $4000 range, but he still makes sense here based on his recent numbers. He has put up about 30 fantasy points in 5 of his last 7 starts. In fact when he plays over 25 minutes, he has returned over 26 fantasy points in every game that has happened. He has seen about 30 minutes the last two games and it is no coincidence he put up 34 points his last time out. That kind of production at his price makes him a very interesting option on a short slate.
Tyler Johnson ($3300) – There is nothing sexy about the 20 points he can get you, but it's value at his anemic price. Johnson is seeing more minutes with Chalmers shipped out of town. If Beno is unavailable to play in this one, he should continue that trend. He does not have a lot of upside and will not get you 35+ points, but if you need a salary saver who can have a decent game, then he is definitely your guy at the SG position.
Every

NBA

game on tonight's slate broken down —

READ NOW
Small Forward
Stud
Gordon Hayward ($6500) – I am not going to waste a lot of time trying to convince anyone he is a stud here, but he is the best option by far. Hayward sees a lot of minutes and usage. The Jazz play slow, so his ceiling is probably like 40 points total and he has not reached it lately. His floor is a safe 25ish and he tends to finish eight around 30+. It's not great upside, but it's the best we got among a weak group of options at the position.
Value
Justise Winslow ($4000) – I am not going to sell you on his huge upside either, because even the cheap options at the position are not great ones. Winslow has been seeing 30 minutes lately though and was on the floor in the fourth quarter of some recent games. He has been putting up right near 20 fantasy points as well, so that is where he is at. If that excites you, then take him. It's tough to pay up, so I can justify saving here with Winslow and spending elsewhere.
Power Forward
Stud
Derrick Favors ($7100) – Favors probably makes the most sense to me based on price. Sure Griffin could easily score more, but not enough to justify the extra $2500 he costs. Favors had one bad game, but has been consistently in the mid 30s for fantasy points. He should have a weight advantage against Bosh and that should help him on the rebounding end. Favors also is a polished offensive player and should be able to score some points. The discount and his safe floor make him a great cash game play here.
Markieff Morris ($5900) – Markieff has not played great, which is a big reason he has dipped below $6K. While he has been erratic for cash, a $6K Markieff does have 40 point upside. On a day where there is scarce value that makes sense for big upside, a few mid-ranged priced guys like Markieff with upside can help you get over the hump in GPPs.
Value
Nemanja Bjelica ($4700) – There are a lot of options you could pay up for here, but there is only one solid salary saver I like and that is Bjelica. Gorgui Dieng is a non-issue on this team. When Garnett sits out to rest his back, Bjelica is the guy who benefits. He has averaged 32 points in 32 minutes over the last three games. At $4700, that is spectacular value.
Center
Stud
Karl Anthony-Towns ($7400) – Towns has been a little bit foul prone and that has cost him solid scores in a few games. When not in foul trouble though, this guy can put up some stat lines. He has seen a few games where he has reached 40+ fantasy points already, which includes the last three straight where he has double-doubled each time. He is putting up double digit rebounds and just shy of twenty points. Golden State is a good defensive efficiency team, but the high ace should hep support the upside for Towns here. I like his ability to score better than DeAndre Jordan's and his matchup is much better than Gobert v. Whiteside. That is why he gets the nod here. I do not think you can fade center today with four options who should outscore the field by a wide margin and Towns is the best of the bunch.