The Association is giving us an intriguing eight game slate and DraftKings is holding up their end of the deal with nearly $1 Million in guaranteed cash and prizes. Of particular note is the new contest format with a three entry per user maximum that have debuted at the $9 and $27 price point along with the original $3 version. Heck, three entries at $3 is less than a movie ticket and the winner of the $50k Hot Shot will walk away with a cool four grand. Let's get to the good stuff!
Point Guards
STUDS
Chris Paul – LAC vs ATL – $9,500 – Paul should be well rested as this will be just the third game for the Clippers in eight days. Without Blake Griffin, CP3 has been carrying the mail for LA and he has not let down his daily fantasy supporters. Over his last nine games he is averaging 24.8ppg, 5.4rpg, 11.1apg and 2.6 combined blocks/steals for 54.6 DraftKings points. Enjoy!
VALUES
George Hill – IND at WAS – $4,900 – While Hill is never a truly exciting play, he can be incredibly rewarding for daily fantasy purposes if we pick our spots. His salary is at the lowest point since February 2015. The matchup with the Wizards is a good one as they have been playing up in pace and Hill has already had two good games against Washington this season where he is averaging 16.5ppg, 6.0rpg, 3.0apgand 1.0spg. Last spring, Hill had twin 53.3 DraftKings point performances versus the Wizards in March and April. He is a fine option in all formats.
Patrick Beverley – HOU at CHI – $4,700 – With Ty Lawson no longer with the Rockets, the only other facilitator on the roster besides James Harden is 16 year veteran Jason Terry. Over the last month, the Bulls have been a bottom three team against opposing point guards from a fantasy perspective and at this price tag, Beverley is a safe play in H2H formats.
---
Shooting Guards
STUDS
James Harden – HOU at CHI – $10,500 – There is a chance that Bulls guard and defensive stopper Jimmy Butler is back on Saturday after missing the last month, but do not let that dissuade you from rolling with The Beard. The other superstars are in less than ideal matchups and Harden is AVERAGING 51.3 DraftKings points per game and on the season he has surpassed 60 fantasy points once every four games.
Eric MacPherson isn't the only one who loves Harden tonight. Check out that and more in tonight's NBA Cheat Sheet
VALUES
Danny Green – SAS vs SAC – $4,600 – There is a decent chance that Manu Ginobili returns tonight, however, that won't do much to dampen Green's prospects as Coach Greg Popovich will bring his key veteran scorer back into the mix gently. The Spurs are favored by 13 points and the Sacramento Kings have allowed the most fantasy points to shooting guard over the last three seasons. Put those hands together and welcome discount dandy Danny Green!
Bojan Bogdanovic – BKN at MIN – $4,400 – For this slate, it is pretty clear which of the premium players we will want to focus on, so here is another bargain to consider. Bogdanovic will continue to see mid-30s minutes for the Nets who are running out of NBA caliber players. He has tallied 20+ DraftKings points in four of his last five outings and though he is heavily dependent on his scoring, this is a good matchup for him tonight.
---
Small Forwards
STUDS
Paul George – IND at WAS – $8,100 – The Wizards have struggled all season against wing players and PG13 reminded everyone last night what his all-around upside is with 67.8 DraftKings points in Charlotte on 11 of 23 shooting for 35 points, 7 rebounds, 7 assists, 5 steals and a block. He also had four three-pointers for good measure and each is worth a half point bonus on DraftKings. Follow the herd on this pick.
Kawhi Leonard – SA vs SAC – $7,900 – Most players will not want to go near Leonard with the "blowout" risk against the feeble Sacramento Kings. These teams played on February 25th and Sac-Town kept it close down by just six points heading into the fourth quarter. In the two meetings so far this season, Leonard has averaged 29.5 minutes and 40.1 DraftKings points. That is a reasonable outcome for tonight and he will be very underrepresented in tournaments.
VALUES
Shabazz Muhammad – MIN vs BKN – $4,200 – Shabazz is getting a long look down the stretch as the Timberwolves want to see what they have with the young scorer. He has posted 17+ DraftKings points in eight of his last nine games and he should be in the 22-27 range tonight according to most projection models.
---
Power Forwards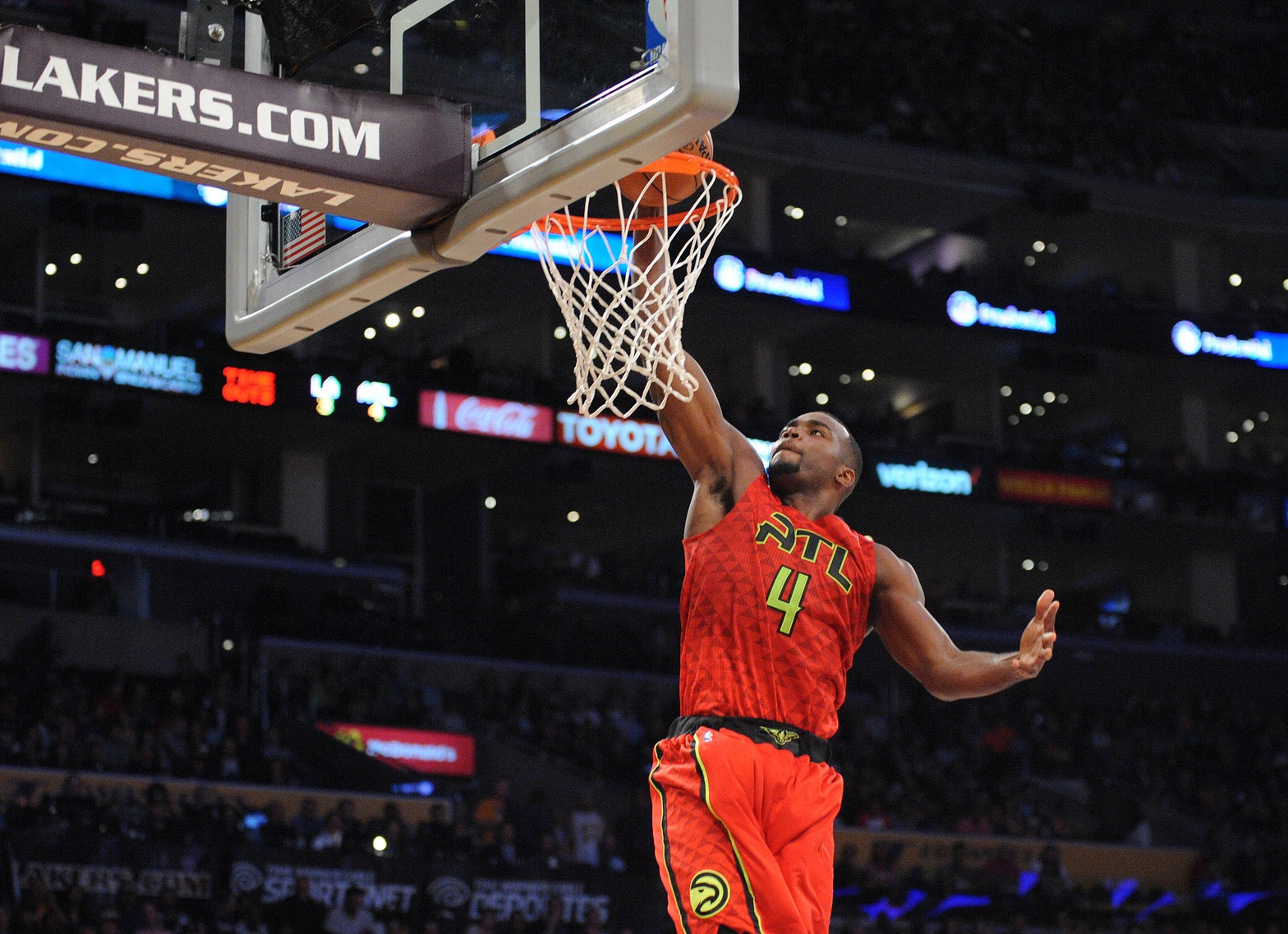 STUDS
Paul Millsap – ATL at LAC – $8,000 – In two of the last three games, the Hawks have been able to keep Millsap's minutes in the upper 20s as they were in control against the Hornets and again last night versus the Lakers. This will only scare off the game log watchers, so don't be one of them that overlooks this terrific matchup. In his las three meetings with the Clippers, Millsap has had 42.3, 42.0 and 42.0 DraftKings points. That is valuable consistency and we know he has 50+ fantasy point upside.
Derrick Favors – UTA at NO – $7,100 – This price is just too cheap for Favors who has major upside tonight against the Pelicans who just are not equipped to deal with him. He is another power forward option with 50 fantasy point upside and he should be in line (75%) for at least 32-35 DraftKings points.
VALUES
Gorgui Dieng – MIN vs BKN – $6,600 – There are not many discounted power forwards that stand out and with so many terrific options in the $7,000+ range, I am comfortable with Dieng as the "value" recommendation. He is in a favorable matchup against the less-than-intimidating Brooklyn frontcourt and he should be able to produce 30ish fantasy points on the strength of a likely double double.
Finished building NBA Lineups? There's a HUGE fight on Saturday night. Check out our Underdog Picks article for UFC 196
---
Centers
STUDS
Karl-Anthony Towns – MIN vs BKN – $8,200 – The Rookie of the Year candidate posted 33.3 DraftKings points in just 22 minutes against the Bucks last night. He should absolutely feast against the rebounding averse Brook Lopez and he is the clear cut top option at the pivot position tonight.
Al Horford – ATL at LAC – $7,400 – This is a nice spot for Al Horford who should have no trouble doing what he wants in the paint against DeAndre Jordan. As with his teammate Paul Millsap, he has seen limited minutes in the last few games outside of the Golden State affair so he should be primed to do battle on the low block.
VALUES
Robin Lopez – NYK vs DET – $5,600 – Did you know in two meetings this year against Andre Drummond that RoLo is averaging 35.5mpg, 18.5ppg, 11.5rpg, 2.0apg and 4.0 combined blocks/steals for 43.4 DraftKings points. He is a sneaky option who very well could be a difference maker in tournaments if you are looking to eschew one of the "name brand" center options or even roll with him in the utility spot.