Greetings Gamers! With most of the attention on the insanity that is Week 17 NFL, there is a nice, though short five game NBA slate. I will be focusing on H2H and the smaller 5-10-20-40 man leagues for the All-Day slate beginning at 3:30pm ET and then going with a few off-the-board tournament teams for the "main" three game set starting at 6:00pm ET since that is where the larger prize pools are with a couple hundred dollars in guaranteed contests. Don't miss out on the single entry tournaments where you can really make a stand and be unique with some savvy roster construction. Making a few differentiation plays can be lucrative on the smaller game sets.
Point Guards
Studs
Brandon Knight – PHO at LAL – $6,500 – Knight finally escaped the doldrums and had a nice game against the Sacramento Kings on Saturday. Though this is a back-to-back, he is going to be counted on to carry the Suns in the absence of Eric Bledsoe who is out for the remainder of the season. Targeting the Lakers with point guards has been a fruitful endeavor this season and this is a fine price point for BK.
John Wall – WAS at MIA – $9,900 – Wall rang in the New Year with a solid 51 DraftKings point performance against the Orlando Magic, picking up right where he left off 2015. Over 16 games in December he averaged 22.6ppg, 4.8rpg, 11.7apg and a combined 2.9 blocks/steals. While Miami has been tough on opposing point guards allowing the second fewest fantasy points this season, they have slipped to the middle-of-the-pack over their last eleven games. Wall is a solid option in all formats on a day devoid of superstars.
Values
D'Angelo Russell – LAL vs PHO – $5,100 – Phoenix has struggled against point guards this season nearly as much as the Lakers. For both the year and their last eleven games, they have been the second worst team at defending opposing facilitators. Russell is a fine source of salary relief on Sunday.
---
Shooting Guards
Studs
C.J. McCollum – POR at DEN – $8,100 – While his price has really jumped up, we need to consider McCollum as the top option at the two-guards spot on this short five game Sunday slate. Damian Lillard is a game-time-decision in this matchup, however, I have no issues riding with C.J. in all formats on Sunday regardless of Lillard's status.
VALUES
Gary Harris – DEN vs POR – $4,700 – For whatever reason, gamers have been focused on Harris' teammate and fellow shooting guard Will Barton. Remember, the name of the game is points per dollar and Harris has been very comparable to Barton utilizing that lens. This is a nice matchup in what should be a very high paced game.
Lou Williams – LAL vs PHO – $5,400 – Sweet Lou has been very dependable this season and downright outstanding over the last three games. In that stretch he is averaging 37 minutes per game and 32.0 DraftKings points in the same time frame. This is a nice matchup which should also be a high scoring game. Heck, on Saturday the Suns allowed 142 points to the Sacramento Kings…in regulation.
---
Small Forwards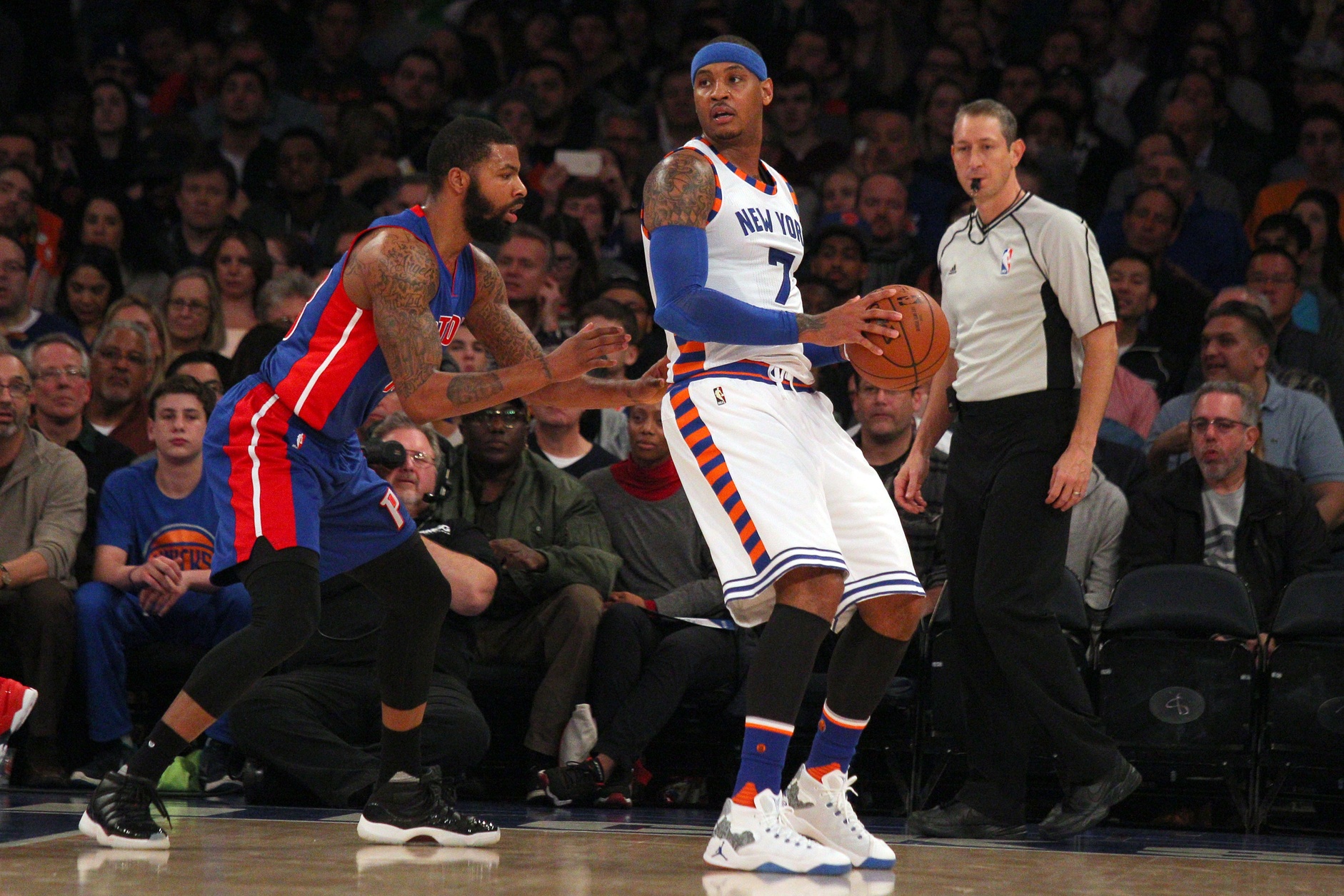 STUDS
Carmelo Anthony – NYK vs ATL – $8,300 – EARLY Atlanta is really missing the defense of Demarre Carroll and they have been mediocre since he took his talents to T-Dot (Toronto). In two meetings this season with the Hawks, 'Melo has averaged 21.5ppg, 9.5rpg, 3.5apg and 2.0 combined blocks/steals for a robust 42.1 DraftKings points. He is very much in play on Sunday.
VALUES
T.J. Warren – PHO at LAL – $5,100 – Whatever has gotten into Warren, I certainly hope it continues. Over his last two games he has 36 field goal attempts and he is a nice option who should approach 6x value in the matchup against the Lakers.
Kent Bazemore – ATL at NYK – $5,600 – EARLY In his last two games, Bazemore has tallied 72.5 total DraftKings points. Over his last nine games he is averaging 32.0mpg, 13.8ppg, 5.6rpg, 3.1apg and 1.8 combined blocks/steals. He is at a fair price point and can be considered a viable option in all formats Sunday.
---
Power Forwards
STUDS
Paul Millsap – ATL at NYK – $8,000 – EARLY Millsap is the player I am locking into all of my early start contests, regardless of the format. He has been a beast against the Knicks this season averaging 46.0 DraftKings points in just 33.5 minutes per game in the first two tilts. Don't miss out on this play!
VALUES
Bobby Portis – CHI at TOR – $4,300 – EARLY With Joakim Noah sidelined with his shoulder injury, the rookie Portis has seen a boost to his playing time. In his last three games he has averaged a steady 27.7mpg, 14.7ppg, 8.7rpg, 1.3apg and 0.7 combined blocks/steals for 28.3 fantasy points. He is a fine selection if you are in need of some salary cap relief.
Brandon Bass – LAL vs PHO – $3,600 – Yes, I know he is a very boring play, however, he has averaged 21 DraftKings points over his last three games and Coach Byron Scott has been leaning on his veteran presence. He is my punt play d'jour on this five game slate.
---
Centers
STUDS
Hassan Whiteside – MIA at WAS – $7,400 – Which version of Whiteside we will see on Sunday is of course a mystery. Will it be they player who can put up 50 DraftKings points or the one that struggles to make it out of the 20-25 fantasy point range? Either way, I am in as I think he will overwhelm the Wizards frontcourt, despite his crummy showing in the first meeting between these two teams this season (14 points, 4 rebounds and 3 blocks in just 23 minutes).
Pau Gasol – CHI at TOR – $7,800 – EARLY Boom Boom Pau has been a steady source of production this season and he is averaging just shy of 40 DraftKings points per game. With Joakim Noah out and Derrick Rose nicked up, the Bulls will be counting on him to be their primary scorer once again. Toronto has been solid against opposing BIGs, however, the ageless, older Gasol brother has been putting up some sweet, sweet vintage production this season.
VALUES
Robin Lopez – NYK vs ATL – $4,300 – EARLY I continue to be alone on RoLo Island, however, I am fine with that. Sunday looks like a day where we are going to want to roll with two centers since there are both excellent plays as recommended above and nice discount options such as Lopez. In his first two meetings with the Hawks, he put up 21.5 fantasy points in 20.4 minutes per game. That is 5x value which makes him a relatively safe discount option.