Thursdays have notoriously been a drag, slate-wise, over the past few seasons, but tonight is a solid, sweet-spot six-game slate with half over 200 points for game totals and five of the six games forecasted to be within four points. There's lots of possible studs or values out there, so let's get 'em targeted. If you have any questions for tonight games, fire away on Twitter @JasonWalker_72.
---
Looking for more NBA content? Check out these articles:
NBA Cheat Sheet
NBA Game Breakdown
---
Point Guard
Stud
Isaiah Thomas ($7,500) – Point guard position is tough tonight because three of the league's toughest against PG are on the slate (BOS, IND, MIA). So we'll start with Thomas. He's struggled to go off recently, but the Kings are fifth worst against PG, the game total is 214.5 and THomas still rocks a 30+% Usage Rate without Marcus Smart. I will play him.
Russell Westbrook ($10,400) – You can't do studs on a short slate and not have Russ on here. Temper enthusiasm with the face that the Heat are the toughest against PG, but man, stuff like that don't hurt studs like Curry and Russ. The game total is over 200 and the spread is only three points. If that's what's up, then Russ has so much to do with that.
Other Options – Kyle Lowry vs. DEN ($8,500), Rajon Rondo vs. BOS (REVEEEEENNNNGE!! $8,800)
Value
Cory Joseph ($3,900) – He's had three straight games of over 30 minutes and has delivered value at his number every time. Tonight he gets the Nuggets, who are third worst against PGs in a game that could get out of hand and allow the Raptors to rest Kyle Lowry, leaving Joseph in control even more.
Darren Collison ($4,400) – Huge game total and getting upper 20s minutes in a spot against the Celtics where they've actually been a net positive towards the SG. Upside up to 8x salary in this game.
Other Options – Emmanuel Mudiay @ Toronto ($5,500), Goran Dragic vs. OKC ($4,900)
Shooting Guard
Stud
DeMar DeRozan ($7,100) – The Nuggets are second worst against SG, DeRozan is getting over 25% usage, even with Lowry on the court with him and he's getting to the line sixth most per 36 minutes this season. On a night where stud SGs are few, DeRo has the highest ceiling.
Avery Bradley ($6,500) – You haven't played NBA DFS if you haven't been burned by Bradley multiple times. Still, process over agony, right? The Kings are brutal against opposing SG, the game total is the highest of the night, and Bradley always has the 40 burger on the grill for you, it's just a matter of whether he decides to serve it to you or not. Tonight, he does.
Other Options – C.J. McCollum vs. IND ($6,400)
Value
Gerald Green ($4,200) – If you're chasing cheap minutes, Green will likely be your guy against OKC with Luol Deng saying he's not likely to play. Green can give 30 point upside but is more a 6x salary play tonight.
Danny Green ($4,200) – It looms out there, like the great Loch Ness Monster…..The Danny Green Game. It's more fable than reality, but if it's going to happen, a game against the fifth worst SG defense in Memphis is a good place to reveal itself.
Other Options – Rodney Stuckey @ Portland ($3,900), Evan Turner @ SAC ($4,800)
Small Forward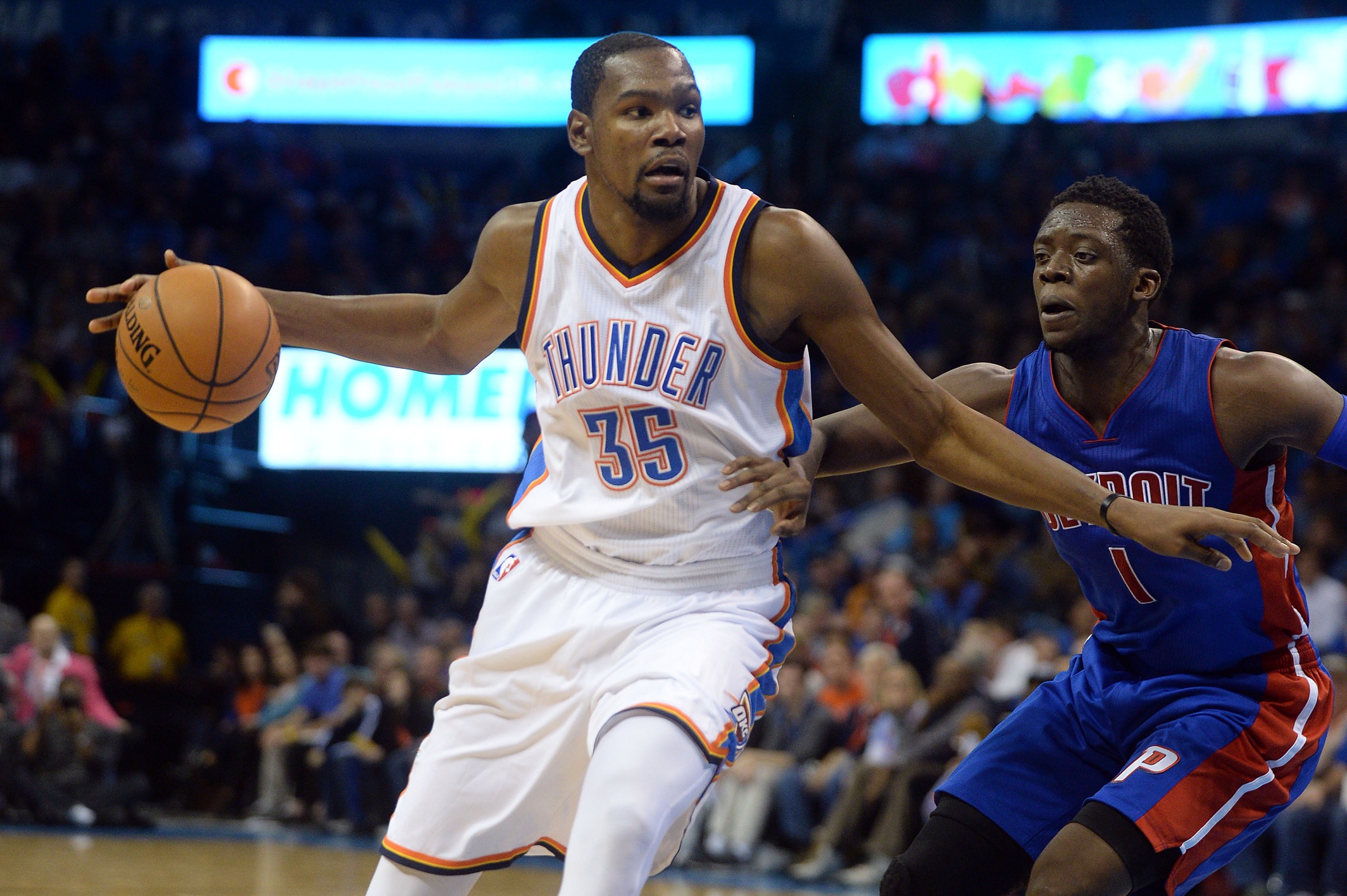 Stud
Kevin Durant ($10,100) – Pretty simple. Just play Durant. The Heat are bottom ten defending the SF position and Durant is as good as it gets at the position. Add in that it's likely Gerald Green starting for Luol Deng, making a smaller lineup, and Durant looks even better.
Kawhi Leonard ($8,600) – The Grizzlies haven't been their usual stout self and that has translated to the SF position, where they've added value to the opposing SF. You don't need much more than that to enjoy Kawhi Leonard, who can post a high ceiling even in a low paced game with his steals and blocks.
Other Options – Rudy Gay vs. BOS ($7,000)
Value
Justise Winslow ($4,000) – There isn't much to like tonight in the value area at this position so you'll have to go for minutes if you need a low-end SF. Winslow, with Deng likely out, will get minutes, getting over 29 in each of the last four games.
Matt Barnes ($4,300) – He's been a big part of Memphis turning around a little bit early on here, but his matchup is not ideal against the Spurs, where he'll likely either arm-wrestle Kawhi Leonard or not play. Banking on Memphis keeping things working, Barnes will likely play good minutes again, giving him a shot at making value at this number.
Power Forward
Stud
DeMarcus Cousins ($10,600) – In somewhat of a short slate, you can't pass on obvious plays like Cousins, who has the highest game total, at home, against a team without his kind of size to defend him effectively. Cousins has one of the highest ceilings of the night.
Chris Bosh ($7,400) – I like Bosh as a sneaky play among the giants tonight. The game total is over 200 and the Heat are going to need Bosh for longer minutes tonight and to score against the Thunder's slightly below average defense against the PF position. In games where Bosh has played at least 35 minutes this season (5), Bosh has scored 40, 43.8, 48, 37.8 and 46.5 DK points.
Other Options – Derrick Favors vs. ORL ($7,200), LaMarcus Aldridge @ MEM ($6,700)
Value
Trevor Booker ($4,000) – Rudy Gobert has a strained MCL (I have all the sad faces) so Booker stands to see more time on the court as Favors will pick up some more center minutes to cover Gobert's loss. In games where Booker has played 25+ minutes, he's had 10.3, 32.8, 25.3 and 46.8 DK points this season.
Amir Johnson ($4,400) – Getting some Boston frontcourt exposure could be risky if they have to match up with Boogie, but Johnson is coming off a similar matchup with the Heat where he played 33.1 minutes and put 35.50 DK points on the board on the road.
Other Options – Andrew Nicholson @UTA ($3,700)
Center
Stud
Hassan Whiteside ($7,800) – Biggest ceiling of the night at the position belongs to Whiteside, who gets a pace up game with little to concern himself with in terms of foul trouble at the outset. Whiteside is #1 in DK Net Points, which subtracts points per 36 minutes from DK points per 36 minutes to measure peripherals. Right now, Whiteside is average 30.7 DK Net points, meaning before he even drops the ball in the basket, he's giving you 30 DK points. Nice.
Jared Sullinger ($6,400) – The Kings are bottom ten bad against Centers and Sullinger always brings a nice ceiling to his games. On the same DK Net Points list, Sullinger is eighth with 27.3.
Other Options – Nikola Vucevic @UTA ($6,600), Marc Gasol vs. SAS ($7,300)
Value
Ian Mahinmi ($4,700) – Mahinmi gets the second worst defense against center in the Trail Blazers, where Mason Plumlee has followed last season's poor defensive effort with another one in Portland. Mahinmi has delivered value in nine of his last 12 games to define the consistency you'll get in a game with a 202 game total.
Bismack Biyombo ($4,900) – Denver is eighth worst against centers and Biyombo has averaged nearly 12 rebounds a game over his last five games. If you don't pay up for center tonight and are unimpressed with Mahinmi, the low impact Denver game may be the place to go and find Biyombo.