With the regular season winding down, today's NBA targets breakdown looks at Wednesday's 8-game slate, with an eye towards the studs, sleepers and mid-range players you want to have rotating in your lineups. Good luck!
POINT GUARDS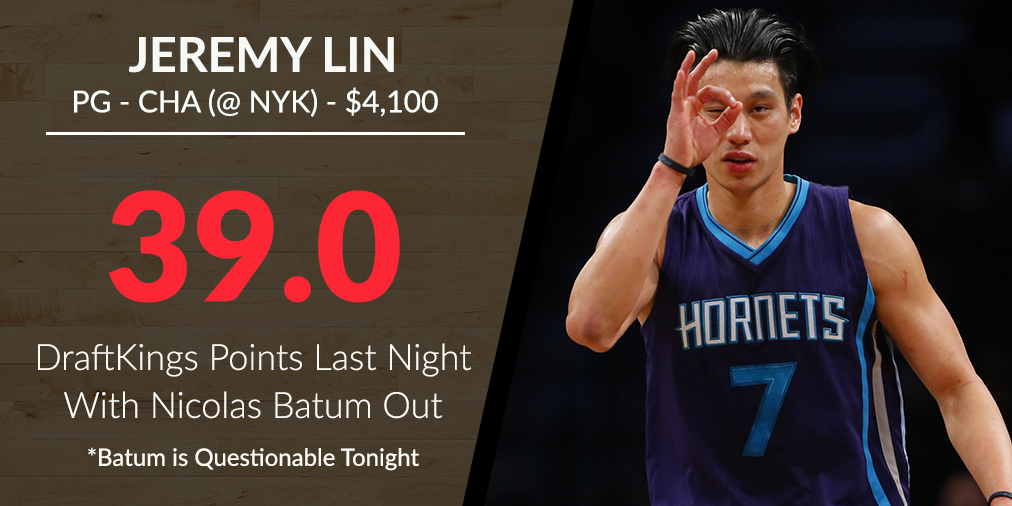 Studs
Damian Lillard – POR vs. OKC – $8,700 – It's not as if I think Russell Westbrook and Chris Paul are going to have bad games, but each one of them faces the potential of getting limited somewhat in exchange for some extra rest down the stretch here. Lillard, on the other hand, is right in the thick of teams jockeying for playoff position, and is the type of player to try to put his team on his back and carry them there if he has to. Lillard trying to match Westbrook and Durant shot for shot isn't going to hurt his chances at a big DK FP number either.
Isaiah Thomas – BOS vs. NO – $7,800 – As I wrote above, there are a lot of good options at PG tonight, including another guy right in this price range (Kemba Walker, $7,900), but Thomas's value has to be acknowledged. New Orleans' defensive ratings have been moving backwards, getting worse as more D-League players get called up to fill out their roster. With Evan Turner out, and the Celtics still looking to pile up wins for playoff positioning, he could end up with even more looks than usual.
Values
Reggie Jackson – DET @ ORL – $5,900 – There are lots of good options at the top of the PG food chain, and Reggie Jackson himself might be inconsistent, but he is still an integral part of what the Pistons do on offense. He has a dozen or more shot attempts basically every night, to go along with the responsibility of being the primary distributor, and that gives him plenty of chances to turn in a valuable performance for the price (30+ DK FP in six of his last ten).
Jeremy Lin – CHA @ NYK – $4,100 – Lin played 40 minutes last night with Nicolas Batum sidelined and cashed in 39 DraftKings points. Batum is questionable again tonight so Lin's value depends heavily on if Batum plays, but if he sits then Lin becomes an instant value play with big upside. The Knicks are a bad team defensively, the Hornets are pushing for playoff seeding and Lin would see a ton of minutes and chances if Batum misses on Wednesday.
---
SHOOTING GUARDS
Studs
James Harden – HOU @ DAL – $10,800 – With the Rockets a half-game out of the playoffs, he has played 40+ minutes now in six straight games. In those six games, he is averaging just a shade under 59 DK FP per game, making him actually kind of obviously the most expensive player on the board. He should be. Is there such a thing as "consistent upside?" Because right now, that's him, capable of putting up 30+ points, double digits in either boards or assists or both, with a few steals and blocks mixed in for good measure on any given night.
Victor Oladipo – ORL vs. DET – $7,100 – The Magic are out of it, but he is still playing. Maybe the energy for the whole team is down slightly as they march towards the end of the regular season, but whatever the reason, it seems to have become very easily lately for their offensive game plan to turn into "let Victor shoot it whenever he wants." That works for me, though, as a fantasy owner: with 15+ shot attempts in each of his last three games, he has cracked 40 DK FP in all of them, which I would certainly take tonight for $7,100. In a good matchup here with Detroit, that's not only possible, but downright reasonable to expect.
Values
Avery Bradley – BOS vs. NO – $5,100 – Evan Turner missing tonight's game means more minutes for Thomas, Turner and Marcus Smart, but it very likely only means extra shot attempts for two of those three. At this point if you're Brad Stevens, you have to be subtly designing ways to keep Smart from shooting, right? Bradley meanwhile is still shooting just about .450 from three-point range this season, and has scored 15 or more points in six of his last seven.
---
Subscribe to The Rundown
Exclusive daily fantasy analysis from our experts to your inbox
SUBSCRIBE HERE
---
Jamal Crawford – LAC @ LAL – $4,700 – Two games ago, last Thursday, Crawford played 40 minutes in a game in which Rivers decided to rest Paul, Redick and Jordan. He turned in a stellar performance, going off for 32 points and 7 assists in a losing effort. But here's the thing: in their next game, he predictably went back down to 25 minutes, but hit four three's on seven attempts for another 34 DK FP. Apparently the Clippers decided an extra shooter could help out some, so hopefully that has baked some value into his price for the remainder of the season.
---
SMALL FORWARDS
Studs
LeBron James – CLE @ IND – $9,900 – With the Raptors only 3.5 games back with four to play, the Cavs technically need two more wins to control their own destiny and lock up the #1 seed in the East. So while your initial thought might be to worry that James will start getting some extra rest at this point in the season, you're talking about a guy who had played 40+ minutes in back to back nights earlier this week and who had scored 50+ DK FP in five of six (and 45+ in six straight). He put up 37.25 in only 28 minutes last night in a blowout win over Milwaukee, so the fact that Indiana should be able to keep it relatively close is a boon here and puts LeBron right where he should be as a cash game staple.
LeBron James OUT Wednesday (5:10 PM ET)
LeBron James will not play tonight vs. Indiana. His absence opens quite a few doors for the Cavaliers. Kyrie Irving ($7,200) has averaged 44 DKFP in three games without LBJ this year. Iman Shumpert ($3,400) has seen his DKFP average jump from 15.7 on the year to 24.8 with LeBron out of commission. If you need a deep value, Richard Jefferson ($3,000) has averaged a touch over 15 DKFP in games without LeBron this year. At that average he'd be above 5X value for his minimum price point. Kevin Love is the only surprising disappointment, averaging 28.4 DKFP with LeBron sidelined.
Carmelo Anthony – NY vs. CHA – $7,700 – Despite the Knicks' 31-47 record, 'Melo has come out and said that he will definitely play in each of their last four games. And when he plays, he typically goes for 30+ minutes and 20+ shot attempts, which gives him as much consistency as you can find at this price, at any position. Typically speaking, his floor won't kill you and his ceiling could really help you out.
Values
Jae Crowder – BOS vs. NO – $5,800 – A Celtic recommended in a third straight position actually makes sense – hear me out. First of all, don't expect this run to continue through PF and C. Second, they are one of the highest-scoring, fastest pace teams on the board. Third, they are still jockeying hard for playoff position, so every game matters. And lastly, they are playing a Pelicans squad that is basically unrecognizable, with injury replacements all over the floor, at virtually every position all night long. Crowder's scoring can be inconsistent, but with everything else he does on the floor, when the scoring does come it brings with it 40+ point upside from a fantasy point of view, and again, with Turner out, the odds of him getting you those 15 or so points you need definitely go up slightly.
Luke Babbitt – NO @ BOS – $4,700 – Speaking of injury replacements running rampant on the Pelicans, I present to you… Luke Babbitt. With the Celtics' propensity to run three guards out there so often, they have run into issues guarding these small forwards who come at them with a little bit of size on the wing (like the 6'9" Babbitt) all season long. He is averaging 11 fantasy points a game for the year, and 29 DK FP over the Pelicans' last five games, and that kind of increase has not yet been built into his price, so this could be an opportunity to pick up some cheap value.
---
POWER FORWARDS
Studs
Kevin Love – CLE @ IND – $7,000 – I am probably trying to save money on PF tonight, and not going with another one in either of my optional categories. I don't really love any of the top plays available to you tonight, but if I were going for lineup diversification, Love might make it into one or two of my lineups on pure upside. This is a guy who has been marginalized in a lot of ways during his time in Cleveland, but who is still capable of taking over a game on his own. In games without Kyrie and LeBron, he looks like the same guy we all loved in Minnesota. And lately, he has shown that upside a bit more often, with 40+ DK FP in four of his last eight. The Cavs clearly hope that is something that continues into the postseason, so I would expect to see him get plenty of opportunities to succeed over the next few games.
Values
Dirk Nowitzki – DAL vs. HOU – $6,400 – You have to love focusing on guys who are still fighting for something for your fantasy lineups when you get to this point in the season. And with an outside shot at finishing anywhere from 5th (if everything goes right) to 9th in the West, the Mavericks are in that position as much as anyone in the league. You might normally expect to see a veteran like Dirk's minutes going down at this point in the year, but if anything you are seeing a slight uptick lately. This might be taking a toll on him, as we have seen plenty of down games, but this is a weak night for power forwards, and as the primary scoring option for Dallas when his shot is working, he has as much upside as anyone at this price range – he had 45+ DK FP in back to back games as recently as two weeks ago.
Serge Ibaka – OKC @ POR – $5,500 – Ibaka went for 18-5 last night against Denver, in 29 minutes. As it becomes clear that OKC is locked into that third seed, you might see fewer minutes for all their stars, but they don't have too much in the way of replacements for Ibaka. Against this Portland interior defense, the minutes he spends out there should be efficient minutes. And if he picks up a few extra attempts with his two All-Star teammates sitting a bit more than usual, all the better.
Thomas Robinson – BKN @ WAS – $4,700 – I couldn't decide if Robinson's mere presence on the court meant I should recommend him… or recommend Markieff Morris ($5,300) on the other side. But sometimes, you just need to get as cheap as you can, and Robinson is a guy getting minutes now that Brooklyn has decided to simply bench their only two stars (including PF Thaddeus Young) for the rest of the season. And so far, he's taking advantage of the opportunity, now with four straight double-doubles, and a value play for under $5K.
---
CENTERS
Studs
Andre Drummond – DET @ ORL – $7,500 – Hanging on to the last playoff spot in the East with a two game lead over Chicago, it will be at least a couple more outings before you start seeing Detroit resting their stars. And that means you should get right around 30 minutes out of Drummond, if not slightly more. He is averaging 12 points and 14 rebounds over the past two weeks, and while he does have Vucevic to contend with, those are the only two real interior presences in the whole game. There should be plenty of chances at rebounds and points in the paint for both of them to succeed.
Nikola Vucevic – ORL vs. DET – $6,900 – Speaking of Vucevic, he is averaging almost 23 points, more than 7 boards and more than a block a game in his three since returning from injury, so apparently he waited until he was fully recovered. He is a ridiculously efficient 32-for-47 over those three games, and has helped spur the Magic to a couple of nice wins. He is a difference-maker in the middle, and if the 32 minutes he got last time out are any indication, they are going to be willing to let him play in the last few games of the regular season.
Values
Alexis Ajinca – NO @ BOS – $4,100 – Ajinca continues to roll, averaging 26.4 minutes and 26.8 fantasy points per game over his last 7 games played. With the injuries to the Pelicans, Ajinca has needed to play big minutes while simultaneously picking up a higher percentage of offensive opportunities. The Celtics don't have much in terms of interior defenders, leaving Ajinca in a good spot matchup-wise tonight as well.
Al Jefferson – CHA @ NY – $4,300 – Big Al is playing a pretty unique role right now: most guys in the league who are basically "instant offense" off the bench play on the wing, Jefferson does it from the post. He comes in, gets his 8-12 attempts, snags a few rebounds, and sits down. And all that basically makes him a lock for 21-28 points, or thereabouts. At this price, that's a decent option for a cash game, who even has a little bit of upside if he randomly shoots 75% from the floor one night.