Everything you need to know for tonight's NBA slate is right here. Let's get right into it.
---
Looking for more NBA content? Check out these other articles for tonight's slate:
NBA Tournament Plays
NBA Game Breakdown
NBA Targets
KMarko's Common Man Tournament Picks
---
The Vegas Lines
Highest Scoring Games
Thunder vs. Wizards – This is the kind of point total I like. With an o/u of 219, shots will be flying up in this one. I love Wall and Westy heads up. I also love KD to put on a show in Washington. The only thing about this game that irks me is Beal's status, but we should know something before tip.
Lowest Scoring Games
Jazz vs. Cavaliers – And we get a Jazz game tonight! Jazz games are the lowest of the low and tonight the o/u is 184. LBJ and KLove still have a great chance of hitting value. I also love where Favors sets up in this one.
Pace of Play
Fastest Projected Games
Thunder vs. Wizards – With an insane o/u total on this game, it's no surprise that it is also one of the fastest paced games tonight. Westy and Wall are some of the fastest guards in the league and this shows in their Hollinger rating. Washington ranks 2nd in pace and Oklahoma comes in at 8th. This one should have a lot of fantasy goodness tonight.
Slowest Projected Games
Lakers vs. Heat – On a shorter slate pace doesn't factor in as much, but the Heat are on of the slowest leagues in the team. It seems like their desire to involve Whiteside and Bosh has taken the pace down a notch. The Lakers are in the top 10 in pace, but with Dragic and company should control the temp tonight.
Defense vs. Position
Best PG Matchups
Deron Williams vs. Jrue Holiday – Williams still has it and he gets a Pelican's defense that is ranked 30th against opposing PG's. Jrue will be limited to under 25 minutes and will probably give up relief to Ish Smith.
Worst PG Matchups
Kemba Walker vs. Ricky Rubio – This matchup confuses me, because Ricky gave up a lot of points to Jeff Teague last night. Kemba will play have a big role in the offense, but Rubio should try to right the ship tonight.
Best SG Matchups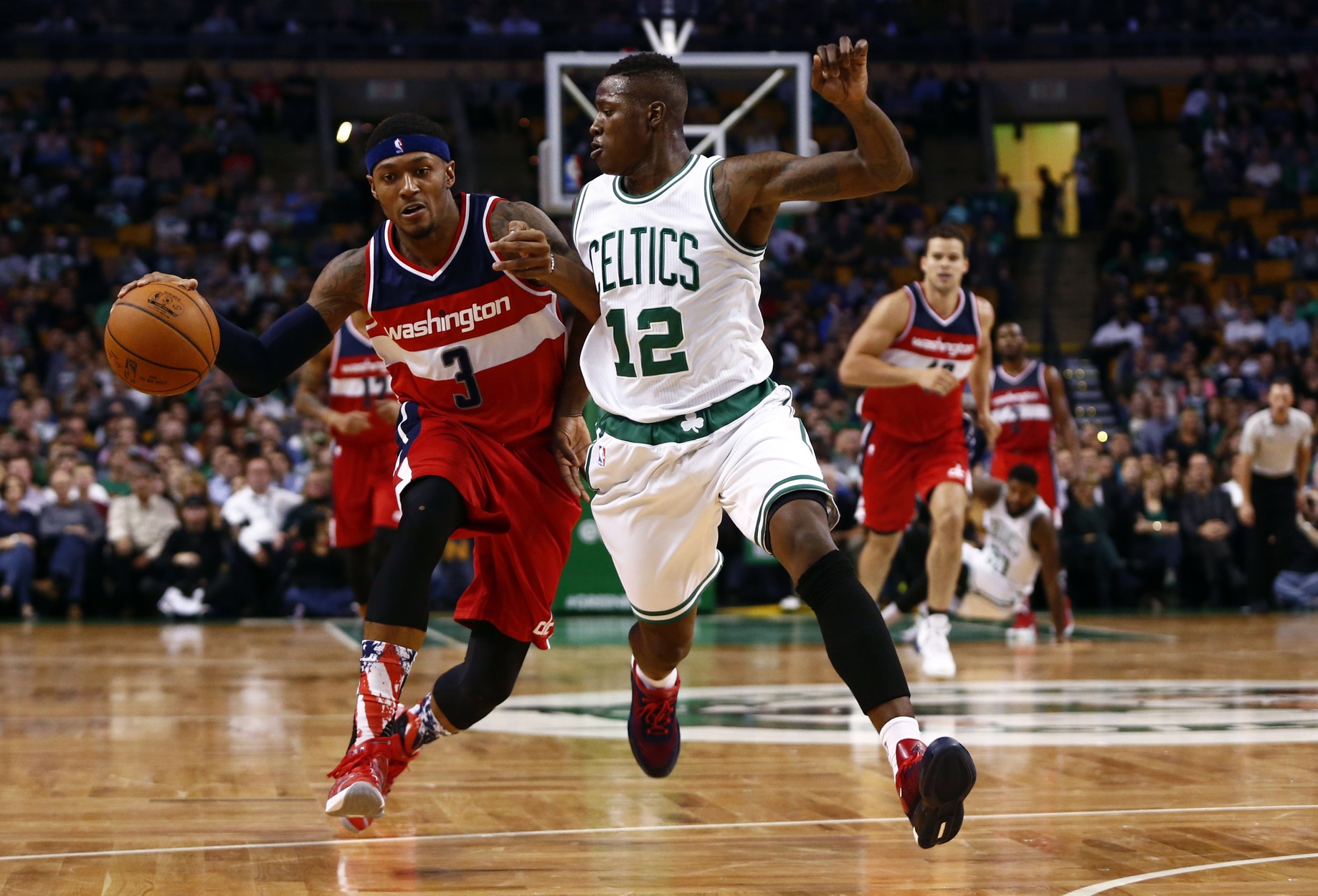 Bradley Beal vs. Andre Roberson – This is a punt play tonight, I know it shouldn't be, but due to Beal's injury it is a bit of a risk. The Thunder are terrible against the SG position and Beal is one of the main scorers for the Wizards.
Worst SG Matchups
Avery Bradley vs. Khris Middleton – Bradley is coming off of being sidelined. Middleton has been decent against opposing SGs, so I think there are better values at SG tonight.
Best SF Matchups
Kevin Durant vs. Otto Porter- KD in Washington, means play KD. Otto has made great strides as the starting SF for the Wizards, but his is no match for the most elite scorer in the NBA.
Worst SF Matchups
Gordon Hayward vs. LeBron James – Gordon has had two good games back to back, but he draws a matchup with the King tonight. I like Favors a lot better in this matchup.
Best PF Matchups
Chris Bosh vs. Julius Randle – I love both big men for the Heat tonight. The Laker's are about dead last in guarding opposing bigs. Bosh has had two 40+ fantasy games in the last 4. He makes for a very intriguing option tonight.
Worst PF Matchups
Kevin Love vs. Derrick Favors- I am borderline hyped about this matchup. Kevin Love has to score for the Cavs to win, but ultimately Favors is one of the best defensive PF's in the league. Look for a battle tonight as this will shape up as one of the best individual matchups.
Best C Matchups
Hassan Whiteside vs. Roy Hibbert – Hassan is a beast and gets a great matchup tonight. He put up a huge line last night (50+). If he gets rolling against a weak Lakers frontcourt watch out.
Worst C Matchups
Timofey Mozgov vs. Rudy Gobert – Utah is ranked 1 against opposing C's and Mozgov hasn't been reliable this year. There are better options than a guy that will probably sit in the 4th quarter.
Lineup Quick Hits
Superstar Worth Paying For
Russell Westbrook ($10,800) – Russell Westbrook is Mr. Consistent! Tonight he is in the highest scoring matchup of the evening and will look to battle it out with John Wall. I know, I know…the Brow has an easier matchup, but I love Westbrooks ability to score and fill up a stat sheet. I will be spending up on Westy tonight.
Save Big Bucks By Drafting
Justise Winslow ($3,700) – As for value we all know Bayless should get the start for the Bucks, but his price has gone up and he burned us all last week. Winslow on the other hand maintains a value price tag and has been right on value over the past few games (17, 21, 17 DK points). With the Heat hosting the Lakers and D Wade feeling a little under the weather it wouldn't surprise me to see Winslow hit value tonight.
Dud of the Night
Bradley Beal ($6,900) – The only way Beal is a dud is if injury forces him to sit out. His shoulder injury looked pretty severe the other night, but everything says it was just a bruise. A bruise for an NBA player can cause a shot to be off. I worry that even if he does play it will hurt his production. Make sure to monitor this situation closely as the matchup and point total is juicy, the injury just worries me.