Welcome back to the daily DraftKings picks where we try to get super rich playing daily fantasy basketball. As usual I'll do a brief recap of my lineups from the night before then throw out some picks that I'm brainstorming for this weekend, and hopefully get some good feedback/tips/picks
from you guys either in the comment section or on Twitter @kmarkobarstool.
---
Looking for more NBA content? Check out these other articles for tonight's slate:
NBA Targets
NBA Tournament Plays
NBA Game Breakdown
NBA Cheat Sheet
---
Bummer night last night.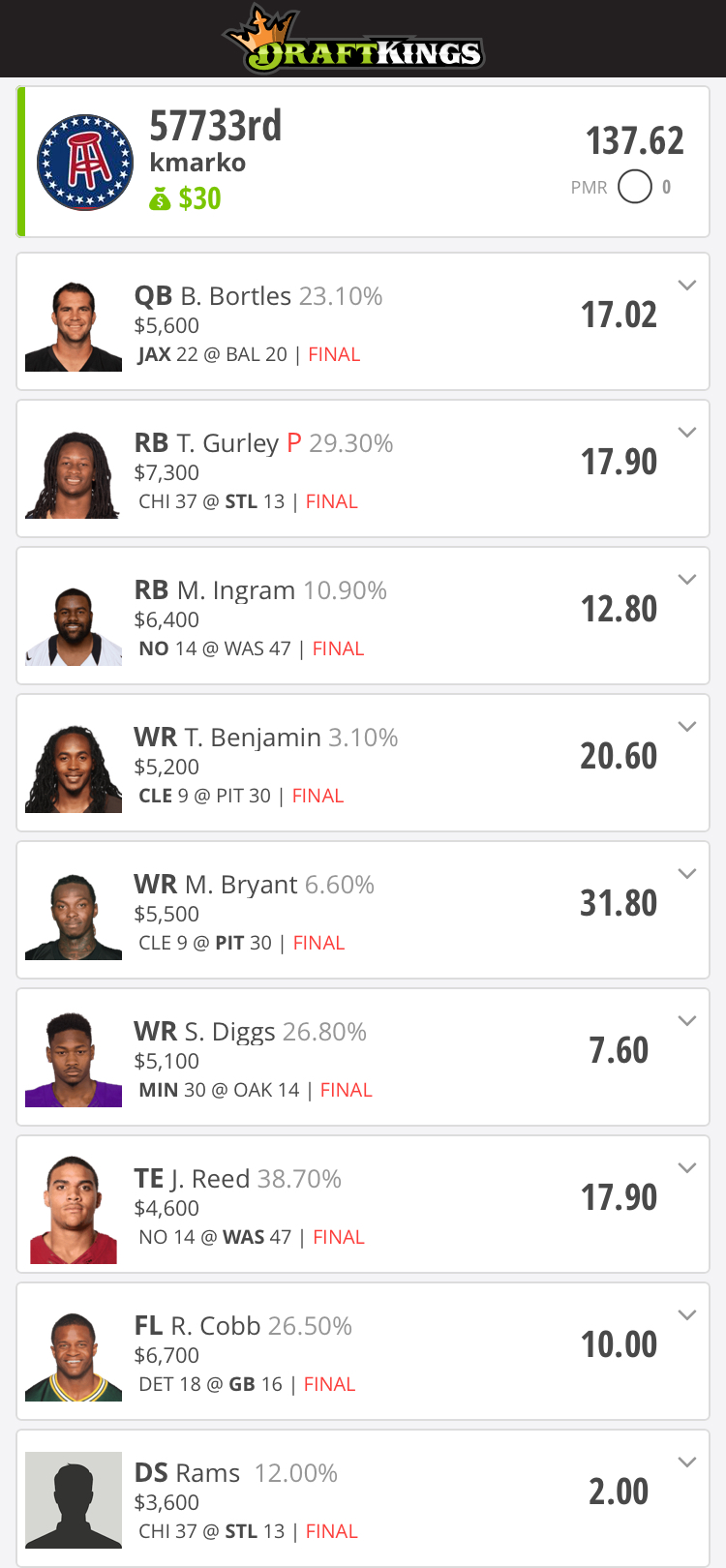 No cash, and only 1/3 of the blog picks in the flames. Lillard put up a nice one as we expected…McCollum came out ice cold and never recovered. Dedmon did "as expected" for his price, which is fine for your cash game…but "as expected" ain't getting you any cash in a tournament.
Let's turn that around tonight and put a 3-hundo up there on the scoreboard.
Three plays, three price tiers. The goal is 4X value for each player minimum…5X to make a good tournament play. Let's go:
SF Kevin Durant $9.7K
Love Durant's price here. Under $10K, and 3 guys ahead of him – of those 3, the only one I think puts up a better stat line is Anthony Davis. Go ahead and play Davis if "80 point upside" is your thing, but I'm saving 1K in salary and focusing on Durant. Got a big showcase game in Washington, he's put up 50+ fantasy points in 3 straight…and Washington is one of the worst in the league so far at guarding the 3. Everything shaping up for a nice little game from KD here.
Target zone (4X): 38.8 Tournament zone (5X): 48.5
---
PG Isaiah Thomas $7.K
Marcus Smart is out again, which means another start for Thomas – and all this guy does is churn out fantasy points. I haven't watched any Celtics games live this year so I can't speak to if he's actually playing good basketball or not, but this is a fantasy blog – all that matters is the end box score. Been putting up 40 burgers and he's got another good matchup against Milwaukee tonight, no reason why he can't break his 5X tournament value of 35.
Target zone: 28 Tournament zone: 35
---
SG Khris Middleton $5.8K
Wayyyy too cheap for a guy coming off a 39 point game and with a primo matchup against the Celtics. TON of people roll with Giannis is tourneys, meanwhile Middleton sneaks in under the radar. He may not have 60 point upside like Giannis, but with a value zone in the mid 20s, he's a great guy to take a shot on to save some cash for the rest of your lineup.
Target zone: 23.2 Tournament zone: 29
---
No brainer players of the night…just expect high ownership: Anthony Davis and Hassan Whiteside.
Possible value plays: Tyler Johnson, Jerryd Bayless, Nemanja Bjelica.
…
That's it for me, good luck tonight. Tweet me @kmarkobarstool with your picks or to talk trash, whatever.