Yes, it is another NFL Sunday, however, we have a solid five game all-day slate beginning at 3:30pm ET and a decent four game schedule that tips off at 6:00pm ET. On to the analysis!
POINT GUARD
STUDS
Mike Conley – MEM vs PHO – $6,700 – EARLY Conley is a very solid contrarian play as he has been dealing with injuries for the better part of the last two seasons and most daily gamers have moved on. Do not make that same mistake as even on this abbreviated five game "all-day" slate, he will be underutilized in tournaments. On the season the Suns are allowing the fourth most fantasy points to opposing distributor and this is a very sneaky way to get a leg up on the field with a FINALLY healthy Conley.
Stephen Curry – GSW at BKN – $10,700 – Look, until the Dubs lose a game, he is going to be the straw that stirs the drink. Just make sure you have him on a few Sunday Funday lineups.
John Wall – WAS vs DAL – $8,700 – On the season, he is averaging 18.4ppg, 3.8rpg, 8.0apg and 2.2spg. In two of his last three he has put up 63+ DraftKings points. He is a steal at this price point on Sunday.
VALUES
Shane Larkin – BKN vs GS – $3,900 – Larkin is a fine discount differentiation play on Sunday against the Warriors. In his last three games he has averaged nearly 25 minutes per game and about a point per minute in that span. He is one of the better cheapies on this slate.
---
SHOOTING GUARD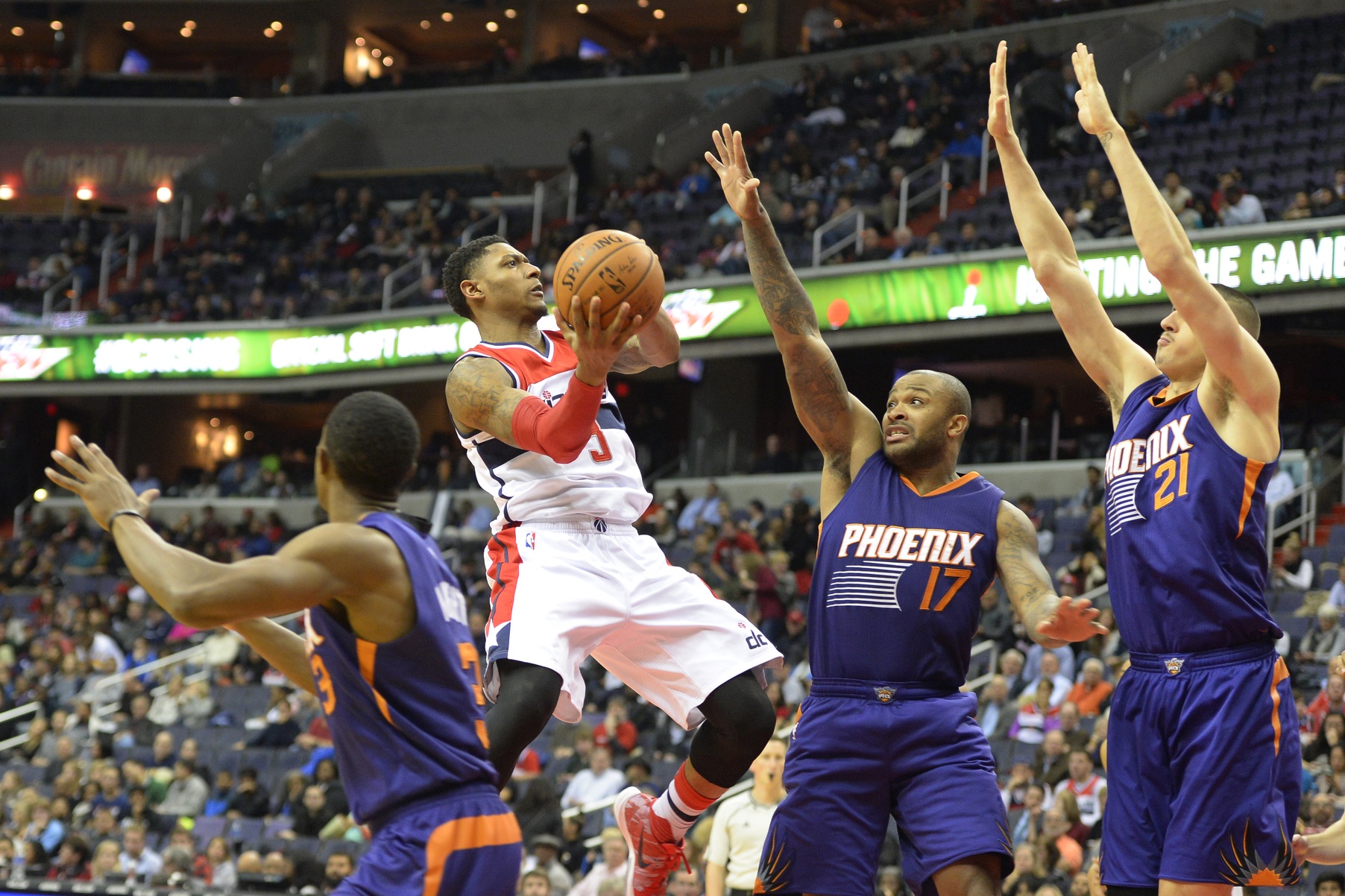 STUDS
Bradley Beal – WAS vs DAL – $7,200 – Beal compiled 58.3 DraftKings points on Friday against Phoenix for the incredibly short-handed Wizards and he is no flash-in-the-pan posting 40+ fantasy points in three of his last four games. The Mavericks do not match up well against two-guards and this is a fantastic play on Sunday.
VALUES
Kentavious Caldwell-Pope – DET vs LAL – $4,800 – Are you down with KCP? Well, you ought to be! Rhymes aside, while Caldwell-Pope does not have a great fantasy point per minute ratio, he plays a ton of minutes averaging nearly 37 minutes per game for the Pistons and this is enough court time for him to reach his value threshold most games.
Courtney Lee – MEM vs PHO – $3,700 – EARLY This play is not for the faint of heart and it is definitely contrarian, however, Lee does have 20+ DraftKings points in three of his last five games…albeit he does have single digit performances in three of his last half dozen appearances. Just so I don't completely seem insane, Phoenix is in the bottom third of the league against shooting guards this year.
---
SMALL FORWARD
STUDS
Kevin Durant – OKC vs SAC – $10,200 – Since returning from injury, KD has posted three games above 50 DraftKings points and the other two outings were in the 40s. The Kings will likely be a little lead-legged after facing Houston on Saturday night and they have no chance at shutting down either Durant or Russell Westbrook.
VALUES
Marcus Morris – DET vs LAL – $6,400 – So many gamers still shy away from the "other" Morris twin it is crazy. Even on a short Sunday slate, he will be underutilized in all formats. He put up 25 DraftKings points in his last matchup in LaLa Land and we know he has tremendous upside after putting up 52 fantasy points in 42 minutes on Wednesday against Phoenix.
Jeff Green – MEM vs PHO – $5,000 – EARLY Green finally has a team that believes in him and he has been thriving with the change of scenery. Both he and teammate Matt Barnes – $4,300 are solid "all-day" game set plays against the Suns in a game with a 202 projected overall point total.
---
POWER FORWARD
STUDS
DeMarcus Cousins – SAC at OKC – $10,800 – While Serge Ibaka has nice defensive numbers, he is by no means a shutdown defender. This is a nice spot for Cousins as he will likely want to have a good showing in a marquee matchup against Kevin Durant and Russell Westbrook.
Draymond Green – GS at BKN – $8,000 – Green is a triple double threat in any matchup which is pretty rare for a power forward. Brooklyn is going to be outmanned in this matchup and will likely roll over for the record setting Golden State Warriors on Sunday.
VALUES
Jon Leuer – PHO at MEM – $4,300 – EARLY In the event you need a punt power forward in the "all-day" game set, Leuer is an interesting option. Memphis has surprisingly been in the bottom third of the league against opposing power forwards from a fantasy perspective.
---
CENTER
STUDS
Marc Gasol – MEM vs PHO – $7,300 – EARLY Gasol has been simply the best sneaky option at the pivot position and he has tournament winning upside. In his last three games in decending order of recency he has posted 35.5 DraftKings points against San Antonio in 34 minutes, a career high 71.3 fantasy points in 42 minutes at New Orleans and 37 DK points against the 76ers in 39 minutes on Tuesday. Regardless of Zach Randolph's health, it is clear that he is the Grizzlies best option.
Andre Drummond – DET vs LAL – $9,300 – Three weeks ago, Drummond tallied 45.3 DraftKings point in Los Angeles against the Lakers. It would be shocking if he orders anything shy of a forty burger from the menu on Sunday in Auburn Hills.
VALUES
Zaza Pachulia – DAL at WAS – $6,300 – Over the last few seasons the Washington Wizards have been solid against opposing BIGs, however, with Marcin Gortat in Poland attending to his ailing mother, Wiz are little thin in the post and actually started recent acquisition Ryan Hollins on Friday. This is a phenomenal spot to roll out Zaza against any opponents who may be caught catching a few Zzzzzs on an NFL Sunday.