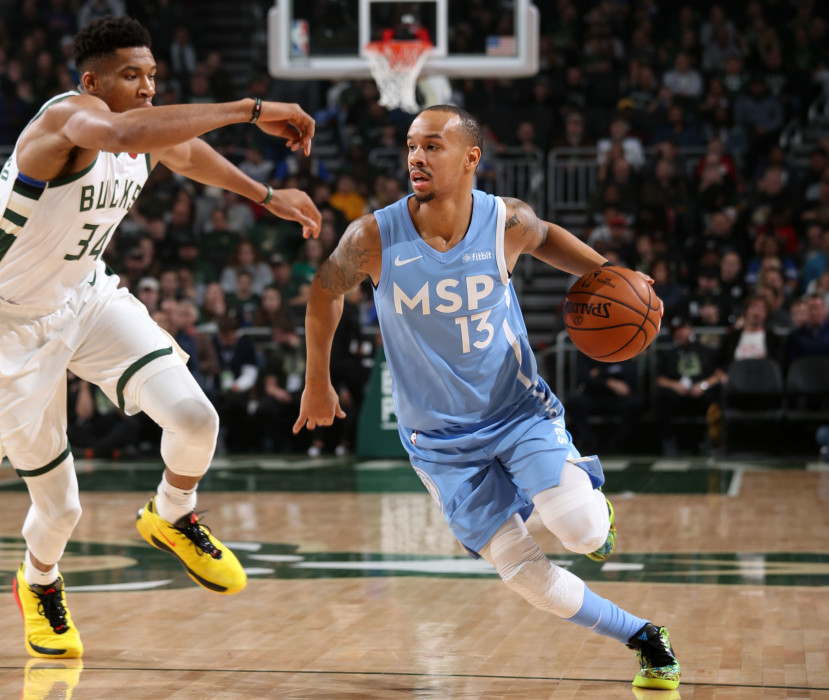 The NBA starts the first week of February with a fairly typical fantasy basketball schedule. Things get off to a fast start the Monday after the Super Bowl with 10 games, which is the biggest slate of the week. With the trade deadline looming just around the corner on Feb. 6 and the All-Star break coming up fast, some teams are trying to make the best moves to ready their roster for the playoff push while others are planning for even further in the future while taking an "L" for this season.
As rotations shift and players are given different opportunities, it's important to make all the right moves to get your fantasy roster well-rounded and ready for success. You can find my top four widely available plays listed below along with some other options at the bottom of the page. All stats are current as of Saturday.
As you lock your lineup in place, make sure to take a close look at each team's slate of matchups for the week. The Bulls are the only team that plays just twice while 15 teams have four-game slates, so make sure you check out who your pickups play as you plan for the week ahead.
PG/SG
SHABAZZ NAPIER, MIN

(AT

SAC, VS. ATL, VS. LAC

)

Napier moved into the starting lineup 20 games ago for the Timberwolves and has been a solid multi-category contributor, especially lately. In his 20 games started, he has averaged 11.2 points, 6.2 assists, 3.9 rebounds and 1.2 steals. In his past four games, he has averaged 11.3 points but has seen major increases with 7.8 assists and 6.8 rebounds and 2.0 steals.

The Timberwolves could be in the market for a guard at the trade deadline which could shake things up, but Napier has shown he can be a nice contributor when healthy. He had a very nice triple-double against the Thunder last Saturday and should continue to get the usage and minutes to be a threat especially with tasty matchups early in the week against the Kings and Hawks.
---
PG/SG/SF CAM
REDDISH,

ATL (VS.

BOS,

AT

MIN,

AT

BOS, VS. NYK

)

Speaking of the Hawks, Reddish has been coming on lately and emerging as a part of the young core after being taken No. 10 overall in the 2019 draft. The rookie has started 30 of his 45 games, averaging 26.4 minutes per contest. He has produced double-digit points in six straight contests, averaging 14.3 points, 5.3 rebounds and 1.2 assists in 28.6 minutes per contest

Reddish has the potential to score 20 points or more every night and has picked up his work on the glass. He should keep getting lots of run as the Hawks plan for the future, so Reddish should be able to remain a good play the rest of the way barring injury.
---
PG/SG
JORDAN CLARKSON,

UTA (VS.

DEN,

VS.

POR,

AT

HOU

)

The Cavs traded Clarkson to the Jazz, and so far Clarkson has been a great fit for coach Quin Snyder's system in Utah. Clarkson has been solid since joining Utah 18 games ago, averaging 15.1 points, 2.6 rebounds, 1.4 assist and 25.5 minutes off the bench.

He exploded in his two most recent games, going off in both games of the back-to-back against the Spurs and Nuggets. He had 20 points against San Antonio and went off for a career-high 37 points Friday night in Denver. Part of his extra work was due to Mike Conley (knee, rest) taking the night off Friday, but he has been a more effective scorer than Conley in the second unit. Clarkson is definitely worth a look if you need points, but Napier is a better option if you need more diverse production since Clarkson is a marginal contributor in everything but scoring. If you need points, though, he's one of the best widely available sources of instant offense.
---
PF/C
CHRISTIAN WOOD,

DET (AT

MEM, VS. PHO,

AT

OKC, VS. NYK

)

Wood has been on this list already this season, but he makes a return appearance since he's still lightly owned and could be lined up for a monster usage increase. In his first year with Detroit, Wood has excelled when given playing time, but also played an inconsistent role from night-to-night. Even coach Dwane Casey has noted publicly how Wood thrives at home but struggles at times on the road. He showed that may be a trend he can reverse, though, by playing 21 minutes in Brooklyn this past week and producing 20 points and eight rebounds. Unfortunately for his owners, though, he struggled in the following game, played under 13 minutes and only had seven points.

Wood has been a volatile option all season with inconsistent playing time, but if the Pistons trade Andre Drummond, Wood will be set up for a strong close to the season. Wood could be a fantasy basketball playoff hero if Drummond is traded, so stash him if you can especially with tasty home matchups against the Suns and Knicks in the coming week.
---
Other options worth watching
SG/SF Danuel House Jr., Houston Rockets
PG/SG Shake Milton, Philadelphia 76ers
PG/SG Reggie Jackson, Detroit Pistons
SF/PF Jerami Grant, Denver Nuggets
SG/SF/PF Duncan Robinson, Miami Heat
PF/C Daniel Theis, Boston Celtics
PG Landry Shamet, Los Angeles Clippers
SG/SF Trevor Ariza, Portland Trailblazers
SF/PF Rui Hachimura, Washington Wizards
SG/SF Mikal Bridges, Phoenix Suns
---
I am a promoter at DraftKings and am also an avid fan and user (my username is Z.Thompson) and may sometimes play on my personal account in the games that I offer advice on. Although I have expressed my personal view on the games and strategies above, they do not necessarily reflect the view(s) of DraftKings and I may also deploy different players and strategies than what I recommend above. I am not an employee of DraftKings and do not have access to any non-public information.