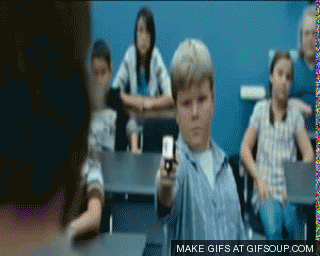 The Cubs spray champagne on their fans, the Blue Jays send their #1 utilityman to make interviewers LOL, and the Kansas City Royals bash their kids faces in when they clinch a postseason series. Different strokes for different folks or something? Anyone know if that kid is okay? Bueller?
JK I know the kid is FINE because I found out it's Jonny Gomes' seed. We're talking about a dude who's survived 5 near death experinces including a random heart attack and wolf on a farm. That was probably just him training her for the real world anyway. Gotta be ready for wolf attacks/flying legs at ANY time..
Surprisingly that was the craziest moment of the Royals celebration last night too. Maybe they're saving the real party for their return to the World Series but it's kinda strange celebrating a series win without any bubbly no?
Oh wait nevermind, Johnny Cueto has got that covered!
October 15, 2015
That's his first tweet since getting moved at the Trade Deadline.. whoever made him this posterboard deserves a lot of credit and at the very least a Ring if they win it all.
Royal receptions FTW!
I'm here and ready to get to work. Thanks for the Royal reception. pic.twitter.com/zWtnfpnE47 — Johnny Cueto (@JohnnyCueto) July 28, 2015

I've been waiting for weeks to be able to listen to this again… #TakeTheCrown#ForeverRoyal#NoFluke#CuetOMGhttps://t.co/V6YyhXPbK9

— Dr. Drake Ramoray (@ElCorf) October 15, 2015