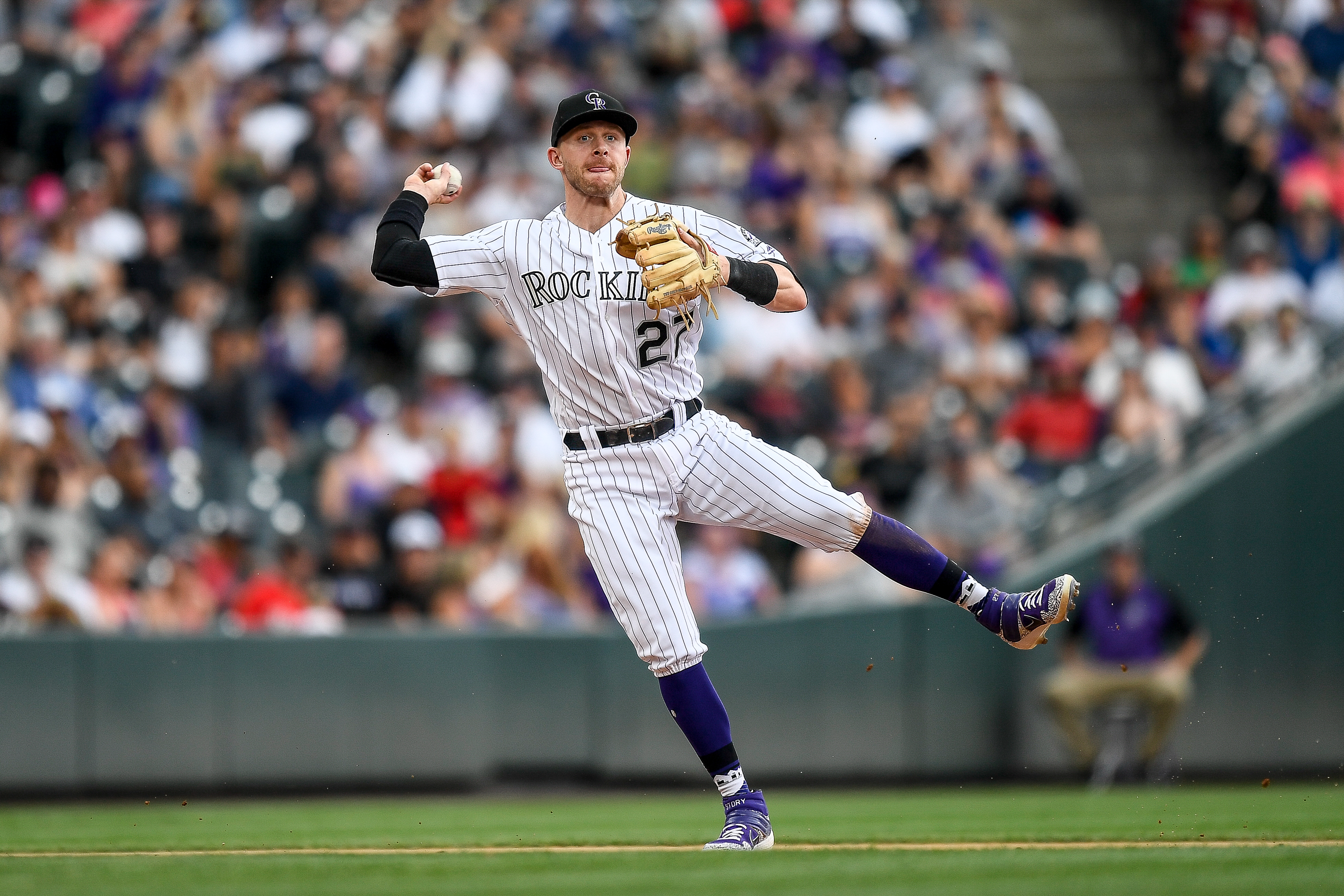 I think sometimes we all take San Diego for granted. In a division littered with some of the most unique DFS parks in baseball, Petco is kind of just there. In that sense, it's understandable to have it fall through the cracks when we could be instead focusing our attention on Coors or Chase Field. However, with the way we've had to battle the elements this season, its always refreshing to know the Padres are playing at home on any slate. The past three days alone we've had Cleveland call off a contest because of 15 minutes of rain and Boston having to suspend play in the ninth inning of a tie game. That's never a worry with San Diego and I'd like to take a second to pass along my appreciation for the region's temperate climate.
Now that that's out of the way, let's dig into tonight's featured Showdown slate on DraftKings between the Padres and Rockies.
Note: All salaries will be Flex prices unless noted as Captain's Pick prices.
---
BETTING TRENDS
— The Padres have lost nine of their last 10 home games and NL opponents
— The 'Inning 1 UNDER 0.5 runs' market has hit each of the past nine night games for the Padres against NL West opponents
— The Rockies have led after 3 innings in each of their last five games against the Padres
— Each of the last seven games against NL West opponents for the Rockies has gone UNDER the total runs line
Stats provided by DraftKings Sportsbook
---
SHOWDOWN STRATEGY
San Diego Padres
There are two ways to look at
Eric Lauer's ($8,600)
viability this evening. One way would be to look at the recent – and terrible – results that the left-hander has managed against this very same Rockies' lineup so far in 2019. In that light, you'd want to run as far away as possible from the 24-year-old. In his last two starts versus Colorado, Lauer has surrender 18 hits and 13 earned runs across just 5.2 innings of work. I'm not a number doctor, but that seems really bad. However, the wrinkle here is the location of both those outings. Lauer had to take his 83.6% contact rate and 7.6% swinging strike rate into the altitude at Coors Field on both occasions; a place where the Rockies own a .307/.367/.527 slash line that makes every other team in the league blush. The outcome of those games was almost preordained and while they don't look great on Lauer's resume, I can hardly hold him entirely responsible.
The other way to view this evening's matchup is by taking the opportunity to thank the Baseball Gods for finally letting Lauer make a start at Petco. Not including a relief appearance that the LHP had to make back on July 28, six of Lauer's past seven trips to the mound have been on foreign soil. It's not just the volume of the random scheduling that's effected Lauer's performance, though. You also have to take into account the level of competition. Here's a list of Lauer's past last nine opponents on the road: Dodgers, Mets, Cubs, Dodgers, Pirates, Rockies, Yankees, Rockies, Nationals. That's essentially a murderer's row of places most people do not want to pitch; especially when San Diego has been so kind to you. In Lauer's past five outings at home, the lefty possesses a sterling 2.12 ERA and a more than acceptable 3.15 FIP. Additionally, Lauer has limited opposing batters to a .267 wOBA within this span of time, the direct result of only one of those 121 hitters mustering a home run. Considering Colorado sports the National League's highest strikeout rate (27.4%) and its second-lowest wRC+ (71) on the road, I believe Lauer's a high-floor option with enough upside to be interesting on this slate.
As for the Padres' positional pieces, there aren't many with a recent track record of success against right-handed pitchers like Jon Gray ($10,400). Take for instance Fernando Tatis Jr. ($10,000). While the rookie shortstop has posted a massive .463 xwOBA when opposed by left-handed pitching dating back to the beginning of July, he's managed a far more modest .318 mark versus RHPs. You can see a similar trend in Manny Machado ($8,000) and Hunter Renfroe's ($7,400) production, with each player also having their xwOBA fall roughly 100 points depending on the split. Another issue with this current roster is launch angle; or, more specifically, the lack thereof. Across the past 30 days, Eric Hosmer ($7,800), Josh Naylor ($6,200) and Luis Urias ($4,200) have all posted a ground ball rate well over 50%, with Naylor leading the way at a whopping 60.9% clip. Gray, who's already in the upper-third of the league in inducing grounders, doesn't really need assistance in that category. All that said, over the same 30-day stretch, the Rockies' bullpen owns a league-worst 7.25 ERA. Tatis, Machado, and Wil Myers ($7,000) might not be in their ideal splits initially, but, at the top of the batting order, they should each get a few cracks at one of the worst collection of relievers in baseball. That's not nothing.
---
Colorado Rockies
It's difficult to ever think of Gray as reliable, but its understandable as to why his salary is nearly $2K more expensive than his pitching opposition on this slate. First and foremost, Gray brings an element of strikeout upside that Lauer's simply does not. The right-hander has recorded over a strikeout per inning so far in 2019, with an above-average 11.7% swinging strike rate playing a huge role that particular area of success. San Diego's roster construct also folds beautifully into Gray's skill set. While there isn't a notable difference in Gray's opponent slugging percentage or wOBA based upon handedness so far this season, the former first-round pick's K/BB ratio jumps from 1.83 versus
LHB
s to 3.95 against right-handed hitters. The reason for this lies in Gray's slider usage. For the year,
RHB
s have an eye-popping 25.0% whiff rate on the offering, and Gray has thrown the pitch in 37.6% of right-on-right counts. Meanwhile, lefties have seen Gray's slider just 28.1% of the time and have swung and missed in only 19.2% of opportunities. Essentially, if you're rostering Gray, you want him in position to use his slider as much as possible. Well, that means squaring-off with the Padres. San Diego has the second-fewest left-on-right plate appearances in baseball and it combines that trait with the National League's highest strikeout rate when facing
RHP
s at 26.2%. When it spelled out like that, it's pretty easy to interpret why Gray's last double-digit strikeout performance came against these Padres back on June 13. Away from Coors, you've got to give Gray a serious look this evening.
When it comes to Colorado's bats, its pretty much business as usual. Trevor Story ($10,400), who has four home runs in his past five games, is always viable when he's drawing a southpaw starter – even when it happens to be on the road. However, considering his back-breaking salary, I'd be remiss if I didn't point out that the shortstop is slashing just .182/.289/.545 within the split since returning from the IL in early July. Nolan Arenado's ($9,200) is in a similar spot. The All-Star slumped mightily throughout the July, posting a meager 52 wRC+ when it was all said and done. Yet, since the calendar flipped, Arenado's been hitting everything in sight and, for the season, he owns an above-average .266 ISO against left-handers. Still, the pair's price points might not fit inside your builds on this slate. So, if you're looking for a little value, it'll have to come in the form of Ian Desmond ($7,600). The veteran is slashing .304/.352/.607 with a .304 ISO in his 145 plate appearances versus LHPs in 2019, while he also possesses the team's highest xwOBA within the spilt going back to the beginning of June (.387). Garrett Hampson ($5,400) might be viable because of the necessity of his bargain-basement price tag, but Desmond is the Rockies' lone source of value and floor on this slate.
---
THE OUTCOME
This doesn't have the makings of a shootout. In fact, you've got one team that can't hit away from home facing another that can't seem to muster any runs without a left-handed pitcher being on the mound. Add in that each squad is near the top of the league in strikeout rate and I think the case is pretty clear that you'll be wanting to use both pitchers in as many lineups as possible tonight. Whether its
Jon Gray ($15,600 CP)
or
Eric Lauer ($13,200 CP)
in your Captain's slot, there are enough value bats to make the salaries work.
Final Score: Colorado 3, San Diego 2
---
Put your knowledge to the test. Sign up for DraftKings and experience the game inside the game.
---
I am a promoter at DraftKings and am also an avid fan and user (my username is theglt13) and may sometimes play on my personal account in the games that I offer advice on. Although I have expressed my personal view on the games and strategies above, they do not necessarily reflect the view(s) of DraftKings and I may also deploy different players and strategies than what I recommend above. I am not an employee of DraftKings and do not have access to any non-public information.