Friday night typically means a large slate — 14 games in this case. That means plenty of stacking options, so here are my top-five. Hit me up on Twitter with comments or questions: @julianedlow.
1.
WASHINGTON NATIONALS
The Nats face RHP R.A. Dickey in Atlanta tonight and are projected for the most runs on the slate at 5.1. Dickey has a solid 4.22 ERA this season, but he's also allowed nine home runs in just over 40 innings. LHB Bryce Harper and Daniel Murphy should be in a good place, while Jayson Werth (13-for-27, three doubles, two HRs) and Ryan Zimmerman (11-for-34, two doubles, two HRs) have hit Dickey well in the past.
Players to Consider
Bryce Harper ($5,600)
Daniel Murphy ($4,700)
Jayson Werth ($3,800)
Ryan Zimmerman ($4,600)
Trea Turner ($5,000)
Matt Wieters ($3,400)
---
2.
ST. LOUIS CARDINALS
The Cards are at home against LHP Matt Moore, who has a shaky 5.67 ERA so far in 2017. Although current members of the Cardinals have only faced Moore a total of 30 times, he's allowed a .467 on-base percentage to them. Moore's ERA skyrockets to 10.50 on the road, so I'm looking for him to really struggle in this one.
Players to Consider
Tommy Pham ($3,700)
Matt Carpenter ($4,100)
Jedd Gyorko ($3,700)
Dexter Fowler ($4,200)
Kolten Wong ($3,300)
Randal Grichuk ($3,600)
---
3.
ARIZONA DIAMONDBACKS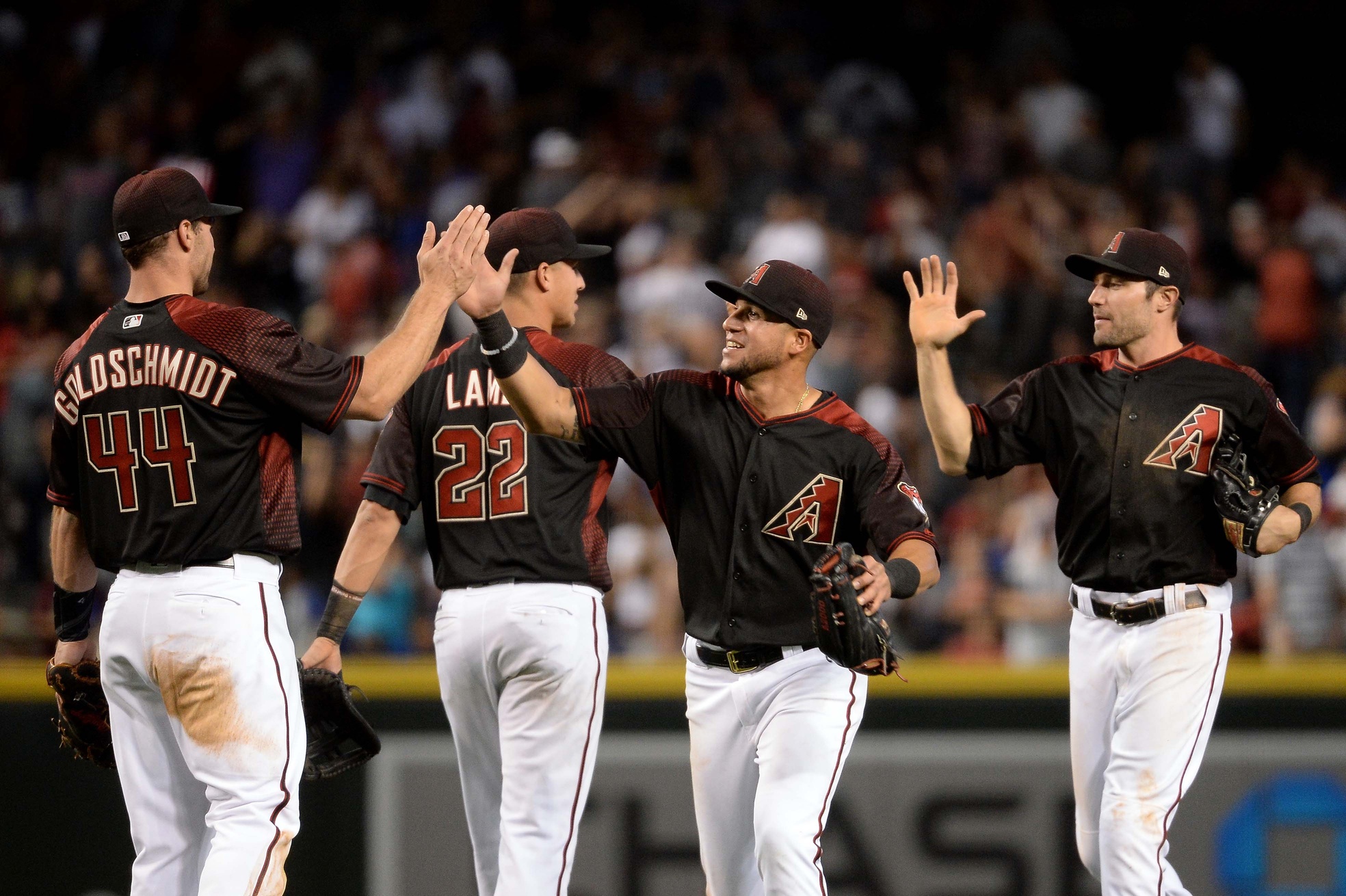 The D-Backs aren't at home where they've dominated, but I like this matchup with the Padres and RHP Jered Weaver. Weaver is 0-4 with a 6.05 ERA on the young season and is somehow even worse at home with a 9.69 ERA. Some Diamondbacks have hit him very well in small samples: Paul Goldschmidt (4-for-6, double, HR), Chris Owings (2-for-5, 2 HRs) and Yasmany Tomas (3-for-6, double, 2 HRs).
Players to Consider
Paul Goldschmidt ($5,200)
Yasmany Tomas ($4,000)
Chris Owings ($4,100)
Jake Lamb ($4,700)
Gregor Blanco ($3,000)
David Peralta ($3,700)
---
4.
HOUSTON ASTROS
The 'Stros are at home to face RHP Trevor Bauer, who's taken a huge step back this season with a 6.92 ERA. LHB and RHB are both hitting well for average against Bauer; however, you may want to go with some LHB in your stack to target home runs (six of eight have come from lefties). Brian McCann and Evan Gattis have both homered twice off Bauer in the past, so it'll be interesting to see where Houston goes at catcher.
Players to Consider
Brian McCann ($3,400)
Josh Reddick ($3,600)
Carlos Beltran ($3,800)
Jose Altuve ($4,900)
George Springer ($4,500)
Carlos Correa ($5,000)
---
5.
LOS ANGELES DODGERS
The Dodgers are a somewhat sneaky stack tonight even though they're projected for five runs. LHP Justin Nicolino has only pitched six innings this season, so he's a bit of a mystery. You can get some really cheap RHB to stack here, and the stud LHB that the Dodgers have are all still in play as Nicolino's been far from a lefty specialist in his career.
Players to Consider
Chris Taylor ($3,700)
Yasiel Puig ($3,900)
Franklin Gutierrez ($3,500)
Kiké Hernandez ($2,800)
Cody Bellinger ($4,500)
Corey Seager ($4,500)
---
I am a promoter at DraftKings and am also an avid fan and user (my username is jedlow) and may sometimes play on my personal account in the games that I offer advice on. Although I have expressed my personal view on the games and strategies above, they do not necessarily reflect the view(s) of DraftKings and I may also deploy different players and strategies than what I recommend above.